Heavy Duty Tractor Mounted Box Scraper
The Heavy Duty Tractor Mounted Box Scraper is designed for heavy use such as road maintenance and cleaning construction areas. This heavy duty box scraper has replaceable scarifier shanks mounted on a hydraulically controled arm to raise and lower the scarifier bar. The back of the scraper box has a metal cutting edge on it so you can displace soil, level, and fill in holes by moving forward and backwards over an area, depending upon what needs to be done.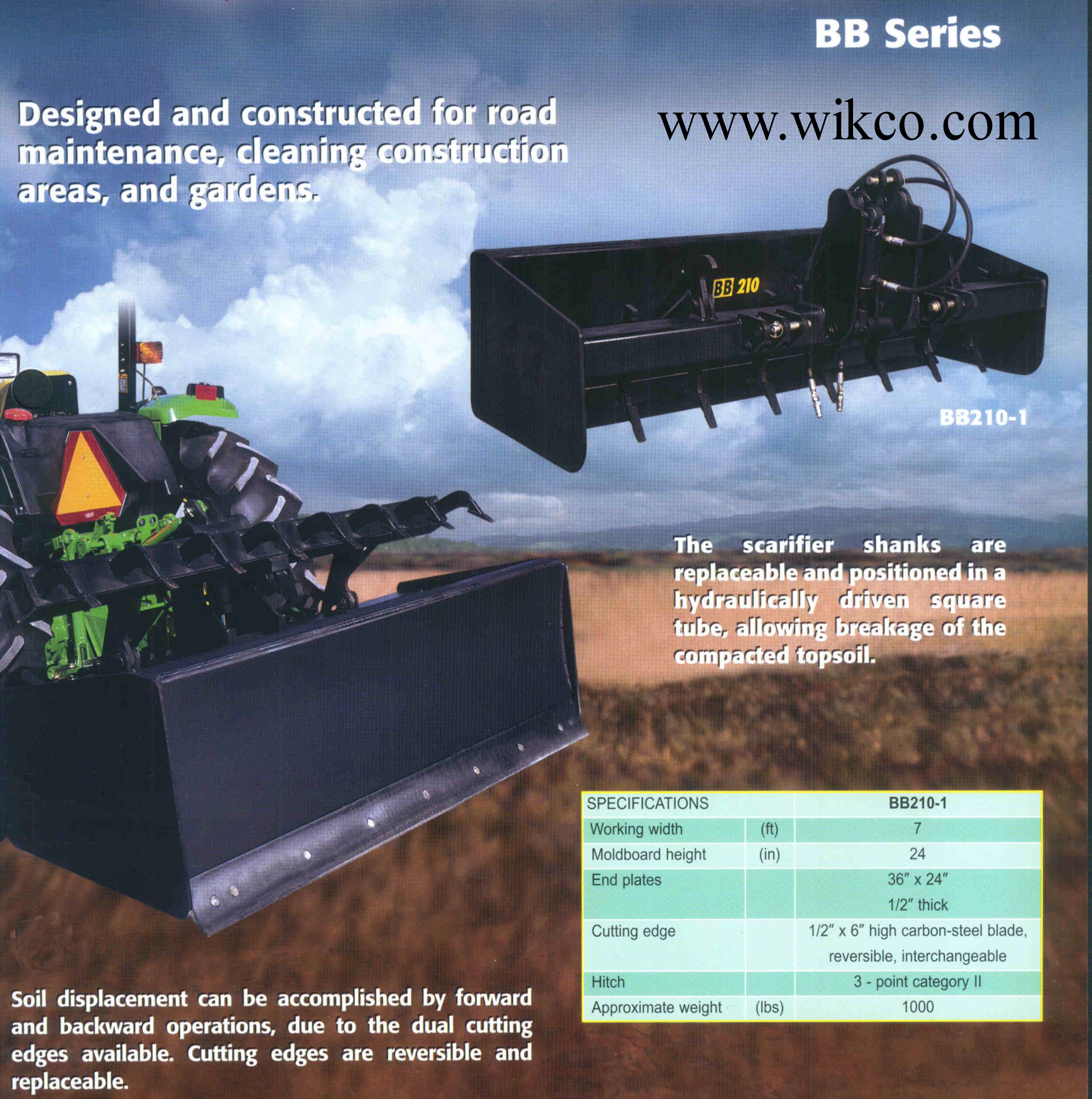 This is just one product of the hundreds we sell. Click any table of contents button at the top or bottom of any page to see our products. When you get to the table of contents, click on the "Home" button to go to our home page and see our other catalogs, or click on the symbol below to search our entire website using our search engine.

To make sure you are viewing the most recent version of this page with the most recent specifications, terms, and pricing, you need to make sure you access a "live" version of the site by typing in www.wikco.com at your go button to view the home page, or type in the exact address of this page as it appears in the address line of your browser such as: www.wikco.com/table.html . You can also get to the live page by holding down the "shift" key on your keyboard and simultaneously clicking on the refresh button on your browser. Pages accessed through links from the popular search engines may link to old versions of our web site they have saved. You can also verify any information as current by e-mailing us or calling sales at 866-464-8893.
Features/Specifications


Heavy duty box scraper with hydraulically controlled scarifier bar
Box scraper has a working width of 7 ft.
Moldboard height of box is 24 inches, end plates are 36 inches long x 24 inches high x 1/2 inch thick
Has metal cutting edge on back side of box frame, 1/2 inch thick x 6 inches high, made of high carbon steel, blade is reversible and replaceable
Mounts on larger tractors 50 hp and larger with category 2 three point hitches
Approximate weight is 1000 lbs.


Model BB210-1: 7 ft. wide box scraper for category 2 three point hitches, has hydraulically controlled scarifier bar, wt. is 1036 lbs. - Price is $2549.00 plus $550.00 shipping
How To Order
Order Online by clicking the order button
Order by phone call the sales department at 866-464-8893 or
Order by fax, fill out our orderform online and fax it to sales at 480-635-9437 or
Fill out our order form and mail it to our address listed below
Payment Terms - Payment can be made by credit card, check, money order, wire transfer, and in some cases billing on open account. There are restrictions on credit card payments however, so please click on the orderform button below for explanation of all payment terms, and information on overseas/foreign orders.
For Technical Questions or Parts Information - Please click on the e-mail link on any product page and/or e-mail us at sales@wikco.com, or call the Technical Department at 520-316-0446

Wikco.com Inc.
1467 N Grant Ave., Casa Grande AZ 85222
Call Toll Free: 866-464-8893 (U.S. And Canada)
Outside U.S. and Canada Call: 480-635-9437
Fax number is 480-635-9437




Click on the table of contents buttons below, or the ones at the top of the page, to see the items in this catalog.
Table Of Contents - Page 1 A-O Grounds Equipment Catalog
Table Of Contents - Page 2 P-Z Grounds Equipment Catalog
Other Equipment Catalogs On Our Web Site
ATV 4 Wheel Utility Vehicles Catalog
Floor Cleaning Equipment Catalog
Motorcycle Tools And Accessories
Metal Fabrication Equipment
Tire Changers And Wheel Balancers
Surveillance Cameras And Equipment
Used Equipment Available

You Can Also Click On The Home Button To See Our Other Catalogs
Email Us at
sales@wikco.com
Copyright © Wikco.Com Inc., 1997-2005 All Rights Reserved