The York Model FM Landscape Rakes - Front Truck Mounted Landscape Rakes
The York FM Series Landscape Rakes are front mounted landscape rakes that mount on the mounting frame of your pickup truck's snowplow. The York FM front mounted rake is raised, lowered, and angled using your existing plow controls and hydraulic system. This reliable, work-horse enables pick-up truck plow systems used for institutional, commercial, and private snow removal to be used year round. The York FM landscape rake is a sturdy, versitile companion for: removing stones and debris; grading and leveling roads; driveways and large areas; spreading topsoil quickly and evenly; and distributing crushed stone, gravel, and cinders.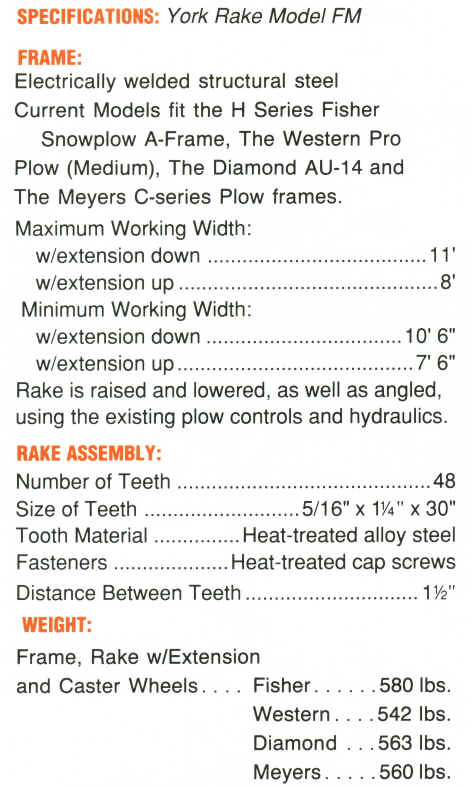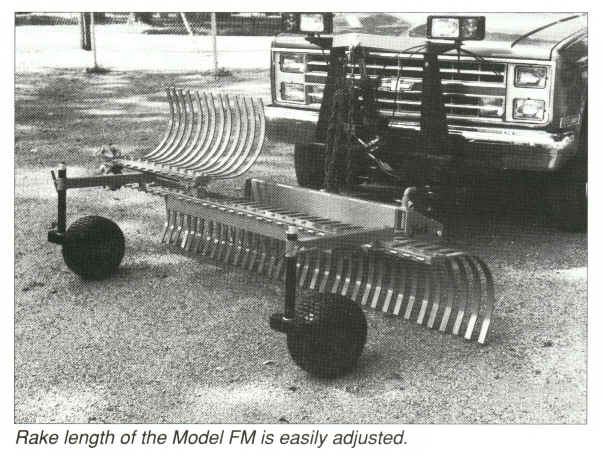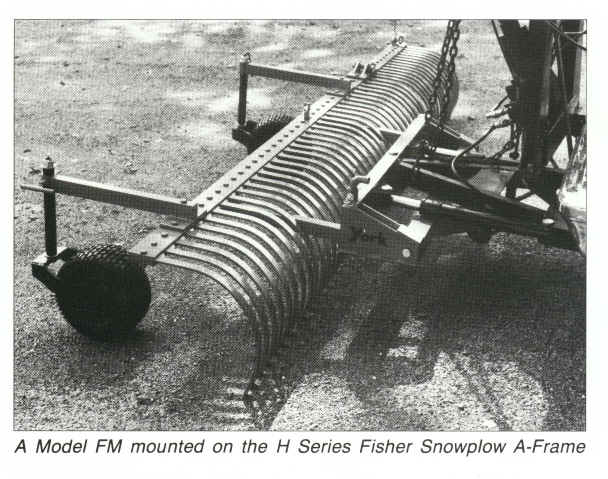 Specifications
Rakes weigh 542 to 580 lbs. depending upon the model
Maximum raking width with extension down is 11 ft. (132 inches)
Maximum raking width with extension up is 8 ft. (96 inches)
Minimum raking width with extension down is 126 inches
Minimum raking width with extension up is 90 inches
Angling: infinite with plows hydraulic angle cylinders
Tooth size 5/16" inch x 1 1/4 inches x 30 inches, made from heat treated alloy steel
Tooth spacing is 1 1/2 inches apart
Rake Heads are constructed of spring steel
Rakes models available to fit these plow frames: Fisher H-Series; Western Pro Plow; Diamond AU-14; Meyers C-series; Fisher MM2; and Boss
Caster wheels are included: 13/6.50 x 6 pneumatic tires with high speed bearings
Rake extension also included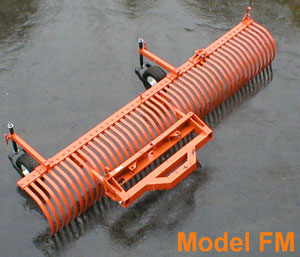 Model 7520: York truck mounted rake model FM, consists of universal A-frame mounting with angle cylinders, 8 ft. rake section with 3 ft. wing and caster wheels, unit has 1 1/4 inch wide rake teeth spaced 1 1/2 inches apart. The unit with universal A-frame will mount on the snow plow frame arms of most standard plows including: Fisher Minute Mount 2 plow; Meyers-C Series plow; Western Pro Plow (medium); and Boss Snow Plow. Contact us to check if your plow isn't listed - Click the link below for the current price of this item, and/or to order.

Note:
The Model FM plow minus the Universal A-Frame and angle cylinders will fit the Fisher H-series plow frame. Click the link below to get a quote on this item

Model 7520NF: FM series plow WITHOUT A-FRAME AND ANGLE CYLINDERS, fits the Fisher H-series plow frame - Click on the link below to get a quote on this item

Click Here To Expand This To A Full Page Version
Wikco.Com is an equipment dealer selling directly to the end user
To Order: Click On The Order Form Button Directly Below For Ordering And Payment Information


If Our Index Does not Appear On The Left Side Of This Page
Then Click On The Home Button Above To See The Many Other Products We Sell
For Sales or Technical Questions, Parts Information, Or To Check On An Order
Please E-Mail us at: wikcocom@msn.com
All information is on our web site at: www.wikco.com
If you have additional questions,
Click Here For Our Contact Information
Wikco.com Inc.

Copyright © Wikco.Com Inc., 1997 to present - All Rights Reserved, A U.S. Corporation