The York Model FM Landscape Rakes - Front Truck Mounted Landscape Rakes
The York FM Series Landscape Rakes are front mounted landscape rakes that mount on the mounting frame of your pickup truck's snowplow. The York FM front mounted rake is raised, lowered, and angled using your existing plow controls and hydraulic system. This reliable, work-horse enables pick-up truck plow systems used for institutional, commercial, and private snow removal to be used year round. The York FM landscape rake is a sturdy, versitile companion for: removing stones and debris; grading and leveling roads; driveways and large areas; spreading topsoil quickly and evenly; and distributing crushed stone, gravel, and cinders.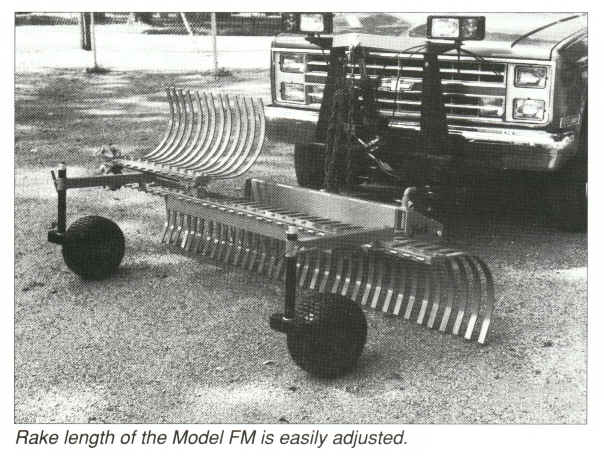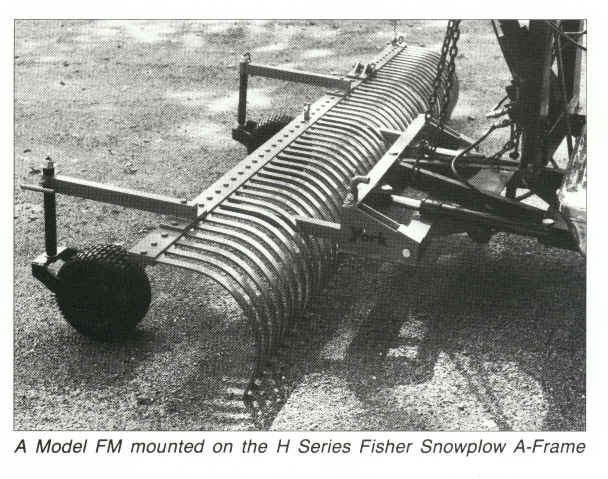 Specifications
Rakes weigh 542 to 580 lbs. depending upon the model
Maximum raking width with extension down is 11 ft. (132 inches)
Maximum raking width with extension up is 8 ft. (96 inches)
Minimum raking width with extension down is 126 inches
Minimum raking width with extension up is 90 inches
Angling: infinite with plows hydraulic angle cylinders
Tooth size 5/16" inch x 1 1/4 inches x 30 inches, made from heat treated alloy steel
Tooth spacing is 1 1/2 inches apart
Rake Heads are constructed of spring steel
Rakes models available to fit these plow frames: Fisher H-Series; Western Pro Plow; Diamond AU-14; Meyers C-series; Fisher MM2; and Boss
Caster wheels are included: 13/6.50 x 6 pneumatic tires with high speed bearings
Rake extension also included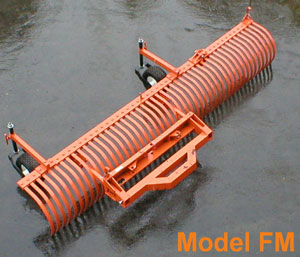 Model 7520: York truck mounted rake model FM, consists of universal A-frame mounting with angle cylinders, 8 ft. rake section with 3 ft. wing and caster wheels, unit has 1 1/4 inch wide rake teeth spaced 1 1/2 inches apart. The unit with universal A-frame will mount on the snow plow frame arms of most standard plows including: Fisher Minute Mount 2 plow; Meyers-C Series plow; Western Pro Plow (medium); and Boss Snow Plow. Contact us to check if your plow isn't listed - Click the link below for the current price of this item, and/or to order.

Note:
The Model FM plow minus the Universal A-Frame and angle cylinders will fit the Fisher H-series plow frame. To order the model FM for this plow then order
Model 7520NF: FM series plow WITHOUT A-FRAME AND ANGLE CYLINDERS, fits the Fisher H-series plow frame -
To order the unit without A-Frame And Angle Cylinders, Click the order form button above also, and then pick the "Delete Frame Option" in the drop down menu on the order page.
We make every effort to keep prices current and correct as shown on our product pages. Prices do change frequently however; we will notify you of any changes when we receive your order so you can make any adjustments or changes to the order. We are not responsible for information or pricing on copies of our web pages on the search engines that are out of date. If you navigated to this page by clicking a link in the search engine listings, then click on the reload button on your browser to make sure you are viewing a current version of this page from our website. You can also go to www.wikco.com and link to this page from our index.
Click Here To Expand This To A Full Page Version
Wikco.Com is a national equipment dealer selling directly to the end user
To Order: Click On The Order Form Button Below For Ordering And Payment Information,
And Information On Any Cash Discounts That May Be Available
Please Order In Writing Only Using Our Order Form.

If Our Index Doesnot Appear On The Left Side Of This Page
Then Click On The Home Button Above To See The Many Other Products We Sell
For Sales or Technical Questions, Parts Information, Or To Check On An Order
Please E-Mail us at: sales@wikco.com
All information is on our web site at: www.wikco.com
If you have additional questions,
Click Here For Our Phone Number


Or Fax us at 520-316-0446
Wikco.com Inc.

Copyright © Wikco.Com Inc., 1997 And Beyond - All Rights Reserved, A U.S. Corporation
Aerators Aerators Aerator Aerators Aerator/Scarifier Arena Grading Tool Arena Grading Tool ATV Trailers ATV Trailers Auger Bucket - Skid Steer Mount Bale Slicer Ball Field Groomer Back Hoe Box Scraper Box Blade Box Scraper Brush Chipper Brush Grapple Brush Grapple Brush Grapple Brush Grapple Brush Grapple Brush Grapple-Fork Lift Mount Brush Mower Brush Mower Brush Mower Brush Chipper Brush Chipper Brush Chipper Brush Chipper Brush Grapple Brush Grapple Brush Mower Brush Mowers Brush Mower Brush Mulcher Camping Trailiers - Motorcycle Towable Cargo Trailers - Motorcycle Towable Cargo Trailers - Motorcycle Towable Cargo Trailer - Motorcycle Towable Cargo Trailers - Motorcycle Towable Cargo Trailers - Motorcycle Towable Crane - Tractor 3Pt. Hitch Mounted Cement Mixer Skid Steer Mount Cultivators Cultivator Dethatching Rake Dirt Scoop Dirt Worker Harrow Dirt Grader Attachment Disk Harrow Ditcher Ditch Digger Ditch Digger Earth Auger Earth Auger - One Man Gas Engine Earth Auger Earth Augers Earth Auger Earth Auger Earth Auger - 12 Volt Electric Fence Post Driver Fencepost Drivers Fence Post Drivers Fence Post Drivers Fertilizer Spreaders Filtering Buckets Finish Mowers Finish Mowers - Tractor Mounted Finish Mower-Tractor Mounted Finish Mower Finish Mowers - Tractor Mounted Finish Mowers - Tractor Mounted Finish Mower Flail Mowers Flail Mowers Flail Mowers Flail Mower Flail Mower Generators - PTO Powerered Generators - Engine Powered Generator/Welder Combinations Grapple Buckets Greens Mower Harrows Harrows - Rotary Harrow For ATVs - Disk Type Harrow Rakes Harrow Lift Harrow Rake Dethatcher Hay Rake Hay Rake Hay Tedder Hay Rake Harrow Rake Hydraulic Power Packs High Wheel Mowers Insecticide Sprayer Landscape Rake Landscape Rake Landscape Rake Landscape Rake Landscape Rake Landscape Rakes Landscape Rakes Landscape Rakes Landscape Rakes Landscape Rake Landscape Rake - Powered Landscape Rake - SUV Mount Landscape Rakes Lawn Edgers Leaf Blowers Logging Equipment Log Splitters Manure Spreaders Manure Spreaders Manure Spreaders Sprayer - Mist Type Motorcycle Hitches Motorcycle Tire Changer Motorcycle Tire Changer Motorcycle Tire Changer Mower- Offset Cutter, Articulated Multi-deck Finish Mowers Multi-deck Finish Mowers Multi-deck Finish Mowers Mult-deck Finish Mowers Overseeders Paint Stripers Paint Striper Paint Stripers Paintstripers Paint Striper Pallet Forks Quick Hitch Plows Power Hammer Power Rake And Soil Pulverizer Quick Hitch Reel Roller Lawn Striping Attachment Reel Mower Standard Type Greens Mowers Rotary Harrow Reel Mower Rock And Brush Grapple System Roto-Tiller Tractor Mounted Roto-Tiller Tractor Mounted Roto-Tiller Tractor Mounted Roto-Tiller Tractor Mounted Roto-Tiller Tractor Mounted Sicklebar Mowers Sickle Bar Mower Sickle Bar Mower Information Snow Blades Snow Plows Soil Pulverizer Sprayer Spreaders Spreaders - Drop Spreaders Soil Ripper Attachment Spreader - ATV Mount Electric Spin Spreader Electric And PTO Sprayers Stump Grinders Stump Grinders Stump Grinders Stump Grinders Stump Grinders Stump Grinders Sweeper Sweeper Sweepers Sweepers Sweepers - Walk Behind Sweeper Tire Changer - APX 80 Rim Clamp Type Tire Changer - APX 90 Rim Clamp Type Tire Changer - Coats 4050 Tire Changer - Coats 4300 Tire Changer - Model 5040 Tire Changer - Model 9024E Tire Changer Tire Changer Tire Changer - Motorcycle Wheels Tire Changer Tire Changer Tire Changer Tire Changer Tire Changer Tractor Blades Tractor Disk Tree Cutter Tree Puller Tree Saw Tree Spades Trenchers Trenchers Trenchers Trenchers Trimmers Walk Behind Type Trim Mowers Tractor Blade Tractor Blade Tractor Blade Tractor Mounted Roto-Tillers Tractor Mounted Tillers Tractor Mounted Tillers Tractor Mounted Tillers Tree Clippers Trim Mowers Wheel Balancer Information Wheel Balancer - Coats 1175 Wheel Balancer - Coats 1250 Wheel Balancer - Coats XR1750 Wheel Balancer - Coats XR1800 Wheel Balancer - Coats XR1850 Wheel Balancer - Coats 1000D Wheel Balancer - Proride Diagnostic Models Wheel Balancer - Coats 6401 Wheel Balancer - Coats 6275 Wheel Balancers - Coats 775 And 875 Wheel Balancer Information Wire Winders Wood Chippers Leaf Vacuum/Wood Chipper Lawn Vacuum/Wood Chipper Wood Chippers