Green-Rite Overseeder-Aerator And Seeder-Cultivators And The Seed-Rite Primary Seeder
The Green-Rite is and overseeder-aerator, and a seeder-cultivator all in one implement. The Green-Rite overseeder is designed for seeding and overseeding in a variety of conditions. For aerating when overseeding, the Green-Rite Overseeder has three straight knives mounted on each rotor flange, spaced 2.8 inches apart. If an area needs to be completely re-seeded, the units can be equiped with the optional tiller tine rotor for completely turning over the soil. The Green-Rite is a complete re-seeding tool available in working widths of 58 inches, 66 inches, and 82 inches.
Also Available is the Seed-Rite Primary Seeder. The Seed-Rite is similar to the Green-Rite machines except it is exclusively a seeding machine as it does not have any slicing/tilling rotor, and is designed to be used on already tilled, non-seeded ground. The unit's seeding mechanism is ground driven from the front corrugated roller on the machine.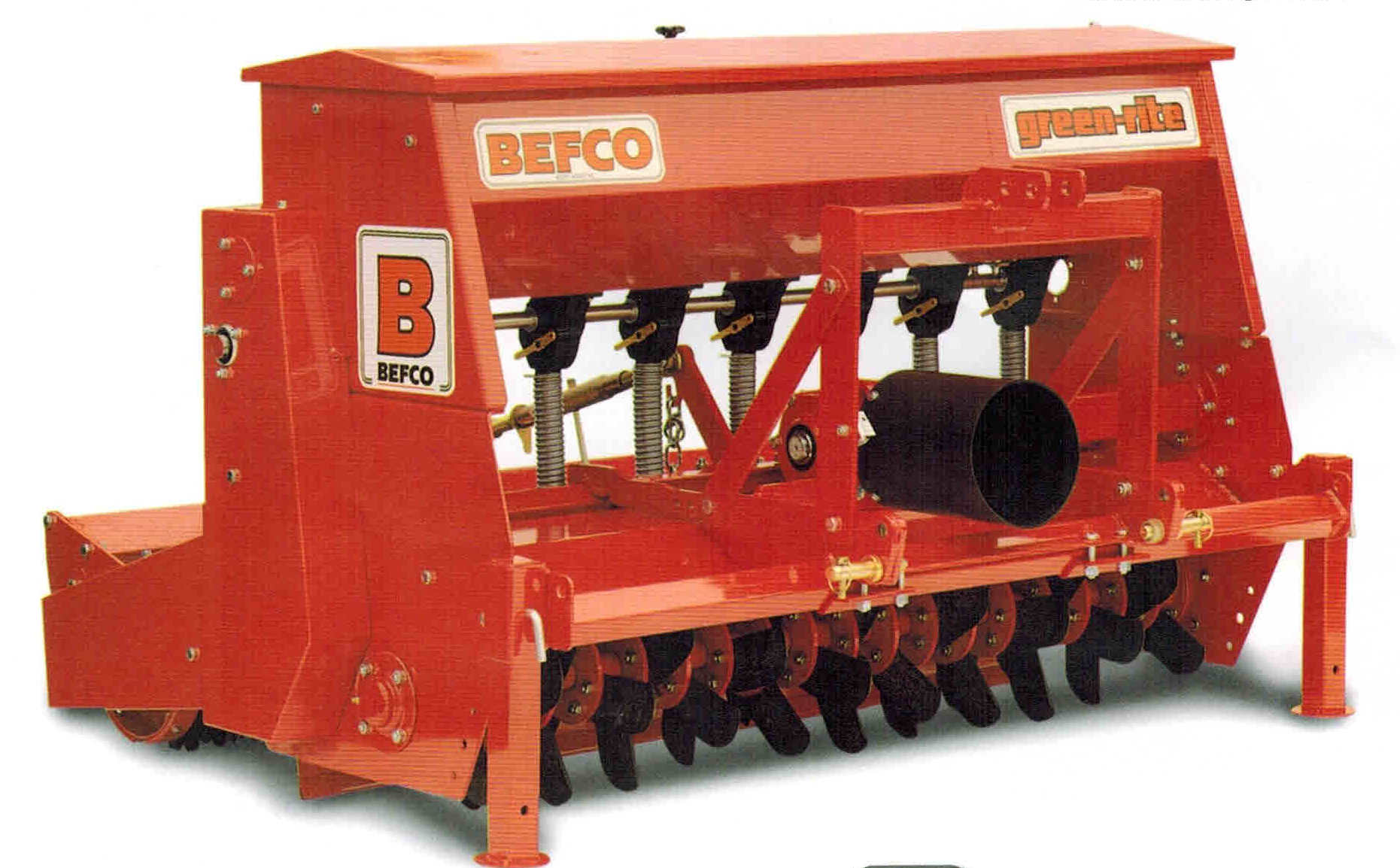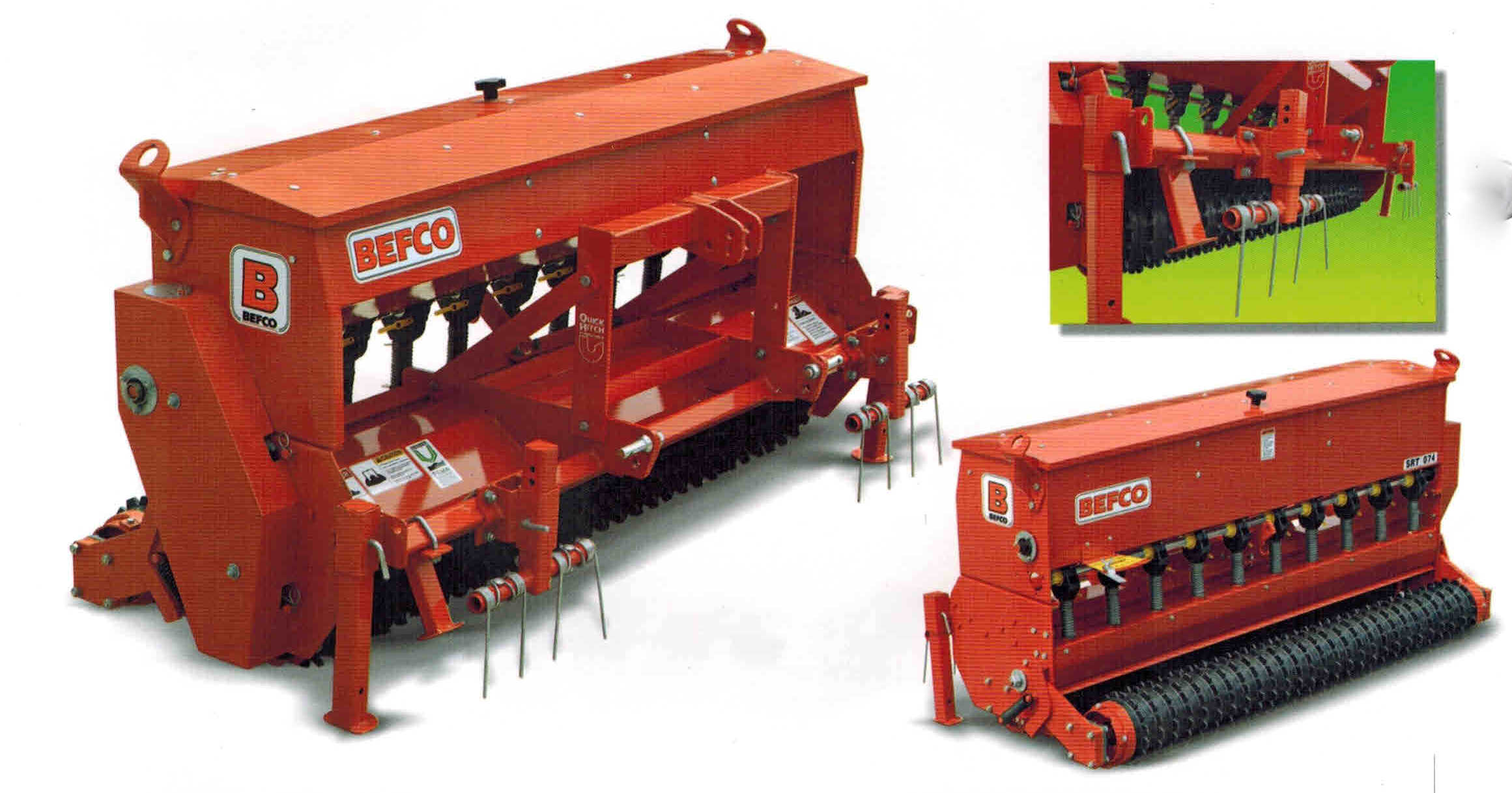 Green-Rite Overseeder-Aerator And Seeder-Cultivator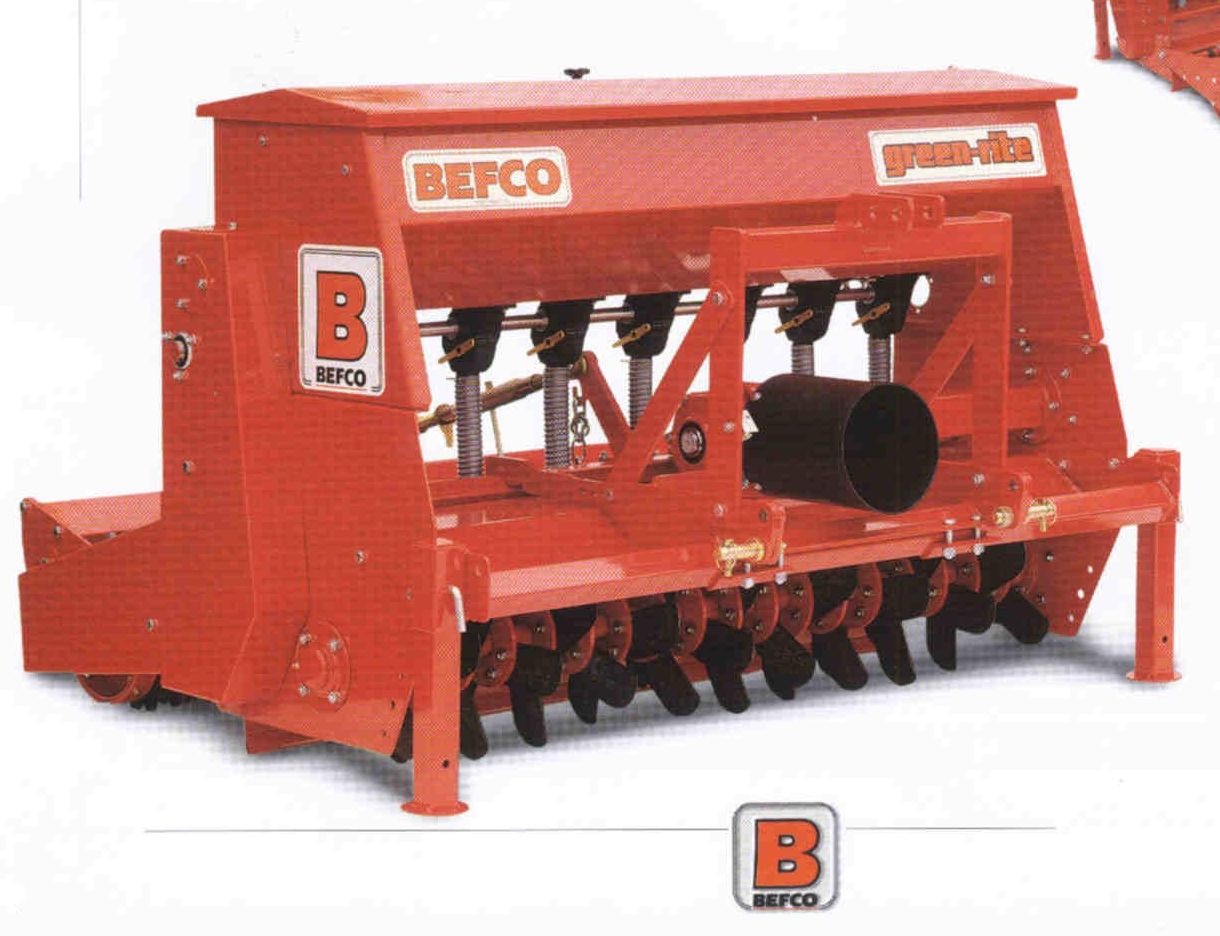 Features/Specifications



Aerator/Tiller part of unit is a series T40 rotary tiller base machine on 50, 58 and 66 inch machine. Eighty-two inch machine uses a T70 series rotary tiller base machine.



Special 2.8 inch spacing on rotor for aerating with 3 knives per flange; 4 knives per flange on 82 inch wide model



Seed covering/dethatching adjustable tickler tines along entire working width of each machine to incorporate and cover seed and fertilizer



High precision metering seed cups made from nylon/fiberglass composite



Metal legs on front two corners of machine can be pinned in place and act as parking stands for when unit is unhooked and setting on the ground



Rotors with aeration knives/or tiller rotor is driven from tractors 540 rpm pto shaft, seed hopper dispensing system is ground driven as unit moves



Large capacity seed hopper has internal agitator, seeds drop down seed tubes to manifold that spreads seeds evenly across width of unit - this is a drop/broadcast type seeder (not a drill)



Heavy duty shielded pto shaft with slip clutch safety (1 3/8 inch ASAE category 3 pto shaft for models 258 and 266, category 6 pto shaft for model 282)



Unit is designed to mount on tractors from 25 to 70 hp with category I three point hitches, and 540 rpm pto shafts



Corrugated depth control roller made with low weight nylon/fiberglass roll rings




Model GRT-250: Green-Rite with 50 inch working width, 57 inch overall width, seed manifold drops seeds evenly across width of machine, weight is 910 lbs., hopper capacity is 4.60 cubic ft., has 15 knife flanges, rotor speed is 231 rpm - Click the link below for current price, and/or to order





Model GRT-258: Green-Rite with 58 inch working width, 66 inch overall width, seed manifold drops seeds evenly across width of machine, weight is 998 lbs., hopper capacity is 5.30 cubic ft., has 18 knife flanges, rotor speed is 231 rpm - Click the link below for current price, and/or to order





Model GRT-266: Green-Rite with 66 inch working width, seed manifold drops seeds evenly across width of machine, 74 inch overall width, weight is 1170 lbs., hopper capacity is 6 cubic ft., has 23 knife flanges, rotor speed is 231 rpm - Click the link below for current price, and/or to order





Model GRT-282: Green-Rite with 82 inch working width, 89 inch overall width, seed manifold drops seeds evenly across width of machine, weight is 1730 lbs., hopper capacity is 7.6 cubic ft, has 26 knife flanges, rotor speed is 221 rpm - Click the link below for current price, and/or to order





Optional Equipment



Order the optional equipment in the drop down menu on the order page when ordering with an overseeder



If ordering these options without an overseeder, then click on the order form button below the item



009-9875: Gauge wheels for all models - Click the link below for current price, and/or to order





009-9648: Front roller for GRT-250 - Click the link below for current price, and/or to order





009-9516: Front roller for GRT-258 - Click the link below for current price, and/or to order





009-9563: Front roller for GRT-266 - Click the link below for current price, and/or to order





009-9566: Front roller for GRT-282 - Click the link below for current price, and/or to order





009-9649: Tiller rotor for GRT-250 - Click the link below for current price, and/or to order





009-9517: Tiller rotor for GRT-258 - Click the link below for current price, and/or to order





009-9564: Tiller rotor for GRT-266 - Click the link below for current price, and/or to order





009-9567: Tiller rotor for GRT-282 - Click the link below for current price, and/or to order





009-9650: Rear roller scraper for GRT-250 - Click the link below for current price, and/or to order





009-9539: Rear roller scraper for GRT-258 - Click the link below for current price, and/or to order





009-9565: Rear roller scraper for GRT-266 - Click the link below for current price, and/or to order





009-9568: Rear roller scraper for GRT-282 - Click the link below for current price, and/or to order





Note: Units may utilize gauge wheels or a gauge roller for depth control, but not both




Seed-Rite Primary Full Width Seed Broadcaster

Features/Specifications - Seed-Rite Primary Seeder - Model SRT-074



The seed-Rite is a Primary Width seed broadcaster designed to be used for primary seeding on pre-tilled ground



The unit does not have any slicing or tilling rotors (for that feature seed the Green-Rite models above)



Unit has a ground driven seeder mechanism driven by chain drive from the front corrugated smoothing roller



Unit also has a rear roller for additional seed packing and surface smoothing



The seeding width is 74 inches, all steel hopper has a 7.00 cubic ft. capacity, hopper has a heavy duty steel lid with seed splash guard



Seed box has a steel shaft agitator, and includes 10 high precision metering seed cups which drops the seeds into seed tubes spaced 7.4 inches apart



The adjustable metering system provides a wide range of calibration settings per acre



Wind guarded seed drop gives you precise seed placement/less waste



The seeder is designed to mount on your 25 to 70 hp tractor with a category 1 three point hitch



Other features include a heavy duty steel frame, rear corrugated roller with 29 rings, 9 1/2 inches in diameter, made with low weight nylon/fiberglass, roller spindles are made of 1 3/8 inch steel, front and rear, with greasable bearings



Frame mounted two spring-tine track removers



Working width is 74 inches, overall width is 80 inches, weight is 990 lbs., shipping weight is 1190 lbs.



Model SRT-074: 74 inch wide working width, overall width 80 inches - Click the link below for current price, and/or to order





Optional Equipment - Seed-Rite




If ordering these accessories with the Seed-Rite SRT-074 then see the order page for the SRT-074; if ordering the below separately, then click the order form button below each item.

Part No. 009-9930: Rear expanded roller frame for seed covering/dethatching with adjustable tickler tines



If ordering the above item with a new Seeder, then order in the drop down menu on the seeder order page



If ordering the above item separately, then click on the order form button below



Click the link below for current price, and/or to order





Part No. 009-9985: Seed rate speed reduction kit - Click the link below for current price, and/or to order





Part No. 009-9138: Seed Conveyors for hopper - Click the link below for current price, and/or to order






Click Here To Expand This To A Full Page Version

Wikco.Com is an equipment dealer selling directly to the end user
To Order: Click On The Order Form Button Directly Below For Ordering And Payment Information

If Our Index Does not Appear On The Left Side Of This Page

Then Click On The Home Button Above To See The Many Other Products We Sell

For Sales or Technical Questions, Parts Information, Or To Check On An Order
Please E-Mail us at: wikcocom@msn.com
All information is on our web site at: www.wikco.com
If you have additional questions,

Click Here For Our Contact Information




Wikco.com Inc.


Copyright © Wikco.Com Inc., 1997 to present - All Rights Reserved, A U.S. Corporation