York MT & MR Series Landcape Rakes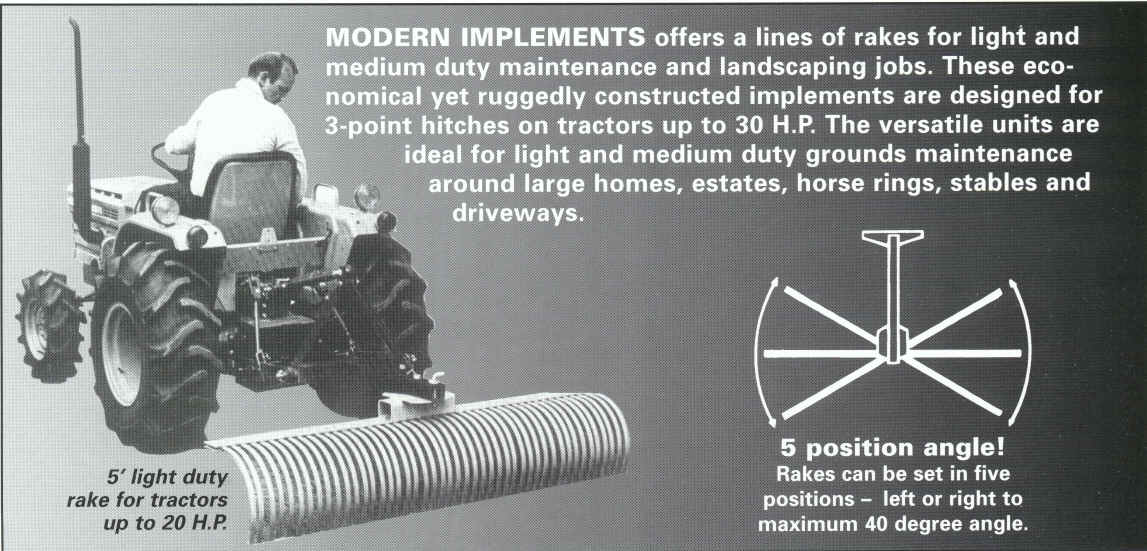 The York MT & MR Series Landscape Rakes are basic rakes designed to be pulled behind tractors up to 20 hp in size (MT series), and up to 30 hp in size (MR series), and are designed for light and medium duty jobs. These rakes are economical yet ruggedly constructed implements. The MT series models have a pin type hitch to connect to tractors, garden tractors, and SUV's with a pin type connection.
The MR series models are all three point hitch mount models with the MR2 models having a category 0 three point hitch connection, and the MR3 series models with a category 1 hitch connection standard and category 0 pins available.
These versatile units are ideal for light and medium duty grounds maintenance around large homes, estates, horse rings, stables, and driveways, including: grading and leveling; spreading topsoil and gravel; removing stones, roots and debris; and manicuring ball diamonds and tracks. The series MT & series MR rakes are both available in widths of 4 ft., 5 ft., and 6 ft..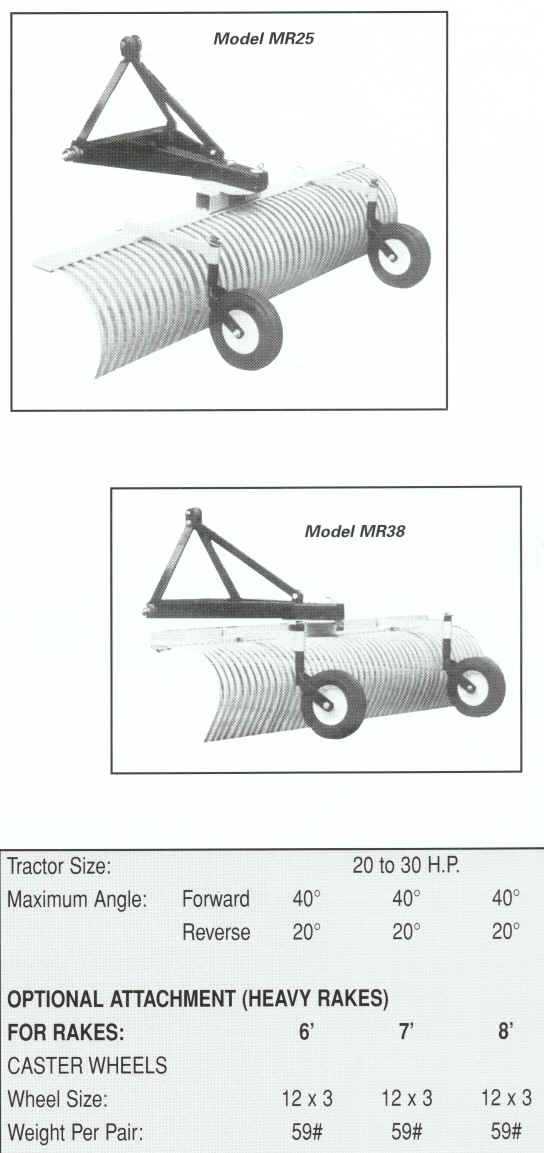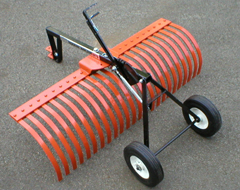 Features/Specifications




Tow Type Rakes For Up To 20 HP Tractors








Teeth are 1 inch wide with 1 inch spacing between the teeth, rake teeth are 22 inches long



Model 3264: MT24 landscape rake, 4 ft. width, tow type, wt. 108 lbs. - Click the link below for a price quote





Model 3265: MT25 landscape rake, 5 ft. width, tow type, wt. 162 lbs. - Click the link below for a price quote





Model 3266: MT26 landscape rake, 6 ft. width, tow type, wt. 175 lbs. - Click the link below for a price quote









MR2 Series Three Point Hitch Mount Landscape Rakes




All the units below are equipped with category I pins standard, category 0 pins available upon request



Model 3274: MR24 landscape rake, 4 ft. width, wt. 120 lbs. - Click the link below for a price quote





Model 3275: MR25 landscape rake, 5 ft. width, wt. 132 lbs. - Click the link below for a price quote





Model 3276: MR26 landscape rake, 6 ft. width, wt. 149 lbs. - Click the link below for a price quote





Accessories







Model 3220: MCW2 caster wheels for landscape rakes, wt. 36 lbs. - Click the link below for a price quote






MR3 Series Three Point Hitch Mount Rakes




Model 3375: MR35 landscape rake, 5 ft. width, wt. 211 lbs. - Click the link below for a price quote





Model 3376: MR36 landscape rake, 6 ft. width, wt. 233 lbs. - Click the link below for a price quote





Model 3377: MR37 landscape rake, 7 ft. width, wt. 255 lbs. - Click the link below for a price quote





Model 3378: MR38 landscape rake, 8 ft. width, wt. 280 lbs. - Click the link below for a price quote





Accessories







Model 3320: MCW3 caster wheels for landscape rakes, wt. 59 lbs. - Click the link below for a price quote






Click Here To Expand This To A Full Page Version

Wikco.Com is an equipment dealer selling directly to the end user
To Order: Click On The Order Form Button Below For Ordering And Payment Information

If Our Index Doesnot Appear On The Left Side Of This Page

Then Click On The Home Button Above To See The Many Other Products We Sell

For Sales or Technical Questions, Parts Information, Or To Check On An Order
Please E-Mail us at: wikcocom@msn.com
All information is on our web site at: www.wikco.com
If you have additional questions,

Click Here For Our Contact Information




Wikco.com Inc.


Copyright © Wikco.Com Inc., 1997 to present - All Rights Reserved, A U.S. Corporation