Tractor Mounted Core Plug Aerators
The Befco Core Plug Aerators are core type aerators that mount on your tractor's three point hitch (either front or rear mounted three point hitches). The Standard Series models available in 60 inch and 72 inch widths are designed for category 1 three point hitches on tractors from 20-50 hp. The Heavy Duty Series models are available in widths of 60 and 72 inches also, and mount on your tractors category 1 or 2 three point hitch, and require a tractor horsepower of 25 to 75 hp.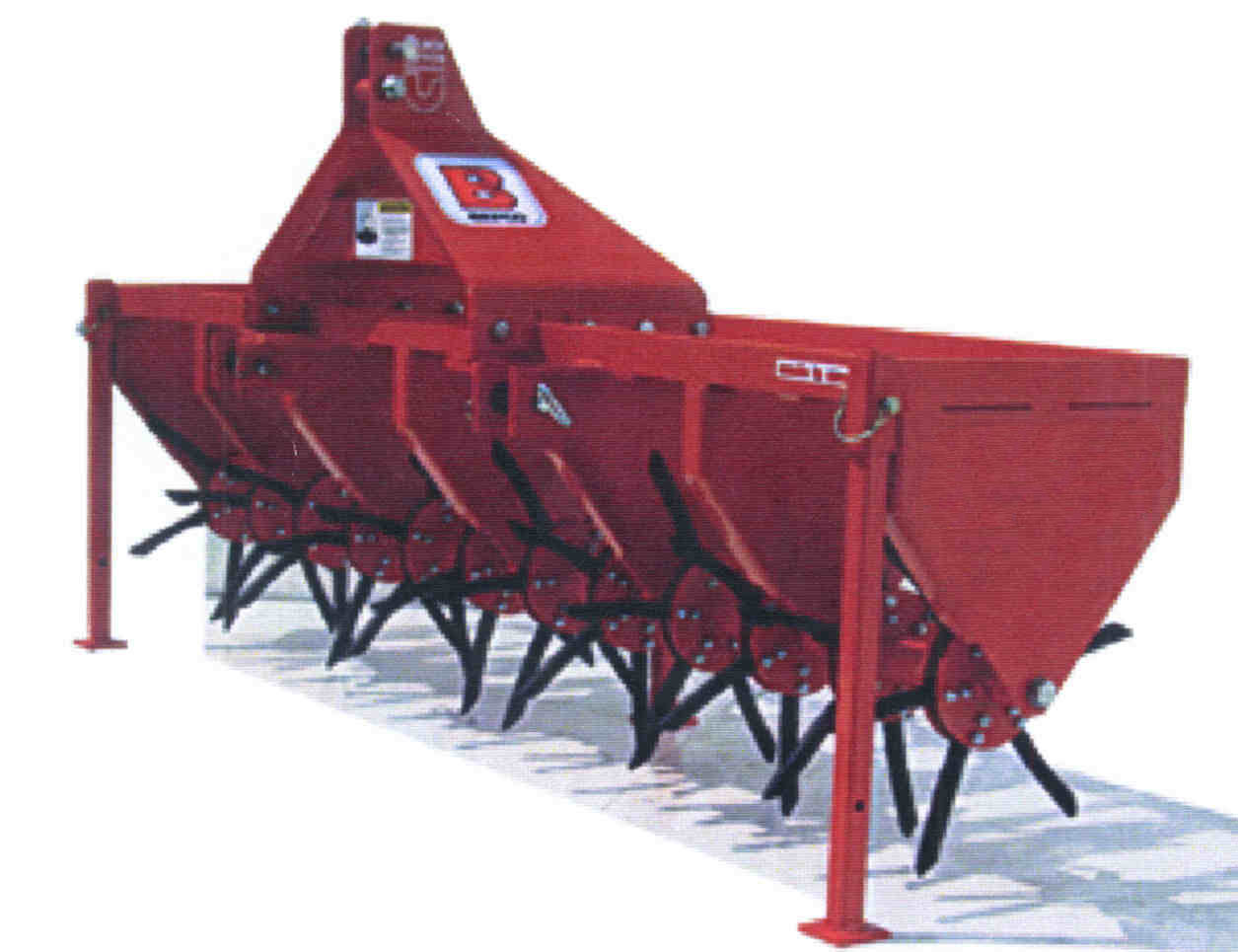 Both series use all steel construction and are designed to hold up under heavy use. You can purchase steel weight tanks to add water ballast for weight for maximum core plug penetration, or you can add your own on top of the frame. The units weigh from between 357 lbs. up to 549 lbs. depending upon the model, so extra weight might not be needed depending upon the soil conditions. Maximum spoon penetration is 4.5 inches on all models.
Standard Series Aerators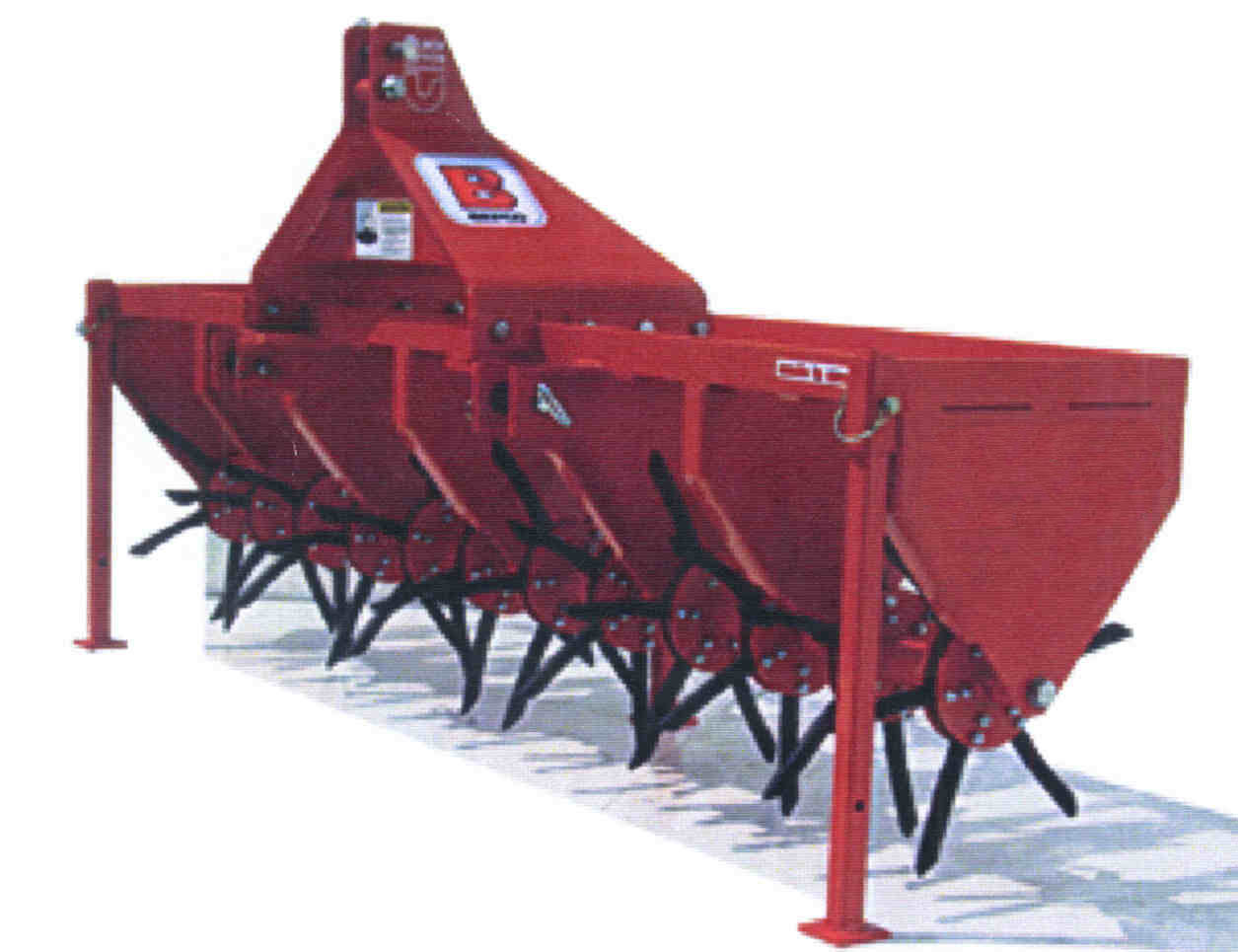 Features/Specifications



Mounts on category 1 three point hitches, and the Befco quick hitch, for tractors from 20 to 50 hp



Standard Series aerators are available in widths of 48, 60 or 72 inches



Aerator spoons are 4.5 inches long, and 3/4 inch in diameter and constructed of



Model BCA-048, the 48 inch wide model has 48 aerator spoons



Model BCA-060, the 60 inch wide model has 60 aerator spoons



Model BCA-072, the 72 inch wide model has 72 aerator spoons



All tines are replaceable, and bolt to the tine hubs



Special High tensile steel shafts on the rotors, with 2 bronze bushings per rotor



The rotor flanges have a thickness of 3/16 inches, and all flanges are welded to the rotors



The rotor support shaft is 1 1/4 inch diameter for added strength



The units feature all steel construction, with 8 gauge formed steel support panels that support the rotors from all sides



The Category 1 "A" frame for the three point hitch is constructed of 3/8 inch steel



The aerator includes 3 support stands to hold the aerator upright when it is unhooked from the tractor




Model BCA-048: 48 inch aeration width (overall width is 54 inches), wt. is 284 lbs., tine length is 4.5 inches - Click the link below for a price quote.





Model BCA-060: 60 inch aeration width (overall width is 65 inches), wt. is 357 lbs., tine length is 4.5 inches - Click the link below for current price and/or to order.



Model BCA-072: 72 inch aeration width (overall width is 78 inches), wt. is 401 lbs., tine length is 4.5 inches - Click the link below for current price and/or to order.





Optional Equipment
Model 009-9731: Steel weight tank for aerator model BCA-048 only, 2 required, addes 105 lbs. per tank when filled with sand (sand recommended, as there isn't a drain hole on the bottom of the tank for water draining)

Click the link below for a price quote.





Model 009-9732: Steel weight tank for aerator model BCA-060 only, 2 required, adds 125 lbs. per tank when filled with sand (sand recommended, no drain hole on bottom of tank for water draining)

Click the link below for a price quote.





Model 009-9733: Steel weight tank for aerator model BCA-072 only, 2 required, adds 145 lbs. per tank when filled with sand (sand recommended, no drain hole on bottom of tank for water draining)

Click the link below for a price quote.






Heavy Duty Series Aerators

Features/Specifications



The heavy duty series core plug aerator is designed for 25-75 hp tractors with category 1 or 2 three point hitches and is quick hitch adaptable. The aerator mounts on the front or rear (if you have a three point hitch mounted on the front)



The core plug spoons are 3/4 inch diameter, hardened steel and are spaced 6.5 inches apart. The 3/16 inch thick rotor flange attaches to the rotor which rides on the special 1 1/4 inch diameter high tensil steel shafts with 2 bronze bushings per rotor. There are 8 core plug spoons bolted to each hub so the tines are easily replaceable



The all steel construction features a heavy frame with 3/16 inch formed steel support panels which support the rotors from all sides



The category 1 And 2 hitch A-frame is formed out of 3/8 inch thick material



The aerator frame has three support stands to keep the aerator upright after it has been removed from the tractor



Model BCA-260: 60 inch aeration width with 65 inch overall width, for mounting on 25-75 hp tractors, wt. is 444 lbs., has 80 tines 4.5 inches long, additional area on each side of frame to put optional weight tank attachment or other weight is 19 inches x 21 inches

Click the link below for a price quote.





Model BCA-272: 72 inch aeration width with 78 inch overall width, for mounting on 25-75 hp tractors, wt. is 549 lbs., has 96 tines 4.5 inches long, additional area on each side of frame to put optional weight tank attachment or other weight is 25 inches x 21 inches

Click the link below for a price quote.





Optional Equipment
If ordering the items below with a new aerator, order through the drop down menu on the aerator order page. If ordering the items separately without an aerator, then click on the order form button below each item.




Model 009-9734: Steel weight tank (for model BCA-260), 2 required, adds 125 lbs. per tank when filled with sand (sand recommended, no drain hole on bottom of tank for water draining)

Click the link below for a price quote





Model 009-9735: Steel weight tank (for model BCA-272), 2 required, adds 145 lbs. per tank when filled with sand (sand recommended, no drain hole on bottom of tank for water draining)

Click the link below for a price quote.






Click Here To Expand This To A Full Page Version

Wikco.Com is an equipment dealer selling directly to the end user

To Order: Click On The Order Form Button Directly Below For Ordering And Payment Information

If we have quoted you a price, please order by clicking this order button directly below; if you need a price quote, click any of the other order button links above.

If Our Index Does not Appear On The Left Side Of This Page

Then Click On The Home Button Above To See The Many Other Products We Sell

For Sales or Technical Questions, Parts Information, Or To Check On An Order
Please E-Mail us at: wikcocom@msn.com
All information is on our web site at: www.wikco.com
If you have additional questions,

Click Here For Our Contact Information








Wikco.com Inc.


Copyright © Wikco.Com Inc., 1997 to present - All Rights Reserved, A U.S. Corporation