BX32 And BX 42 Series Tractor Mounted And Skid Steer Mounted Brush Chippers And Chipper Shredders
The BX32 and BX42 series tractor mounted brush chippers are designed for small and medium sized tractors. The BX32 machines have a 3 inch chipping capacity, and all have a self-feed hopper. The BX42 series machines have a 4 inch chipping capacity and are available with either self-feed hoppers and hydraulic power feed hoppers (hydraulic power feed models require 1 auxillary hydraulic outlet on your tractor). The 32 And 42 series units are also available as chipper shredders: 32 series models will chip up to a 3 inch limb and shred material as large as 1 inch in diameter; 42 series models will chip up to a 4 inch limb and shred material as large as 2 inches in diameter.
Also available is model BXH42 chipper which mounts to skid steer loaders that are universal quick attach compatable. This unit has a self-feed hopper (no power feed) and runs off your skid loader's auxillary hydrualic connection. Model BXH42 requires 20 gpm to operate and has a 4 inch diameter limb capacity.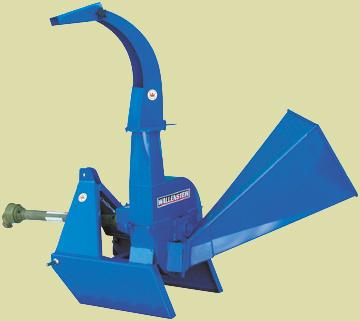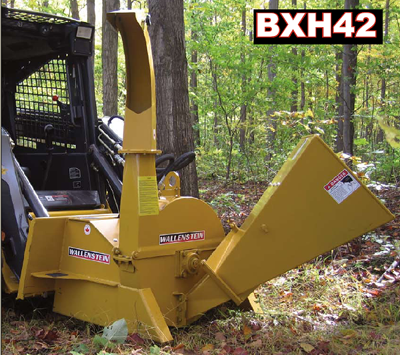 The 32 series are available with self-feed hoppers only. Chipper/Shredder model shown above; also available as standard chipper model, see below.
Model WLBX32S: Brush Chipper, three point hitch mount (category 1 hitches), 540 pto powered brush chipper with 3 inch diameter capacity, self-feed hopper, has shearbolt protection on drive line, for 12 to 30 hp tractors, has 360 degree discharge chute, wt. is 320 lbs.

Click the link below to request a price quote

Model WLBXM32: Brush Chipper/Shredder, Three point hitch mount (category 1 hitches), 540 pto powered brush chipper/shredder with 3 inch diameter chipping capacity and 1 inch diameter shredding capacity, self-feed hopper, has shearbolt protection on drive line, for 12 to 30 hp tractors, has 360 degree discharge chute, wt. is 445 lbs.

Click the link below to request a price quote