Engine Powered Trailer Mounted Wood Chipper
The BX Series Engine Powered Trailer Mounted Wood Chippers are highway towable models, complete with highway lights,fenders, safety chains, and have a 2 inch ball coupler. Several models are available, all powered by Honda engines: 9, 13, or 24 hp depending upon the model. These heavy duty, high quality tow-behind brush chippers are rated at 3 inch, 4 inch, or 6 inch chipping capacity depending upon the model. The BXT series are wood chippers, the BXMT series models are chipper/shredder machines and have flail blades for shredding in addition to the chipper blades.
All the units are considered self-feeding; four angle mounted, hardened tool steel knives are designed to draw material into the chipping chamber. Reversible stationary, and revesible rotary knives double time between sharpenings. The shredder models use 27 or 30 shredding flails (depends upon the model, see the specification chart), to reduce material in the separate shredding hopper. The discharge hood on all models rotates 360 degrees so you get exact placement of wood chips. Tail lights, safety chains, and 2 inch ball hitch are standard; designed for over the road highway towing, and now have torflex axles for smoother towing.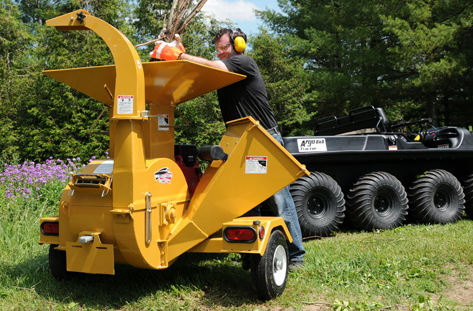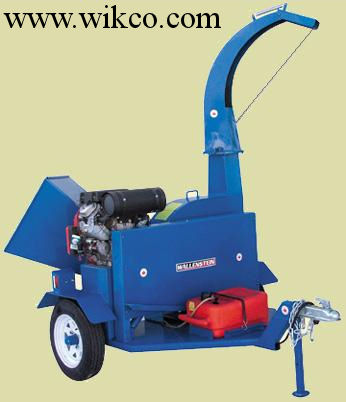 Specifications - Models 3209, 3213, And 4224
Features/Specifications - Model BXTMT3209 Engine Powered, Trailer Mounted Brush Chipper/Shredder




All models are belt drive with centrifugal clutch



Has 9 hp Honda engine



Has 3 inch chipper capacity and 1 inch diameter shredding capacity



Chipper housing opening is 6 inches x 3 inches



Has both a chipper hopper and a shredder hopper, chipper hopper opening 12 1/2 inches x 11 1/2 inches and shredder hopper opening is 30 inches x 28 inches



Chipper housing opening is 6 inches x 3 inches, shredder housing opening is 10 inches by 10 inches

Has 2 offset, hardened, reversible chipper blades, and 27, hardened and reversible shredder knives




Discharge hood rotates 360 degrees, discharge hood height is 56 inches




Machine rotor weight is 70 lbs. on models BXMT3209 and BXMT3213 and 170 lbs. on model BXMT4224



Rotor rpm is 1600



Weight is 400 lbs.



Has 410 by 6 tires, designed for low speed towing only



Dimensions: 44 inches wide x 56 inches long x 56 inches high



Model WLBXMT3209: Trailer mounted chipper/shredder, with off road tires, 9 hp Honda engine, has 3 inch chipping capacity and 1 inch shredding capacity, has clevis style towing hitch, wt. is 400 lbs. - Click on the link below for a price quote





Model WLBXMT3213: Trailer mounted chipper/shredder, with highway towable 480 x 8 wheels and lights and safety chains, 13 hp Honda engine with 3 inch chipping capacity and 1 inch shredding capacity, has 2 inch ball hitch, wt. is 520 lbs., other specifications the same as above - Click on the link below for a price quote






Model WLBXMT4224: Trailer mounted chipper/shredder, with highway towable 650 x 8 wheels and lights and safety chains, 24 hp Honda engine with electric start, unit has 4 inch chipping capacity and 2 inch shredding capacity, has 2 inch ball hitch, wt. is 1080 lbs. - Click on the link below for a price quote



Features/Specifications - Models BXT 4213/4224 Trailer Mounted Brush Chippers






Both models have a chipping capacity of 4 inch diameter limbs (or 10 inch wide wood slab), BXT4213 is powered by a 13 hp Honda engine, BXT4224 is powered by a 24 hp Honda engine. Chipping speed should be greater with the 24 hp motor as the larger motor should provide more torque allowing material to feed and be chipped faster.



Units use two angle mounted, hardened tool steel knives that are designed to draw material into the cutting chamber, giving you a self-feeding action



Reversible stationary and rotor knives double time between sharpenings



Discharge hood rotates 360 degrees



Both models have a 4 inch diameter chipping capacity (up to a 10 inch wide wood slab)



Has a 4 inch X 10 inch chipper housing opening in front of rotor, has large 17.5 inch x 18 inch feed hopper opening



Has a large 25 inch diameter rotor weighing 170 lbs., for maximum torque and cutting power, rotates at 1280 rpm



Dimensions: 64 inches wide by 84 inches long x 64 inches high



Discharge hood height is 64 inches



Weight is 785 lbs. for 13 hp chipper model and 825 lbs. for 24 hp chipper model, and 1080 lbs. for 24 hp chipper/shredder model



Model WLBXT4213: Trailer mounted wood chipper, uses 2 blades on chipper rotor with one stationary knife, has 4 inch diameter limb capacity and 4 inch x 10 inch slab capacity, powered by a 13 hp Honda engine with electric start, comes complete with lights, 2 inch ball hitch and safety chains, and with Torflex axles for better suspension action, units are highway towable, wt. is 785 lbs.

Click on the link below for a price quote





Model WLBXT4224: Same as above model except has larger 24 hp Honda engine, wt. is 825 lbs. - Click on the link below for a price quote





Accessories




Part Number WL1011M104: Reversible stationary knife (1 required) - Click on the link below for a price quote





Part Number WL1011M103: Reversible rotor knife (2 required) - Click on the link below for a price quote





Features/Specifications - Model BXT 6224






Both models are chippers only



Two angle mounted hardened tool steel knives are designed to draw material into the cutting chamber



Reversible stationary and rotor knives double time between sharpenings



Discharge hood rotates 360 degrees



Model WLBXT6224 is powered by a 24 hp Honda engine with electric start, model WLBXT6238 is powered by a 38 hp Kohler as engine



Has a 6 inch diameter limb chipping capacity, and up to a 12 inch wide wood slab



Chipper housing opening next to rotor is 6 1/2 inches x 12 inches, feed hopper opening are largest point is 20 inches x 20 inches



Unit uses a 30 inch diameter rotor weighing 180 lbs. and rotating at 1280 rpms for high torque and chipping power



Dimensions (with hopper folded) are 40 inches long x 42 inches wide x 60 inches high



Discharge hood height is 88 inches tall to allow loading into most large trucks, discharge hood also rotates 360 degrees



Unit weight is 935 lbs.




Model WLBXT6224: Trailer mounted wood chipper with 6 inch diameter limb capacity and 12 inch wide wood slab capacity, uses two hardened tool steel chipper knives, unit is powered by a 24 hp Honda engine with electric start, comes complete with lights, 2 inch ball hitch with safety chains and Torflex axles, unit is highway towable, wt. is 1365 lbs.

Click on the link below for a price quote





Model WLBXT6238: Trailer mounted wood chipper with 6 inch diameter limb capacity and 12 inch wide wood slab capacity, uses two hardened tool steel chipper knives, unit is powered by a 38 hp Kohler gas engine with electric start, equipped with lights, 2 inch ball hitch and safety chains and Torflex axles, unit is highway towable, wt. is 1385 lbs.

Click on the link below for a price quote





Accessories



WL1012M204: Reversible stationary knife, 1 required - Click on the link below for a price quote





WL1012M203: Reversible rotor knife, 4 required - Click on the link below for a price quote









Features/Specifications







Model BXTR6438: Trailer mounted, engine powered brush chipper powered by at 999cc / 35 hp Kohler gasoline engine with electric start, 7 inch diameter chipping capacity, fluid clutch with speed sensing control, with Intellifeed automatic feed power feed, speed sensing feed control, trailer mounted, comes with lights, safety chains, hour meter, and 2 inch ball hitch, unit weighs 2225 lbs., ships by truck - Click on the link below for a price quote






Click Here To Expand This To A Full Page Version

Wikco.Com is a national equipment dealer selling directly to the end user
To Order: Click On The Order Form Button Below For Ordering And Payment Information

If Our Index Doesnot Appear On The Left Side Of This Page

Then Click On The Home Button Above To See The Many Other Products We Sell

For Sales or Technical Questions, Parts Information, Or To Check On An Order
Please E-Mail us at: wikcocom@msn.com
All information is on our web site at: www.wikco.com
If you have additional questions,

Click Here For Our Contact Information




Wikco.com Inc.


Copyright © Wikco.Com Inc., 1997 to present - All Rights Reserved, A U.S. Corporation