Power Grapple And Loading Attachments For Skid Steer Loaders.
Please Note: This page has many photos and loads slow - please wait,(dial-up connections may take 15 minutes to load, DSL 3-4), the photos show all dimensions and information on the product and should answer all your questions. This is the most elaborate grapple system available for skid steer loaders.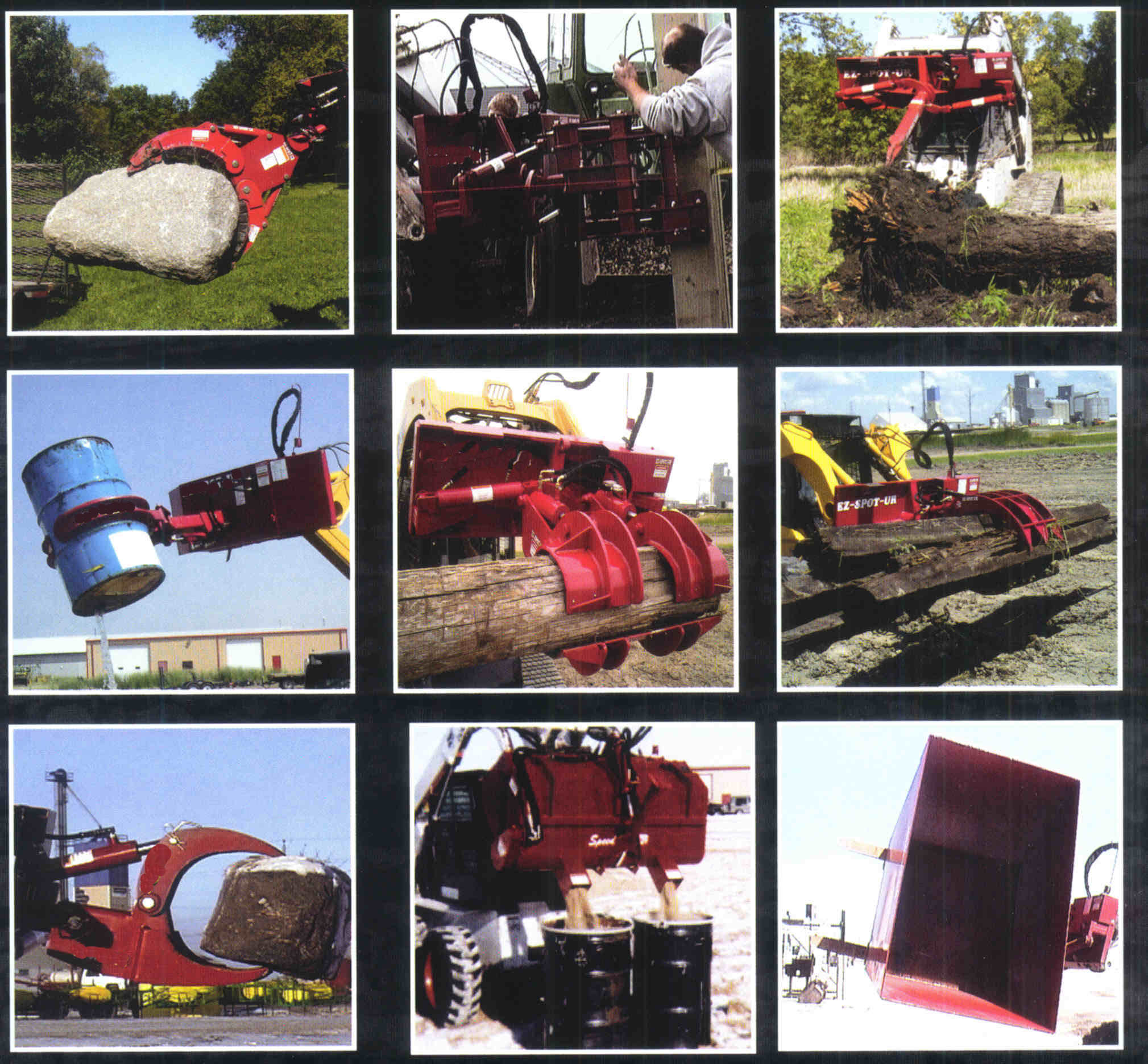 Several different grapples are available as well as the speed bagger attachment which is a specially designed clam shell type bucket that lets you scoop up sand, and while both halves are still together, lets you dump the material through two chutes. This attachment is perfect for either filling sandbags or for quickly spreading sand or salt along driveways or sidewalks. Several other unique attachments are also available on this page throughout our web site.
Features/Specifications - Power Grapple Arm




Note: The Base Plates mount to the loader arms, and the attachments mount to the base plate (all except the Speed Bagger Attachment and heavy duty pole claw) so you need a base plate to mount the attachments to.

The standard costs listed below for the base plates are for the base plates with standard quick attached universal skid steer mounts, meaning if you have a skid steer loader or medium sized tractor that either has a loader that is universal quick attach compatible or you have mounted an adapter plate on the loader arms that is universal quick attach compatible, then the cost for the base plates are as shown unless reinforcement of the base plate is needed for your application on a large loader.

If you want to mount these to a larger tractor loader, wheel loader, or backhoe that either requires a specific quick attach or pin-on mount, then there will be an extra cost as listed below. In most cases on these mounts you are paying for the custom mount and reinforcement of the baseplate. When inquiring or ordering, always let us know what you want to mount this to.

The first item you will need is the mounting base plate which all attachments that require a base plate to mount to need, (except the speed bagger which attaches directly to your loader's lift arms, and the Heavy Duty Double pole Claw which has its own integrated base plate). We have the option of either the fixed base, heavy duty rotating base which has 2 hydraulic cylinders to turn the attachments, or the chain and sprocket powered rotating base which uses and electric motor and is specifically for use with the barrel handler attachment only, as it doesnot have the precise rotational control of the base using hydraulic cylinders; it does have a larger degree of rotation however - 205 degrees.

The fixed, non-rotating base plate is much less expensive than the rotating base plates, but limits what attachments you can probably use. The Fixed base plate works well with the rock pick attachment, with the tree hand, the hitch tool, and the rock and pole claw. All base plates are designed to mount to the arms of skid steer loaders that are quick attach compatable.

The double cylinder rotating base plate gives the torque required when using the various attachments to rotate the load. The fixed base plate can be used on any of the attachments; while this doesn't allow you to rotate the load, it does give you a solid base for lifting and using the hitch tool and root rock pick for example.

Features/Specifications




STANDARD MOUNTS FOR THE BASEPLATES IS SKID STEER QUICK ATTACH. Units below are priced with this mount.



Base plates can be made to fit large wheel loaders, larger plates/mounts add an additional $1000.00 to cost listed below if made to fit wheel loaders



Model EZ-001F: Fixed non-rotating base plate, especially good for lifting and pulling and dragging jobs, wt. is 166 lbs. - Click on the order form button below for a price quote





Model EZ-001D: Double Cylinder Rotating Base Plate, used especially for the grappling attachments where extra torque is required for safer lifting and rotation of heavy loads, used with Double Clamping Pole attachment, Rock And Pole Claw, and the Tree Hand, rotates 127 degrees, wt. is 410 lbs. - Click on the order form button below for a price quote





Model EZ-HD1D: Heavy Duty double cylinder rotating base plate, used for grappling attachments where extra torque is required for safer lifting and rotation of heavy loads, used with Double Clamping Pole Attachment, Rock And Pole Claw, and the Tree Hand Attachment, rotates 115 degrees, wt. is 322 lbs. - Click on the order form button below for a price quote





Model EZ-001C: Chain rotating base uses an electric motor and chain and sprockets to rotate the barrel handler tool 205 degrees, designed to be used only with the barrel handler tool as it has less load capacity, and the electric motor and chain and sprocket drive does not have the precise rotational control of the hydraulic cylinder base plate, but it does give you the greater rotation you need (300 degrees), wt. is 330 lbs. - Click on the order form button below for a price quote






Model EZ-00CR: Rotating base plate to mount on compact walk behind or ride on loaders (such as the Bobcat MT55 or similar), rotates 210 degrees in both directions, connects to any of the attachments below, limited by the capacity of your loader, wt. is 150 lbs. - Click on the order form button below for current price, and/or to order






If you want to mount these to a larger tractor loader, wheel loader, or backhoe that either requires a specific quick attach or pin-on mount, then there will be an extra cost as listed below. In most cases on these mounts you are paying for the custom mount and reinforcement of the baseplate. When inquiring or ordering, always let us know what you want to mount this to.

An additional charge will be required for modification to any of the base plates above for fabrication of custom mounting brackets and plate reinforcement to mount to larger tractor and wheel loaders and backhoes (most loaders that are not universal skid steer quick attach compatable).




Standard mounting on the back of the base plate is universal quick attach for skid steer mount. Plates can be made to fit larger and non-quick attach applications. Allow 2-3 weeks before shipment for any application where a specific mount has to be made (normal lead time is 1 week before shipment for base plates with standard quick attach mount)



The photo above shows the EZ-2010 Rock And Tree Hand attached to the EZ-X01G. THE ROCK AND TREE HAND DOES NOT COME WITH THE EZ-X01G MOUNTING PLATE. Also use this base plate with EZ-0010 Multi-Purpose Excavator Claw shown on this page. The EZ-X01G mounting plate is the square plate and knuckle adapter that mounts to the end of your backhoe or excavator arm. The knuckle adapter is bolted to the plate and can be bolted to either the back or top side.






Model EZ-X01G: Excavator rotating mounting plate, rotates 200 degrees, excavator quick mount plate can be bolted to top or back of the mounting block depending upon your application,includes items in red in above photo (mounting plate and block, and square shaft that extends out of block which attachments mount to, shaft rotates 200 degrees, to rotate any attachment mounted on end of shaft), wt. is 250 lbs. - Click on the order form button below for a price quote






Other Mounts

The mount listed above for excavators (EZ-X01G) mounts to the end of your excavator or backhoe are and incorporates the base plate to provide you rotation. If you are just using an excavator to operate the attachments below, then that is the mount you should purchase.

If you need to use this system with an excavator and with skid loaders, or a telehandler loader with a JBL connection then the two plates below will be what you want in addition to the base plate and the attachment you need. The EZ-Spec plates allow you to connect to either your excavator or wheel loader, and then bolt the bas plates you need to the front of these mounts. When you want to mount these to your skid loader, then just unbolt the base plate from this mount, and attach the base plates which have a standard quick attach skid steer mount.




Model EZ-SpecT:
JBL telehandler mount, allows you to connect to the mounting plates and use the EZ Spot Ur system. In addition, allows you to bolt directly to the two heavy self-contained double pole handler models - Click on the order form button below for a price quote








Model EZ-SpecE:
Excavator mount, allows you to connect to the mounting plates and use the EZ Spot Ur system. In addition, allows you to bolt directly to the two heavy self-contained double pole handler models - Click on the order form button below for a price quote





Attachments





Jaws are lined with protective rubber bumpers 7 3/4 inches long x 2 1/4 wide x 2 inches deep, and jaws close down to 3 inches with the rubber bumpers in place. If the bumpers are removed, then jaws will close to 0 inches. Maximum jaw opening width is 14 inches. Allows you to transport telephone or utility poles up to 35 ft. tall



Jaws open and close independently



Model EZ-0008: Double Cylinder Pole Claw sold only with the double cylinder rotating base, designed especially for clamping tall poles or tall trees, opens to 10 inches wide, jaws are rubber lined to not damage trees, connected with double cylinder rotating base for safety and torque needed to manipulate heavy loads, rated for 32 ft. long poles, wt. is 181 lbs. - Click on the order form button below for a price quote








Model EZ0013: The Speed Bagger Accessory is the one attachment that doesn't require any of the base plate mounting plates, the Speed Bagger attaches directly to the loader arms of skid steer loaders that are quick attach compatable. The Speed Bagger is a specialized clam shell style bucket that opens to scoop up sand or similar materials and lets you quickly and easily fill containers such as 55 gallon barrels or sand bags. This is such an improvement over doing it by hand or when filling containers, it prevents so much waste, that the cost of this implement is very economical. The internal auger keeps the material mixed and flowable, and the fully hydraulically controlled bucket makes loading and distributing granular materials very efficient and cost effective, wt. is 600 lbs. - Click on the order form button below for a price quote






Model EZ0012: Root And Rock Pick Tool can be used to loosen and remove tree roots, rocks, and to break apart piles of granular material and dirt, and to pull and move large bulky items, attaches to all base plates, wt. is 89 lbs. - Click on the order form button below for a price quote






Model EZ-0009: The Rock And Brush Grapple is probably the best choice amount the loader attachments for picking up and loading a variety of bulky objects. The Curved shaped of the claws make it very versatile; it shouldn't be used however for tall bundles of trees or poles, for that type of load you need the tree hand or double clamping pole attachment with the double cylinder rotating base plate. Weight of the rock and brush grapple is 195 lbs. - Click on the order form button below for a price quote






Model EZ-0005: Utility Claw - a lifting and carrying claw, designed to be used for large heavy objects, a great tool for use in a srap yard, is less expensive than other claw attachments available, can be mounted on fixed base plate and either rotating base plates, wt. is 68 lbs. - Click on the order form button below for a price quote






Model EZ-0011: Hitch tool, gives you any easy way to move trailers, especially if they are loaded, easier to maneuver them around your shop or lot around tight spaces that hooking the trailer to your truck, works with all size ball and pintle hitches, wt. is 29 lbs., attaches to all base plates - Click on the order form button below for a price quote








Rock And Tree Hand model EZ-2010 has two sets of pivot points for changing the mounting position of the hydraulic cylinders on the base of the tree hand. When the cylinders are mounted on the front set of holes (front pivot points), the jaws of the tree hand will open to a maximum width at the tips of 30 inches, and will interlock when closed and close down to 6 1/2 inches across the widest area of the jaws. When back mounting point of each hydraulic cylinder is mounted in the rear position pivot point on the tree hand frame, the jaws will open to a maximum of 52 inches between the tips of the tree hand jaws, and when closed all the way so the fingers interlock, the distance across the jaws at the widest point is 30 inches (so the smallest tree, rock, or pole that can be carried in the center of the jaws in the first pivot hole is 6 1/2 inches, and in the second pivot hole is 30 inches). You can carry trees or poles up to 20 ft. tall.



The solid rubber bumpers bolted to the inside of the tree hand jaws are 7 3/4 inches tall, 2 1/4 inches wide, and 2 inches thick



The metal tips at the end of the tree hand jaws can be used as is, or if extra gripping power is needed for either rocks or trees, the optional rock tips or rubber finger tips can be added on as an option



Model EZ-2010: This is a new wider version of the Rock And Tree Hand with more fingers increasing the width of the claw, now has 3 claws on one side and 2 on the other and fingers still interlock when you completely close them, special curved design, was originally designed to move potted plants and trees at nurseries, has rubber bumpers bolted to the inside of the claw jaws to prevent for gentle handling of trees and to plant pots, can be used for all bulk items, especially for objects you don't want to scratch, can be used only with the fixed base plate and the double cylinder base plate, the heavy objects you can pick up like bundles of tall trees are heavy, and for safety, the double cylinder base plate is required if you want to use this on a rotating base plate, wt. is 237 lbs. - Click on the order form button below for a price quote





Model EZ-R010: Optional Rock Tips that bolt on to the end of the rock and tree hand jaws for extra grabbing and holding power when picking up boulders, rock tips are serrated for better grip (set of 5) - Click on the order form button below for a price quote





Model EZ-F010: Optional Finger tips that bolt on to the end of the rock and tree hand jaws for extra grabbing power on larger diameter pots when jaws won't close completely, finger tips have rubber bumpers in them like the main jaws do (set of 5) - Click on the order form button below for a price quote






Model EZ-0006: Rock And Pole Claw Accessory is used for grabbing, lifting, and loading bulk objects such as rocks and round poles up to 26 ft. long. The bottom jaw is fixed so it will support a heavy load, the top jaw clamps down to grab and hold the load, sold only with with the fixed or double cylinder rotating base, as this will hold a lot of weight with the fixed bottom jaw. So you have enough torque to turn the heavy loads, and for safety, if you use the rotating base with this attachment you need the double cylinder base. The weight of the attachment is 71 lbs. - Click on the order form button below for a price quote






Jaws on the EZ-HD08 Heavy Duty Double Pole Claw Accessory have the 7 3/4 inch long x 2 1/4 inch wide x 2 inch deep rubber finger block liner in the jaws, so when closed together fully at the end, the inside of the jaws can hold a pole or tree with a diameter as small as 4 inches. The jaws open to a maximum distance of 22 1/2 inches (if you have the liner blocks installed, sub-tract 4 inches for a maximum diameter of 18 1/2 inches).



Model EZ-HD08: The Heavy Duty Double Pole Claw is designed to handle big, heavy, utility poles up to 45 feet long. The operator can pick up the pole from the ground, or on a trailer, and rotate up to vertical allowing the operator to now position the pole the way he wants, without any effort, and with complete security. The double pole claw is a self-contained model that is complete, and does not require purchase of any of the base plates, as it is mounted on its own integrated mount plate allowing 115 degrees of rotation. Weight is 1005 lbs., fits on skid steer loaders that are quick attach compatible - Click on the order form button below for a price quote





Model EZ-HD88: Heavy Duty Double Pole claw is designed for the largest utility poles up to 60 ft. long. This model is a self-contained model that is complete (has integrated base plate), and allows 115 degrees of rotation, wt. is 3683 lbs. - Click on the order form button below for a price quote








Model EZ-0002: Barrel Handler Grapple Attachment, set up for 55 gallon metal and plastic barrels (a 30 gallon insert accessory is available for 30 gallon containers such as nursery pots), use to pick up barrels with liquid and pour this liquid to another container, works great if the material is hazardous as you don't have to handle it by hand, works best when mounted on the single cylinder rotating base plate as this base plate rotates the most (127 degrees). You can mount it on all base plates however, even the fixed base plate, which is great for transporting heavy barrels of parts for example, wt. of attachment is 105 lbs. - Click on the order form button below for a price quote





Model EZ-3002: 30 Gallon Insert, insert for grapple arms for holding 30 gallon nursery pots - Click on the order form button below for current price, and/or to order



Model EZ-P002: Plastic Barrel Positioning Arm, helps support plastic barrels when lifting them - Click on the order form button below for current price, and/or to order




Model EZ-0016: Rail tool attachment, mounts on any of available base plates, designed to grab and position and move railroad ties, has sharpened jaws to be able to grab the ties and remove them as well as position the new ones - Click on the order form button below for current price, and/or to order






Nursery Pots



The ROTATING POT HANDLER very specific design handles 45 gal to 200 gal nursery pots . Its asymmetric arms allow the operator to load and unload easily.



Growing Rings



The ROTATING POT HANDLER very specific design handles 45 gal to 200 gal nursery pots . Its asymmetric arms allow the operator to load and unload easily.



Grow Bags and B & B



The ROTATING POT HANDLER is equipped with a release valve that adjust the pressure down to 250 psi. This Function insure a gentle clamp on the GROW BAGS or the B & B stocks.



Complete Control: The ROTATING POT HANDLER gives the operator a complete control on the tree. Its two 2.5" x 12.5" cylinders insure a powerful controlled ROTATION.



Model EZ-0020: Round pot mover attachment, has very specific design to handle 45 gallon to 200 gallon nursery pots. Its asymmetric arms allow the operator to load and unload easily. The rotating pot handler is equiped with a release valve that can adjust the pressure down to 250 psi which insures a gentle clamp on the grow bags or the B & B stocks, unit gives operator complete control of the tree, designed to be used with double cyclinder rotating base plate wt. is 320 lbs. - Click on the order form button below for a price quote









Model EZ-002: Double round pot mover - Click on the order form button below for a price quote









Model EZ-0025/FT-02-004: Square pot mover/Fork Tool attachment, similar construction and capacity, but for square nursery pots, wt. is 300 lbs. - Click on the order form button below for a price quote






Model EZ-0060: Six way landscaping blade attachment, can be used with either fixed or rotating base plates, 60 inch wide box blade style landscaping blade, wt. is 250 lbs. - Click on the order form button below for current price, and/or to order






Model EZ-0010: Multi-Purpose Excavator Claw designed to be used on EZ-X01G Excavator Base Plate, using claw and base plate gives you a rotational tool to mount on your excavator arm for picking up trees, rocks and all types of large debris, claw is lined with rubber pads if case you need to protect items being grabbed, wt. is 300 lbs. - Click on the order form button below for a price quote






Model EZ-0015: Forks tool head (tool head only, forks are separate 3 sizes are available), the tool head mounts to any of the rotational base plates (double cylinder base plate recommended model EZ001-D for standard skid loaders, or EZ-001X for excavators, or EZ-00CR for compact walk behind/ride on loaders). Order the tool head and then the size of forks you want as listed below. Tool head is 185 lbs. - Click on the order form button below for a price quote





Again, to go with the tool head you will also need one of the fork sets as listed below.



Model EZ-42PF: Set of 2 forks 42 inches long, class 2 with 6,000 lbs. capacity for the set, wt. is 140 lbs. per set - Click the link below for a price quote





Model EZ-48PF: Set of 2 forks 48 inches long, class 2 with 6,000 lbs. capacity for the set, wt. is 160 lbs. per set - Click on the order form button below for a price quote





Model EZ-60PF: Set of 2 forks 60 inches long, class 2 with 6,000 lbs. capacity for the set, wt. is 220 lbs. per set - Click on the order form button below for current price, and/or to order





Waste Bin Containers To Be Used With The Above Forks Tool Head And One Of The Fork Sets







Model EZ-C002: Small Waste Bin, wt. is 200 lbs. - Click on the order form button below for a price quote





Model EZ-C001: Large Wast Bin, wt. is 280 lbs. - Click on the order form button below for a price quote









Model EZ-K013: Spring mount hose kit holds hoses out of the way so they don't get pinched, total length from base to top of loop is 19 inches, hose goes through loop, so holds hose approximately 17 inches away from mount point, wt. is 4 lbs. - Click on the order form button below for a price quote








Model EZ-PJ001 Pole Jack Skid Steer Loader Attachment. This is a self-contained unit, does not require a baseplate to operate.







Features/Specifications



Model EZ-PJ001 Pole Jack is designed to mount to skid steer loaders that are universal skid steer quick attach compatible



The EZ-PJ001 Pole Jack is used to remove telephone and utility poles up to 90 ft. in length.



The pole jack removes all type of poles including foamed and cleated poles



It easily removes poles from the frozen ground



Quickly transport poles away from the jobsite



Removes poles faster, safer, and easier than a digger derrick



One man operation - saves time and money



Remove poles while operator is safely and comfortably inside the skid loader



Two large 3 inch x 6 inch clamp cylinders and metal teeth on the jaws securely hold polein place during extraction



Jaws open from 9 inches to 31 inches, inserts may be purchased to make unit close down to 0 inches



Rubber inserts can also be used for removing metal and aluminum poles



Composed of grade 80 material or higher to help prevent wear and tear



Attaches easily with universal quick-tach



Attachment weight is 1300 lbs.







Model EZ-PJ001: Pole Jack attachment for mounting on skid loaders, wt. is 2000 lbs. - Click on the order form button below for a price quote






Click Here To Expand This To A Full Page Version

Wikco.Com is a national equipment dealer selling directly to the end user
To Order: Click On The Order Form Button Directly Below For Ordering And Payment Information

If Our Index Doesnot Appear On The Left Side Of This Page

Then Click On The Home Button Above To See The Many Other Products We Sell

For Sales or Technical Questions, Parts Information, Or To Check On An Order
Please E-Mail us at: wikcocom@msn.com
All information is on our web site at: www.wikco.com
If you have additional questions,

Click Here For Our Contact Information




Wikco.com Inc.


Copyright © Wikco.Com Inc., 1997 to present - All Rights Reserved, A U.S. Corporation