Pallet And Bucket Forks
Carriage style pallet forks are available for mounting on skid loaders and tractor loaders. Skid steer specific models are designed to mount to any skid steer with universal quick-attach mounting system; optional interfacing quick-attach brackets are available for most popular loader models. Clamp-on style pallet forks are available for clamping onto your tractor or skid steer loader bucket; clamp-on forks are available in 1000, 2000, and 4000 lb. load capacities.
Please Note: For the pallet forks with universal skid steer quick attach connection, the mounting plate on the back of these fork assemblies are attached in a close to vertical position on the back of the fork carriage. Check your skid loader or tractor loader's roll back by removing the bucket and tilting the plate/connection point on the loader arms and see how much this will tilt upwards to determine the amount of roll back you will have. Not enough roll back has only occurred to this point with GEHL skid loaders, and some small compact tractors with the skid steer connection. (For the small tractors the SF-242 plate has the required rollback).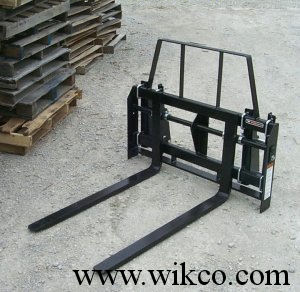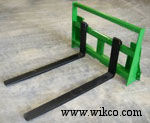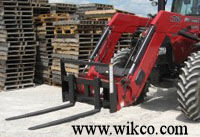 Features/Specifications




Clamp-On Bucket Forks

Easy on/off design - mounts to most loader buckets without the use of tools



Rated from 1,000 to 4,000 lb. capacity depending upon model, lift is limited by fork or loader capacity, whichever is less



Usable fork length of 35 to 42 inches depending upon model



DESIGNED FOR HANDLING PALLETIZED MATERIAL ONLY



T-Handle design saves time when clamping and unclamping forks



Each fork has a built-in stake pocket for a 2 x 4 to be installed as an upright backstop (this is recommended)



Forks feature sturdy all steel construction



Forks are independent, allowing fork adjustment to any pallet width, forks extend 14.5 inches under bucket and 8 inches inside bucket , along with T-handle clamp forks are securely held on bucket



Model WOBF-1000: Pair of clamp-on bucket forks, 1000 lb. load capacity total, overall length is 49.5 inches, useable tine length is 35 inches, tine size is 3 inches wide by 2 inches thick, weight is 78 lbs. per pair - Click the link below for a price quote





Model WOBF-2000: Pair of clamp-on bucket forks, 2000 lb. load capacity total, overall length is 56.5 inches, useable tine length is 42 inches, tine size is 3 inches wide by 2 inches thick, weight is 102 lbs. per pair - Click the link below for a price quote





Model WOBF-4000: Pair of clamp-on bucket forks, 4000 lb. load capacity total, overall length is 56.5 inches, useable tine length is 42 inches, tine size is 4 inches wide by 2 inches thick, weight is 191 lbs. per pair - Click the link below or a price quote






Pallet Fork Attachments

Tractor Loader Mounted Models

Model WOPF-448:Notched rail style front tractor loader pallet fork assembly with frame, pallet forks slide along notched rail to adjust fork width, designed for mounting on tractor loaders with center to center between loader arms 50 inches maximum, optional interfacing brackets will be required, brackets are listed at bottom of page and are available for most quick attach systems, and standard pin-on brackets are also listed below for buckets that pin onto the loader arms, wt. is 438 lbs. - Click the link below for a price quote






Skid Steer Quick Attach Mounted Models

Model WOSSPF-3742: Skid steer mount pallet forks, mounting plate is designed to connect on the loader arms of skid steer loaders (or tractor loaders) that are universal quick attach compatable, fork assembly is rated at 4,000 lbs. load capacity maximum, forks slide on a rail on the frame to adjust and lock in place with a spring loaded toggle operated latch, forks are 42 inches long x 4 inches wide x 1 1/4 inches thick, weight is 345 lbs. - Click the link below for a price quote






Model WOSSPF-3748: Skid steer mount pallet forks, mounting plate is designed to connect on the loader arms of skid steer loaders (or tractor loaders) that are universal quick attach compatable, fork assembly is rated at 4,000 lbs. load capacity maximum, forks slide on a rail on the frame to adjust and lock in place with a spring loaded toggle operated latch, forks are 48 inches long x 4 inches wide x 1 1/4 inches thick, weight is 359 lbs. - Click the link below for a price quote






Model WOSSPF-442: Skid steer pallet fork assembly with step-through backstop, rated at 4,000 lbs., rail style, solid forks are 42 inches long x 1 1/4 inches thick x 4 inches wide, with spring loaded toggle latch for positioning, units connect to skid steer loaders and tractor loaders that are universal quick-attach compatable, wt. is 345 lbs. - Click the link below for a price quote





Model WOSSPF-448: Skid steer pallet fork assembly with step-through backstop, rated at 4,000 lbs., rail style, solid forks are 48 inches long x 1 1/4 inches thick x 4 inches wide, with spring loaded toggle latch for positioning, units connect to skid steer loaders and tractor loaders that are universal quick-attach compatable, wt. is 359 lbs. - Click the link below for a price quote





Model WOSSPF-5548: Skid steer pallet fork assembly with step-through backstop, rated at 5,500 lbs., rail style, solid forks are 48 inches long x 1 1/4 inches thick x 4 inches wide, with spring loaded toggle latch for positioning, units connect to skid steer loaders and tractor loaders that are universal quick-attach compatable, wt. is 410 lbs. - Click the link below for a price quote






Pallet Forks For Use On Mini-Skid Steers




Model WOMPF-900: Pipe style pallet forks with a rated lift capacity of 900 lbs., mounts on mini-skid steer loaders with the universal mini-skid steer mount, wt. is 150 lbs. - Click the link below for a price quote





Model WOMPF-2000: Rail style pallet forks rated at 2,000 lbs. for Mini Skid Steers with universal mini-mount, unit weight is 215 lbs. - Click the link below for a price quote





Model WOMPF-2000B/G: Rail style pallet forks rated at 2,000 lbs. for mounting on Bobcat MT Series mini-skid steer loaders (models: MT-50, MT-52, MT-55), S-70, and Gehl model 1640E, unit has forks that are 1.18 inches thick x 3 inches wide, and 42 inches long, unit weight is 225 lbs. - Click the link below for a price quote






Model WOJDPF-5442: Integrated frame pallet forks for John Deere 400/500 series loaders, forks are rated at 4,000 lbs. in capacity, forks are 42 inches long x 4 inches wide and 1 1/4 inches thick, wt. is 345 lbs. - Click the link below for a price quote





Model WOJDPF-6748: Integrated frame pallet forks for John Deere 600/700 series loaders, forks are rated at 5,500 lbs. in capacity, forks are 48 inches long x 4 inches wide and 1 1/4 inches thick, wt. is 373 lbs. - Click the link below for a price quote






Integrated frame pallet forks frame assembly fits John Deere 200 and 300 series front end loaders



Rail style fork frame allows width adjustment of forks, uses spring loaded toggle latch to release/lock in place



Forks are 1 inch thick x 3.5 inches wide x 42 inches long, forks have a 2000 lbs. lift capacity



Does not require any additional mounting brackets to mount to 200 and 300 John Deere series loaders



Model WOJDPF-2000: Pallet frame fork assembly for John Deere 200/300 front end loaders, unit weight is 280 lbs. - Click the link below for a price quote






Model WOGLPF-5548: Integrated frame pallet forks for loaders that use the Global (Euro Hook Style) connectors to attach the bucket or any attachments to the loader arms, pallet fork frame has 48 inch long forks that are 4 inches wide and 1 1/2 inches thick, the assembly has a rated capacity of 5,500 lbs., unit weight is 373 lbs. - Click the link below for a price quote






Integrated frame pallet fork assembly designed to fit compact tractors with front end loaders that have universal skid steer quick attach buckets, has quick attach mount on carriage (NO mounting brackets required)



Rail style forks rated at 2000 lbs. capacity; solid style forks are 1 inch thick x 3.5 inches wide x 42 inches long, forks lock into position on carriage with a spring-loaded toggle latch, fork width on carriage is adjustable



Model WOSSPF-242: Pallet fork assembly for mounting on compact tractor loaders with quick attach buckets, unit wt. is 290 lbs. - Click the link below for a price quote






Mounting Brackets For The Tractor Loader Mounted Pallet Fork Assemblies - Available For Most Tractors

Click the link below for a price quote and availability of brackets for your loader





Click Here To Expand This To A Full Page Version

Wikco.Com is an equipment dealer selling directly to the end user
To Order: Click On The Order Form Button Directly Below For Ordering And Payment Information

If Our Index Does not Appear On The Left Side Of This Page

Then Click On The Home Button Above To See The Many Other Products We Sell

For Sales or Technical Questions, Parts Information, Or To Check On An Order
Please E-Mail us at: wikcocom@msn.com
All information is on our web site at: www.wikco.com
If you have additional questions,

Click Here For Our Contact Information




Wikco.com Inc.


Copyright © Wikco.Com Inc., 1997 to present All Rights Reserved, A U.S. Corporation