Electric Earth Auger/Post Hole Digger
The model MYAUJ307DC is an electric earth auger/post hole digger that is powered off of your vehicle's 12 volt battery. The Electric Post Hole Digger includes 20 feet of battery cables and clamps. This auger is easy to use and is a good alternative if you don't want to run an engine powered model. The 12 volt electric digger head can be equipped with earth auger bits 2 inches, 4 inches, 5 inches, 6 inches and 7 inches in diameter as listed below.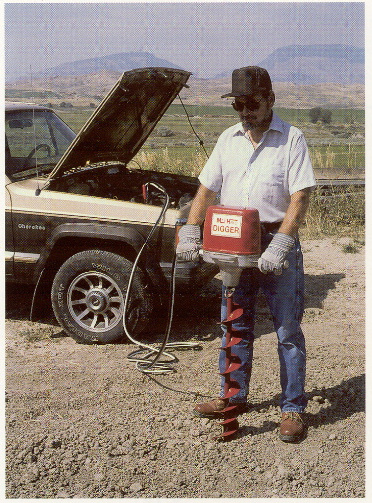 Earth augers are available in 2 inch, 4 inch, 5 inch, 6 inch, and 7 inch diameters, as well as a 7 inch diameter ice auger. All augers are 32 inches long, and a 12 inch shaft extension is available. An adapter is also available to mount a 1/2 inch drill chuck. This unit is a good choice for out of the way locations where you always have your vehicle or tractor with you.
Features/Specifications



Auger power head runs off 12 volt auto or tractor batteries, and includes 20 ft. of battery cables with clamps, does not include the auger bits, order sizes needed separately



12 volt digger head is designed as a portable unit for use by connecting to the 12 volt battery on your car, truck, or tractor, and is designed for use with the vechicle's engine running. If you cannot connect to a running vehicle, it can be used on a fully charged deep cycle battery. The running time on a battery not being charged by your vehicle varies depending upon the capacity of the battery. The draw of the digger head motor is 45 amps constant draw when unit is on.



Approximation Of Running Time When Connecting To A 12 Volt Deep Cycle Marine Battery Not Connected To A Vehicle



A simple approximation of running time for running this unit off of a stand alone deep cycle marine battery (not being charged in a vehicle), estimate 1.5 to 3 hours maximum if your battery is rated at 200 amp hours. If it is rated less or for further explanation see below.



You can make an estimation of running time using the amp hours equation which gives you the maximum sustained amperage drawn from a fully charged battery over a certain time period to a point where the battery is 100 percent DOD (depth of discharge - fully discharged). If you have a 200 amp hour battery (rated at the 20 hour rate), then 200 divided by 20 equals 10, meaning you can theoretically draw 10 amps for 20 hours before the battery is fully discharged. Conversley if you know (as with the model MYAUJ307DC digger head) that it draws 45 amps, then if you have a 200 amp hour battery (rated at the 20 hour rate), then 200 divided by 45 equals 4.44 hours of run time theoretically. Some batteries may be rated at a 100 amp hour rate so check the label on the battery before applying the above equation.



As calculated above, the MYAUJ307DC digger head on this page draws 45 amps when you operate it, so theoretically it could be operated for 4.4 hours (200 divided by 45 equals 4.44); however this is not case. The battery capacities are non-linear because the capacity of a battery decreases when the load increases. As a simple estimation, take the 4.44 hour rate in our example and multiply it times .70 (70 percent) which is equal to 3.08 hours. This figure of 3.08 houres, applies specifically to a 200 amp hour battery with approximately a 45 amp draw, and was extrapolated from an actual measurement of the discharge on a 200 amp hour gel battery. This is an estimate and can be different depending upon the quality and capacity of the deep cycle battery (sometimes the gel batteries are the best, but again it depends on the battery).



In the above example, if a deep cycle battery recommends only a 50 percent discharge level for good battery life however, then the 200 amp hours in our example becomes 100 amp hours divided by 45 amps power draw, equals 2.22 hours x .70 (calculation for decreased capacity of a battery as load increases) equals 1.55 hours. Cold temperatures also reduce capacity, so if you are going to operate this at just at just above freezing at a full 100 percent discharge, take the initial capacity in amp hours of 200 and reduce this by 20 percent equaling 160 amp hours, divide by 45 amps our digger head will draw when operating, which equals 3.55 x .70 (the load decrease coeficient) equals 2.48 hours if we discharge the battery 100 percent. We may only want to discharge the battery 50 percent however, so If we only want to discharge the unit down to 50 percent for extended battery life, and do it in cold whether, then the approximate hours figure is 1.24 hours in cold weather.



The discharge time calculations above do not apply to a regular car battery used remotely and not in a vehicle, as the ratings on those apply to cranking amps which are different, nor does it relate to reserve minutes on a regular battery.



It is not necessary to have a deep cycle battery to operate this when connecting to a vehicle battery when the vehicle is running and allowing the alternator to charge the vehicle's battery.




Weight of power head with cables is 50 lbs.



Designed for one man use



Auger available in 2 inch, 4 inch, 5 inch, 6 inch and 7 inch diameters for digging in earth, and a 7 inch diameter ice auger is also available



Augers have a length/digging depth of 32 inches



A 12 inch auger extension shaft is available



Male output shaft is 3/4 inch diameter with a bolt hole 1 3/8 inches from the end of the shaft for bolting on the earth augers



A 1/2 inch drill chuck is available (drill chuck adapter also required - see below)



Model MYAUJ307DC: Electric earth auger power head with 20 ft. of battery cables and clamps, (PRICE INCLUDES POWERHEAD ONLY - Auger Bits Are Extra And Listed Below), wt. 50 lbs. - Click the link below for a price quote





Available Earth Auger Bits



MYAU-310-2: 2 inch diameter x 32 inch long earth auger, wt. is 5 lbs. - Click the link below for a price quote





MYAU-310-4: 4 inch diameter x 32 inch long earth auger, wt. is 7 lbs. - Click the link below for a price quote





MYAU-310-5: 5 inch diameter x 32 inch long earth auger, wt. is 8 lbs. - Click the link below for a price quote





MYAU-310-6: 6 inch diameter x 32 inch long earth auger, wt. is 9 lbs. - Click the link below for a price quote





MYAU-310-7: 7 inch diameter x 32 inch long earth auger, wt. is 10 lbs. - Click the link below for a price quote





MYAU-317: 7 inch diameter x 32 inch long ICE AUGER, wt. is 10 lbs. - Click the link below for a price quote





Other Accessories



MYAU-310-EX: Extension shaft, 12 inches long, wt. is 2 lbs. - Click the link below for a price quote





MYAU-314:1/2 inch drill chuck, with drill chuck adapter, if you want to use a cement bit or wood bit with the auger, wt. is 3 lbs. - Click the link below for a price quote





Replacement Parts



MYAU-319-2: Blade for 2 inch auger - Click the link below for a price quote





MYAU-319-4: Blade set for 4 inch auger - Click the link below for a price quote





MYAU-319-5: Blade set for 5 inch auger - Click the link below for a price quote





MYAU-319-6: Blade set for 6 inch auger - Click the link below for a price quote





MYAU-319-7: Blade set for 7 inch auger - Click the link below for a price quote





MYAU-319-I: Blade for 7 inch ice auger - Click the link below for a price quote





MYAU-318: 20 ft. battery cable with clamps, replacement cable for the one that comes with the machine, one required - Click the link below for a price quote





MY050047: Replacement switch assembly for power head - Click the link below for a price quote






Click Here To Expand This To A Full Page Version

Wikco.Com is a national equipment dealer selling directly to the end user
To Order: Click On The Order Form Directly Button Below For Ordering And Payment Information.

If Our Index Doesnot Appear On The Left Side Of This Page

Then Click On The Home Button Above To See The Many Other Products We Sell

For Sales or Technical Questions, Parts Information, Or To Check On An Order
Please E-Mail us at: wikcocom@msn.com
All information is on our web site at: www.wikco.com
If you have additional questions,

Click Here For Our Contact Information




Wikco.com Inc.


Copyright © Wikco.Com Inc., 1997 to present - All Rights Reserved, A U.S. Corporation