Model WOSSGB-8B Road Grader Attachment
Model WOSSGB-8B skid steer road grader attachment connects to skid loaders with universal quick attach bucket connections. The skid steer grader blade is designed to be used by asphalt, landscaping, and concrete flatwork contractors. The unit features an 8 ft. wide grading blade, six-way hydraulically controlled (proportional current valve), moldboard operated by an in-cab remote. Several optional accessories are available including: end boots, laser interface, and laser poles are available.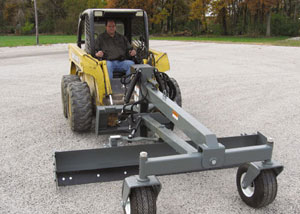 Features/Specifications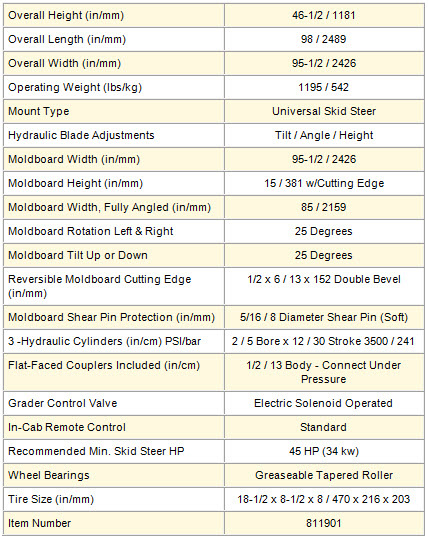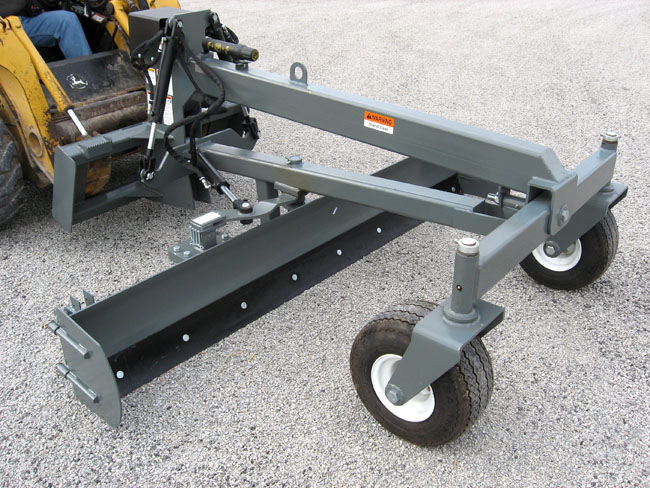 Model WOSSGB-8B: Road Grader Attachment for skid steer loaders, to connect, skid loader must have the standard universal skid steer quick attach bucket connection, has 8 ft. wide grader blade with a six-way hydraulically controlled moldboard overated by an in cab remote, unit ships by truck - Click the link below to request a price quote by e-mail

Available Accessories
If ordering accessories with the grader attachment, then order them from the drop down menu on the grader order page; if ordering them separately, click on the order form button below each item.
Part No. 2507020: Optional laser interface junction box kit, this allows the WOSSGB-8B to interface with the Leica laser system (which is purchased from Leica) - Click the link below to request a price quote by e-mail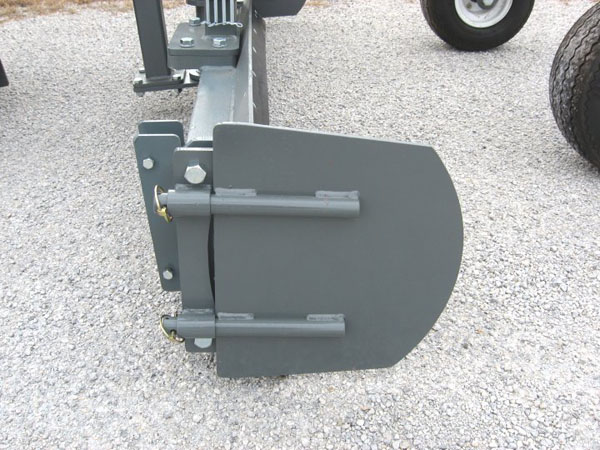 Model 811980: Set of two endplates for the SSBG-8A grader blade, steel construction endplates bolt to end of grader blade - Click the link below to request a price quote by e-mail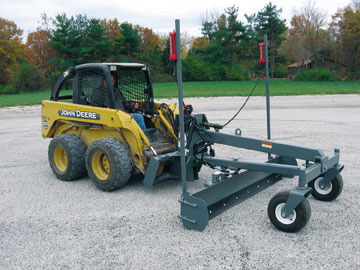 Model 812110: Set of two laser poles for SSGB-8A, to be used with part no. 2507020, laser interface, and Leica laser system - Click the link below to request a price quote by e-mail

Click Here To Expand This To A Full Page Version
Wikco.Com is a national equipment dealer selling directly to the end user
To Order: Click On The Order Form Button Below For Ordering And Payment Information


If Our Index Doesnot Appear On The Left Side Of This Page
Then Click On The Home Button Above To See The Many Other Products We Sell
For Sales or Technical Questions, Parts Information, Or To Check On An Order
Please E-Mail us at: wikcocom@msn.com
All information is on our web site at: www.wikco.com
If you have additional questions,
Click Here For Our Contact Information
Wikco.com Inc.

Copyright © Wikco.Com Inc., 1997 to present All Rights Reserved, A U.S. Corporation