Model SSAB Hydraulically Powered Sweeper
The SSAB series rotary broom sweeper is hydraulically powered and mounts on skid steer plates that are quick attach compatable. The broom is 32 inches in diameter and available in widths of 6 ft., 7 ft. and 8 ft.. The unit comes standard with manual angle left or right and can be converted to hydraulic angling. Brooms are available with all poly brushes or brushes with poly and wire sections alternated for heavy duty cleaning on paved surfaces.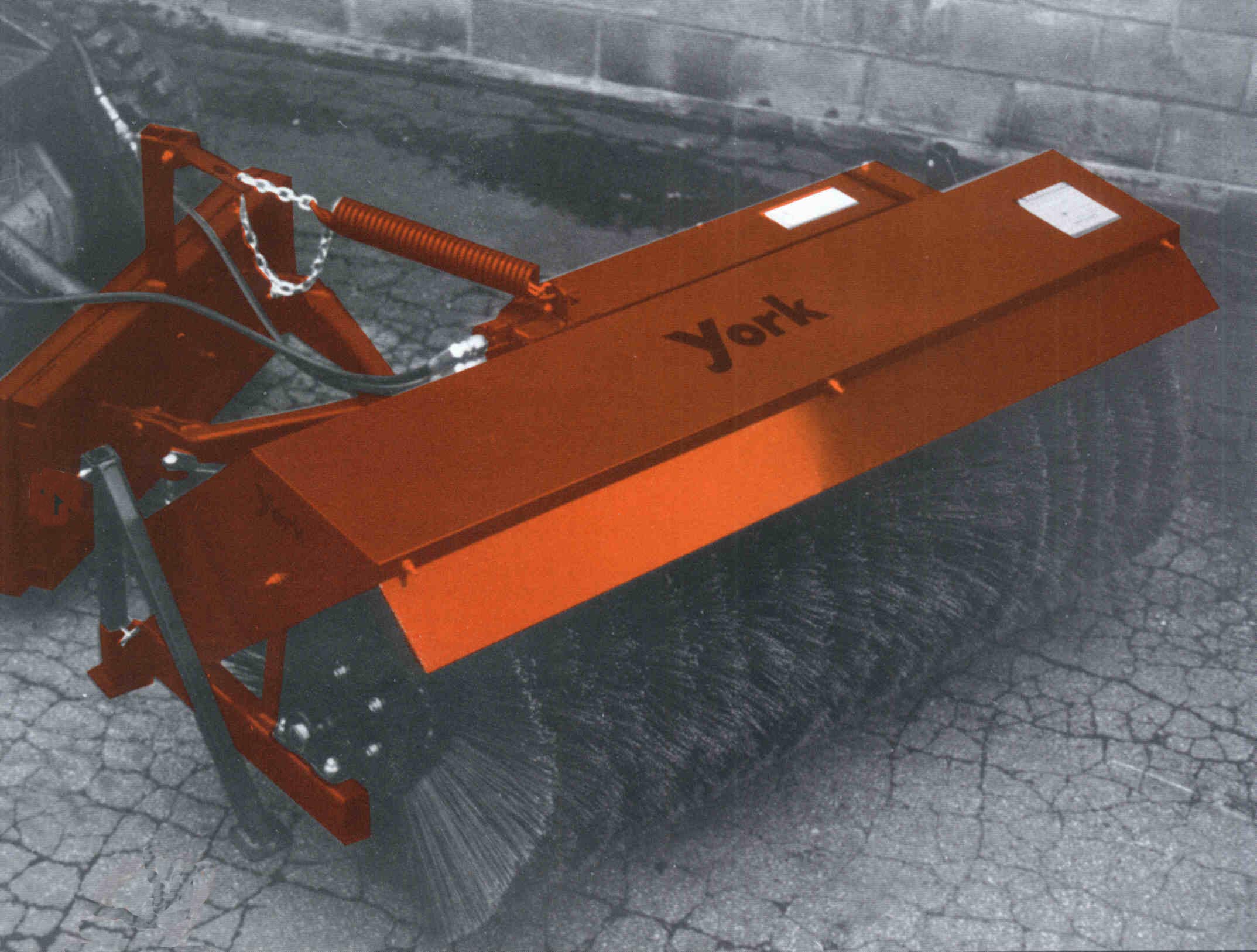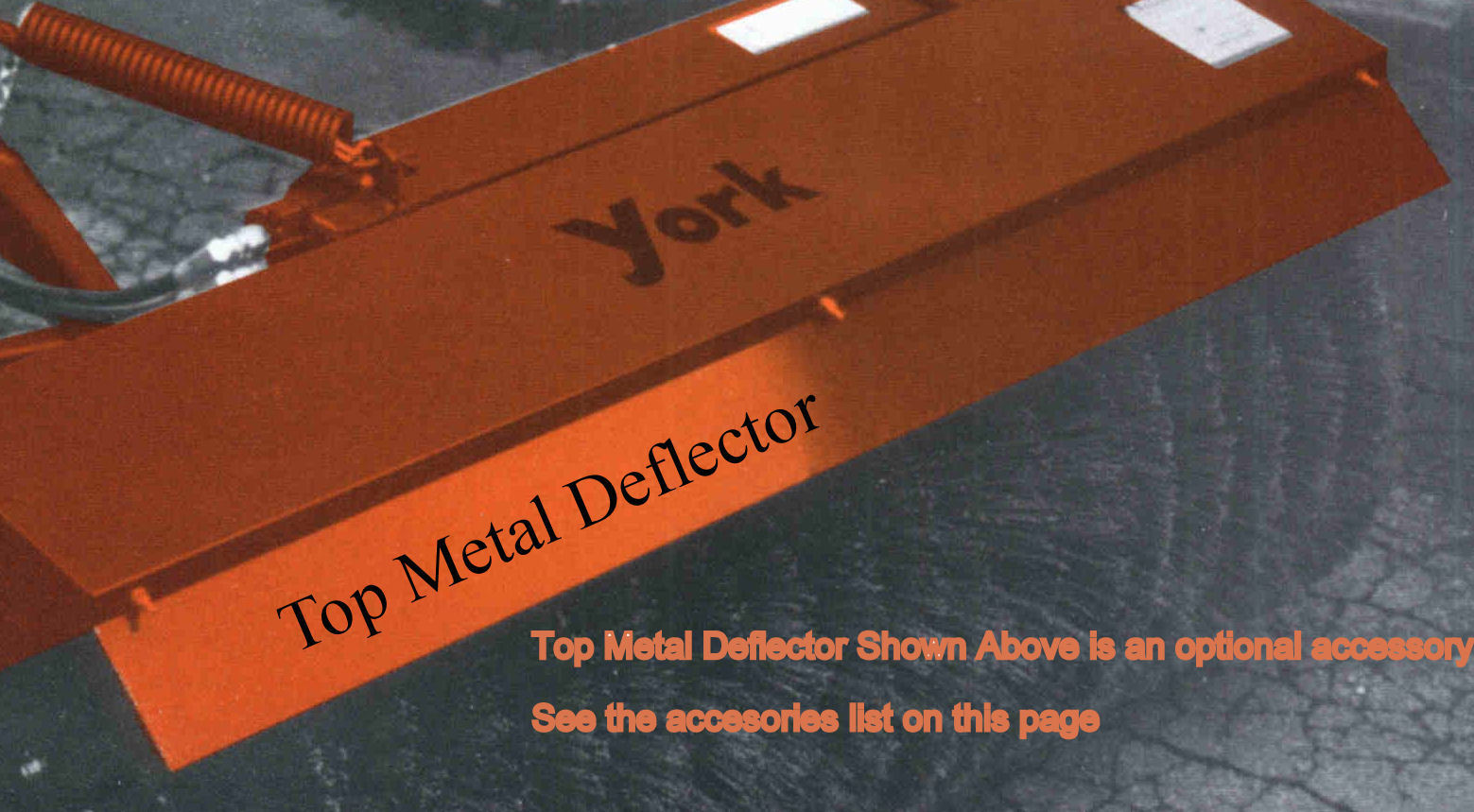 The SSAB series York Broom is designed for use by contractors, landscapers, municipalities, institutions, farmers, and others needing a heavy duty commercial sweeper to mount on their skid steer. The SSAB can be used for general cleaning sweeping dirt and debris, as well as for snow removal. Landscaping contractors can also use SSAB models with all poly brushes for dethatching lawns. The sweeper is a standard style sweeper where you windrow the material into one line for pile for picking up with a vacuum, loader, or other means. For skid steer loaders we also have the SSPU series that mounts on the bucket instead of the quick attach plate giving you a container to hold the material. For the SSAB series, look at the information on this page, for the SSPU series that mounts to your skid steer's bucket, click on the link at the bottom of the page.
Features/Specifications




For use sweeping debris, dirt, snow removal, and for dethatching



Heavy duty commerical sweeper for use by contractors, landscapers, municipalities, institutions and farmers



Hydraulic drive standard - equiped with a gerotor type hydraulic motor for smooth, reliable performance. The factory provides hoses to the mounting frame; if required, additional hoses must be added by user.



Hydraulic requirements are 12-25 gpm at 1800-2250 psi, 180 degrees F maximum allowable oil temperature (an oil cooler may be required)



Frame mounts to skid steer quick attachment systems, specify make and model of skid steer loader so we can provide proper mounting plate - your loader has to be quick attach compatable



All steel welded sweeper frame for maximum strength



Comes standard with manual angle feature 30 degrees to the left and right



Can be converted to hydraulic angle by adding your own 10 inch stroke cylinder and hoses



Optional storage stands are recommended, keeps brush off ground when not in use so no flat spots develop in brush



Broom floats on adjustable spring assembly for best sweeping action



SSAB series broom is available in widths of 6, 7, and 8 ft., all units use 32 inch diameter brush sections



Minimum working width for each size (when brush is angled at full 30 degrees) - 8 ft. is 85 inches, 7 ft. is 75 inches, 6 ft. is 65 inches



Number of brush sections: 8 ft. has 48 sections, 7 ft. has 42 sections, and 6 ft. has 36 sections



Polypropylene convoluted brush sections are standard, crimped wire or a 50/50 combination can be supplied at no cost - your choice. All polypropylene (all poly) are used for dethatching on grass or sweeping on decorative brick or stone where you would be concerned about damage. A 50/50 combination of wire and poly is recommended for street, parking lot or sidewalk use on pavement or asphault with heavy dirt or mud deposits. We normally don't recommend all wire unless you are clearing areas full of mud, as the 50/50 mix with the poly tends to prevent the wire bristles from bending over from use and is usually severe enough, but we can ship the units with whatever choice of broom you want.



The Model SSAB is equipted standard with a manual angle adjustment that allows a maximum angle of 30 degrees right or left



The model SSAB is also designed to accept a standard 10 inch stroke cylinder if you want to convert the unit to hydraulic angle



An available option is storage stands, and they are highly recommended - designed to protect the broom during maintenance and storage, these stands mount on each side of the sweeper, and have a single point raise and lower point



Another available option are dirt deflectors to help protect the operator from dust and flying debris





Models With 32 Inch Diameter Brooms

Model 009415: Model SSAB skid steer mounted 5 ft. angle broom with hydraulic drive, wt. is 814 lbs. - Click the link below for current price and to order





Model 009416: Model SSAB skid steer mounted 6 ft. angle broom with hydraulic drive, wt. is 865 lbs. -Click the link below for current price and to order





Model 009417: Model SSAB skid steer mounted 7 ft. angle broom with hydraulic drive, wt. is 916 lbs. - Click the link below for current price and to order





Model 009418: Model SSAB skid steer mounted 8 ft. angle broom with hydraulic drive, wt. is 967 lbs. - Click the link below for current price and to order





Accessories



Model 000995: Storage Stands, per pair wt. 30 lbs., recommended for shipping and to protect the broom when stored and not in use - Click the link below for current price and to order





Part No. 000981: SSAB32 Hydraulic Angle Kit with electric control and universal switch, wt. is 50 lbs. and ships by UPS - Click the link below for current price and to order





Part No. 00098114: SSAB32 Hydraulic Angle Kit with electric control and 14 pin connector, SPECIFY THE MAKE AND MODEL OF YOUR skid steer, wt. is 50 lbs., ships by UPS - Click the link below for current price and to order





Part No. 06030811: 14 pin connector / Joystick control wire, SPECIFY MAKE AND MODEL OF YOUR skid steer - Click the link below for current price and to order





10 INCH x 32 INCH DIAMETER BRUSH SECTIONS FOR SSAB SWEEPERS



Model 09993050: 5 ft. wide, 32 inch diameter all poly brush set with 30 all poly convoluted brush sections - Click the link below for current price and to order





Model 09993150: 5 ft. wide, 32 inch diameter all wire brush set with 30 all wire convoluted brush sections - Click the link below for current price and to order





Model 09993250: 5 ft. wide, 32 inch diameter 1/2 poly, 1/2 wire brush set with 19 poly, and 17 wire convoluted brush sections - Click the link below for current price and to order





Model 09993060: 6 ft. wide, 32 inch diameter all poly brush set with 36 all poly convoluted brush sections - Click the link below for current price and to order





Model 09993160: 6 ft. wide, 32 inch diameter all wire brush set with 36 all wire convoluted brush sections - Click the link below for current price and to order





Model 09993260: 6 ft. wide, 32 inch diameter 1/2 poly, 1/2 wire brush set with 19 all poly convoluted brush sections, and 17 all wire convoluted brush sections - Click the link below for current price and to order





Model 09993070: 7 ft. wide 32 inch diameter all poly brush set with 42 convoluted brush sections - Click the link below for current price and to order





Model 09993170: 7 ft. wide 32 inch diameter all wire brush set with 42 convoluted brush sections - Click the link below for current price and to order





Model 09993270: 7 ft. wide 32 inch diameter 1/2 poly, 1/2 wire brush set with 22 convoluted poly brush sections and 20 all wire brush sections - Click the link below for current price and to order





Model 09993080: 8 ft. wide 32 inch diameter all poly brush set with 48 all poly convoluted brush sections - Click the link below for current price and to order





Model 09993180: 8 ft. wide, 32 inch diameter all wire brush set with 48 all wire convoluted brush sections - Click the link below for current price and to order





Model 09993280: 8 ft. wide, 32 inch diameter 1/2 poly, 1/2 wire brush set with 25 all poly convoluted brush sections, and 23 all wire convoluted brush sections - Click the link below for current price and to order





Options For York Sweepers



Bottom Rear Rubber Deflectors



Part 000915: Bottom rubber broom deflector 5 ft. wide - Click the link below for current price and to order





Part 000916: Bottom rubber broom deflector 6 ft. wide - Click the link below for current price and to order





Part 000917: Bottom rubber broom deflector 7 ft. wide - Click the link below for current price and to order





Part 000918: Bottom rubber broom deflector 8 ft. wide - Click the link below for current price and to order





Top Metal Deflectors



Part 000924: Top metal deflector 4 ft. wide - Click the link below for current price and to order





Part 000925: Top metal deflector 5 ft. wide - Click the link below for current price and to order





Part 000926: Top metal deflector 6 ft. wide - Click the link below for current price and to order





Part 000927: Top metal deflector 7 ft. wide - Click the link below for current price and to order





Part 000928: Top metal deflector 8 ft. wide - Click the link below for current price and to order





Sprinkler System To Fit Model SSAB



Model 000930: Spray Tank (you need to order tank and either the 5 ft. or 6 ft. spray system kit below for the system to be complete), 25 gallon capacity - Click the link below for current price and to order





Model 000935: 5 ft. wide spray system, includes pump, hose, nozzles, and mounting hardware (does not include tank, order separately see above), wt. is 17 lbs. - Click the link below for current price and to order





Model 000936: 6 ft. wide spray system, includes pump, hose, nozzles, and mounting hardware (does not include tank, order separately see above), wt. is 20 lbs. - Click the link below for current price and to order





Model 000937: 7 ft. wide spray system, includes pump, hose, nozzles, and mounting hardware (does not include tank, order separately see above), wt. is 23 lbs. - Click the link below for current price and to order





Model 000938: 8 ft. wide spray system, includes pump, hose, nozzles, and mounting hardware (does not include tank, order separately see above), wt. is 26 lbs. - Click the link below for current price and to order





Note: Kits include: Pump, hose, nozzles and mounting hardware



Note: Kits do not include tanks







Click Here To Expand This To A Full Page Version

Wikco.Com is a national equipment dealer selling directly to the end user
To Order: Click On The Order Form Button Below For Ordering And Payment Information.

If Our Index Doesnot Appear On The Left Side Of This Page

Then Click On The Home Button Above To See The Many Other Products We Sell

For Sales or Technical Questions, Parts Information, Or To Check On An Order
Please E-Mail us at: wikcocom@msn.com
All information is on our web site at: www.wikco.com
If you have additional questions,

Click Here For Our Contact Information




Wikco.com Inc.


Copyright © Wikco.Com Inc., 1997 To Present - All Rights Reserved, A U.S. Corporation