Stump Buster Skid Steer Mount Stump Grinder
The Stump Buster Hydraulic Skid Steer Mount Stump Grinder is a hydraulically powered stump grinder that mounts on your skid steer loader using a unique Fast-Tach system that allows quick and easy operator hook-up. The Stump Buster hydraulic powered stump grinder is designed for use by contractors, landscapers, and maintenance departments.
Three models are available for fitting different sizes of skid steer loaders with different hydraulic capacities. The model SC-25-H is designed to work with loaders that have a hydraulic capacity of 15 to 25 gallons per minute flow; also the cutting wheel is oriented so you are looking at the edge of the cutting wheel. The wheel is mounted on an arm so you can sweep the wheel across the stump from right to left; this allows you to position your skid loader in one spot and swing the arm and cutting wheel so you can grind stumps as large as 45 inches in diameter without having to move your skid loader. The larger model SHSC-50-H is also designed this way, and is the highest output model in the series requiring 25-40 gpm (high flow machines). The larger 34 inch diameter cutting wheel and larger hydraulic motor makes this unit one of the highest output models available.
The model SHSC-30-H is a lower cost alternative that is designed differently; instead of having hydraulic cylinders to swing the cutting head back and forth, the cutting head on the SHSC-30-H is solid mounted in the frame, and to move the cutting head you swing the unit in an arc just like you would your bucket, and/or drive forward slowly. The position of the cutting head is set by raising and lowering your loader arms to the proper height, and then arcing the cutting wheel across the top of the stump. This unit mounts on skid loaders with universal quick attach mounts, and requires 16 to 30 gpm to operated efficiently.
Please note: models SHSC-25-H and SHSC-50-H models will not operate on Bobcat brand skid loaders.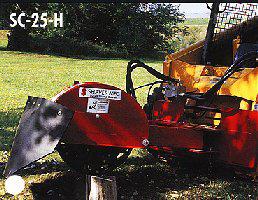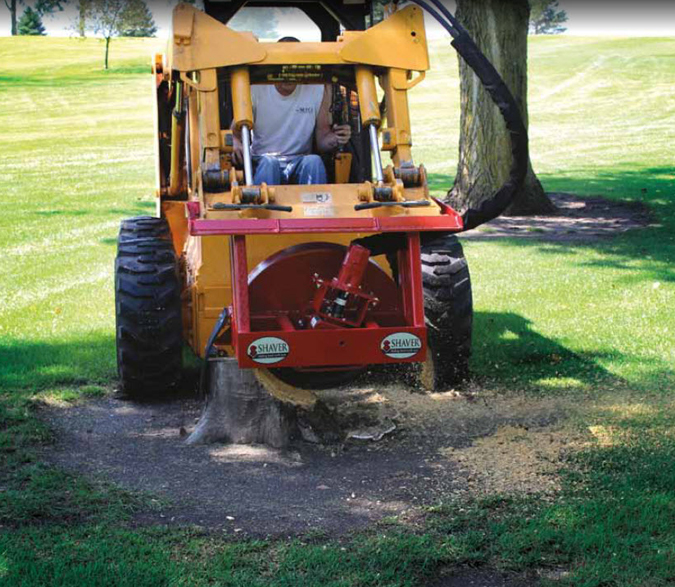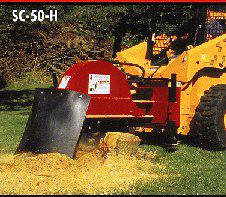 Features/Specifications




Features/Specifications - Model SHSC-25-H


COMES WITH STANDARD UNIVERSAL BRACKET ONLY - FOR MOUNTING ON SKID STEER LOADERS WITH STANDARD QUICK ATTACH MOUNT



Drive system: Powered by skid steer loader's hydraulic system



Hydraulic requirements: 15 to 25 gpm (gallons per minute)



Maximum cutting diameter: 45 inches



Maximum cutting depth: 10 inches below ground



Cutting arc: 55 degrees



Cutting wheel diameter: 24 inches



Cutting wheel speed: 980 rpm



Cutting wheel width is 3/4 inches



Machine weight is 804 lbs.



Easily turns the hardest hardwood stumps into fine mulch



The combination of a large 24 inch diameter cutting wheel and high hub torque cut a full 55 degree swath, 10 inches deep in less than 2 minutes



Carbide steel teeth aggressively chew through any size stump with little wear. Single direction cutting puts less stress on the cylinder, bearings and gearbox. Heavy-duty bearings also ride in an oil bath, virtually eliminating friction wear.



Fast-tach system allows the operator to maintain a fast and easy hookup



A single toggle switch mounted the the skid-steer loader allows the operator to move from stump to stump without leaving the skid-steer loader



The 2 1/2 inch swing cylinder and hydraulic hoses are standard sizes for easy repair or replacement



Teeth are easy to access and replace




Please Note: This unit will not operate on Bobcat Skid Steer Loaders

Model SHSC-25H: Mini-Stumpbuster, skid steer mount stump grinder, for skid steer loaders with 15-35 gpm hydraulic flow, quick-tach mounting - Click on the link below for current price and availability






Please Note: This unit will operate on Bobcat Skid Steer Loaders And Any Other Skid Steer Loaders (with universal quick attach)

Model SHSC-30-H: Mini-Stumpbuster, skid steer mount stump grinder, for skid steer loaders with at least 25 gpm, unit has a 24 inch diameter cutting wheel, turns at a higher rpm rate than model 25H; turns at 1200 rpm when flow is 25 gpm, cutting wheel is mounted so the face of the wheel is towards the operator, use the skid loader controls to arc the cutter wheel across the stump back to front (and/or drive forward slowly), and the loader arms to raise the unit up and down to set the cutting depth, cuts 10 inches below ground maximum, 24 inch diameter wheel takes a 24 inch wide cut, cutting wheel has 23 carbide tipped cutting teeth - Click on the link below for current price and availability






Features/Specifications - Model SC-50-H



COMES WITH STANDARD UNIVERSAL BRACKET ONLY - FOR MOUNTING ON SKID STEER LOADERS WITH STANDARD QUICK ATTACH MOUNT



Skid steer mount gives you plenty of front end visibility to quickly maneuver around even the largest diameter stumps



Eaton hydraulic motor powers the 3/4 inch steel cutting wheel at 795 rpm, easily grinding the hardest, hardwood stumps into fine mulch



The combination of a large 34 inch diameter cutting wheel and high hub torque cut a full 55 degree swath 12 inches deep in less than 2 minutes



Carbide steel teeth agressively chew through stumps with little wear



Single direction cutting puts less stress on the cylinder, bearings and gear box



Heavy-duty bearings also ride in an oil-bath, virtually eliminating friction-wear



Two thick rubber shields keep most debris piled by the hole



Two frame mounted stabilizer legs provide added support, especially on uneven ground



Unique fast-tach system allows quick and easy operator hook up, a single toggle switch mounted to the skid steer loader allows the operator to move from stump to stump without leaving the skid steer loader



The 2 1/2 inch swing cylinder and hydraulic hoses are standard sizes for easy repair or replacement



The teeth are easy to access and replace using a standard size wrench



Hydraulic requirements - 25 to 40 gpm high-flow



Maximum cutting diameter - 45 inches



Maximum cutting depth - 12 inches below ground



Cutting arc - 55 degrees



Cutting wheel diameter - 34 inches



Cutting wheel speed - 795 rpm



Machine weight is 1243 lbs., shipping weight is 1498 lbs.




Please Note: This unit will not operate on Bobcat Skid Steer Loaders

Model SHSC-50-H: Skid steer mounted, hydraulically powered stump grinder, for skid steer loaders with quick attach and 25 to 40 gpm hydraulic flow - Click on the link below for current price and availability









Accessories




Model SC-50-15: Carbide replacement tooth with locknut, for all models of Stump Buster - Click on the link below for current price and availability






Click Here To Expand This To A Full Page Version

Wikco.Com is a national equipment dealer selling directly to the end user
To Order: Click On The Order Form Button Directly Below For Ordering And Payment Information

If Our Index Does not Appear On The Left Side Of This Page

Then Click On The Home Button Above To See The Many Other Products We Sell

For Sales or Technical Questions, Parts Information, Or To Check On An Order
Please E-Mail us at: sales@wikco.com
All information is on our web site at: www.wikco.com
If you have additional questions,

Click Here For Our Contact Information




Wikco.com Inc.


Copyright © Wikco.Com Inc., 1997- to present. All Rights Reserved, A U.S. Corporation