Post And Tree Puller
The model 200-30 Post And Tree Puller can be mounted on either your tractor's three point hitch, or the lift arms of your skid steer loader or tractor loader. This unique tool is the simple and economical way to pull fenceposts and trees; you can also use it for simply loading and moving trees at nurseries for example that haven't been planted yet. You can pull trees from 1 inch up through 6 inches in diameter, and wooden posts from 1 inch to 12 inches in diameter; will also pull metal posts such as 1 inch t-type posts.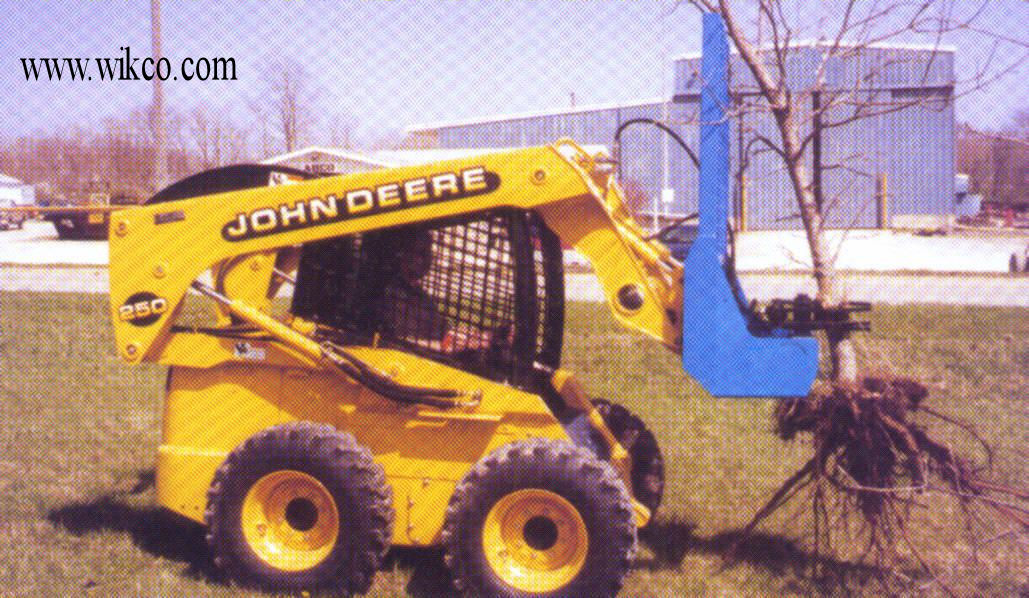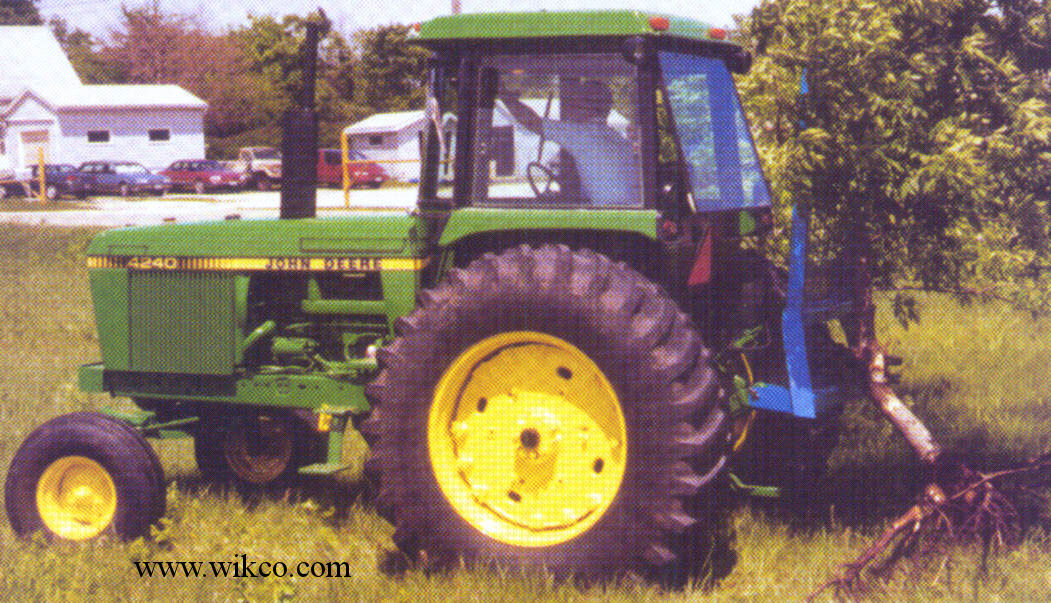 High lifting capacity on both tractor 3 point hitches, and skid steer loaders, gives you excellent performance in most conditions. The standard unit is set up to mount on skid steer loaders; with the 3 point hitch adapter accessory, you can also mount the model 200-30 post puller to category 2 three point hitches. This is the perfect tool for landscape contractors, fencing contractors and farmers and ranchers...to name a few.
Features/Specifications



Standard mounting is made to attach to most skid steer loaders and tractors with bi-directional auxiliary hydraulics



Optional adapter kit allows you to mount the tree puller to the three point hitch of your tractor that has a category 2 three point hitch



Designed to pull posts wooden 1-12 inches in diameter and steel posts such as 1 inch t-type posts, and trees from usually from 1-6 inches in diameter, and with the cushion pad accessory, can be used to move and load boxed trees in nurseries



Unit has a heavy duty frame structure




Bronze bushings on all pivots, no grease zerks needed



The jaws are constructed of grade 50 steel




Trunnion hydraulic cylinder has a 2 1/2 inch bore x 10 inch stroke, includes hydraulic hoses, delivered ready to go



Pulls trees from 1 inch to 6 inches in diameter, and posts from 1 inch to 12 inches in diameter




Rugged frame design is constructed of heavy flat and square tube



Pivot shaft is 2 inches in diameter and constructed of cold rolled, stress-proof steel



The self-aligning jaw clamps will center the post or tree when clamping, this unique jaw-clamping system gives the user the convenience to control post and tree puller functions without leaving the tractor



An optional cushion pad is available for both models, excellent when used with a skid steer for moving, loading, or unloading to control tree damage



Model 200-30 Post And Tree Puller: Set up for mounting to most skid steer loaders, wt. is 440 lbs. - Price is $2750.00 delivered (price includes shippng to commercial and residential addresses with normal delivery access in the U.S. 48 states, locations in Alaska, Hawaii, and other areas outside the U.S. require additonal shipping cost), ships by truck



Optional Equipment And Adapters:



Part Number 20000034: Skid steer to category 2 three point hitch adapter kit - Price is $185.00 delivered (price includes shippng to commercial and residential addresses with normal delivery access in the U.S. 48 states, locations in Alaska, Hawaii, and other areas outside the U.S. require additonal shipping cost), ships by UPS




Click Here To See Available Adapters For Your Tractor Loader

Part Number 20000026: Cushion pad assembly for jaws, great for loading and unloading trees at nurseries - Price is $345.00 delivered (price includes shippng to commercial and residential addresses with normal delivery access in the U.S. 48 states, locations in Alaska, Hawaii, and other areas outside the U.S. require additonal shipping cost), ships by UPS




Click Here For Available Cash Discounts

We make every effort to keep prices current and correct as shown on our product pages. Prices do change frequently however; we will notify you of any changes when we receive your order so you can make any adjustments or changes to the order. We are not responsible for information or pricing on copies of our web pages on the search engines that are out of date. If you navigated to this page by clicking a link in the search engine listings, then click on the reload button on your browser to make sure you are viewing a current version of this page from our website. You can also go to www.wikco.com and link to this page from our index.

Click Here To Expand This To A Full Page Version

Wikco.Com is a national equipment dealer selling directly to the end user
To Order: Click On The Order Form Button Below For Ordering And Payment Information,
And Information On Any Cash Discounts That May Be Available
Please Order In Writing Only Using Our Order Form.

If Our Index Doesnot Appear On The Left Side Of This Page

Then Click On The Home Button Above To See The Many Other Products We Sell

For Sales or Technical Questions, Parts Information, Or To Check On An Order
Please E-Mail us at: wikcocom@msn.com
All information is on our web site at: www.wikco.com
If you have additional questions,

Click Here For Our Contact Information




Wikco.com Inc.


Copyright © Wikco.Com Inc., 1997 to present - All Rights Reserved, A U.S. Corporation