Hydraulic Powered Tree Spades For Mounting On Skid Steer And Tractor Loaders And Tractor Three Point Hitches
The five models of hydraulic tree spades are universal quick attach mount, with a three point hitch hydraulic lift frame available as an option for mounting the tree spades to category 2 or 3 three point hitches. The units are designed for removing and replanting trees from 1.5 inches to 3 inches in diameter for hardwood (depending upon the model of spade), and from 2 to 4 inches in diameter on evergreen trees (depending upon the model of spade).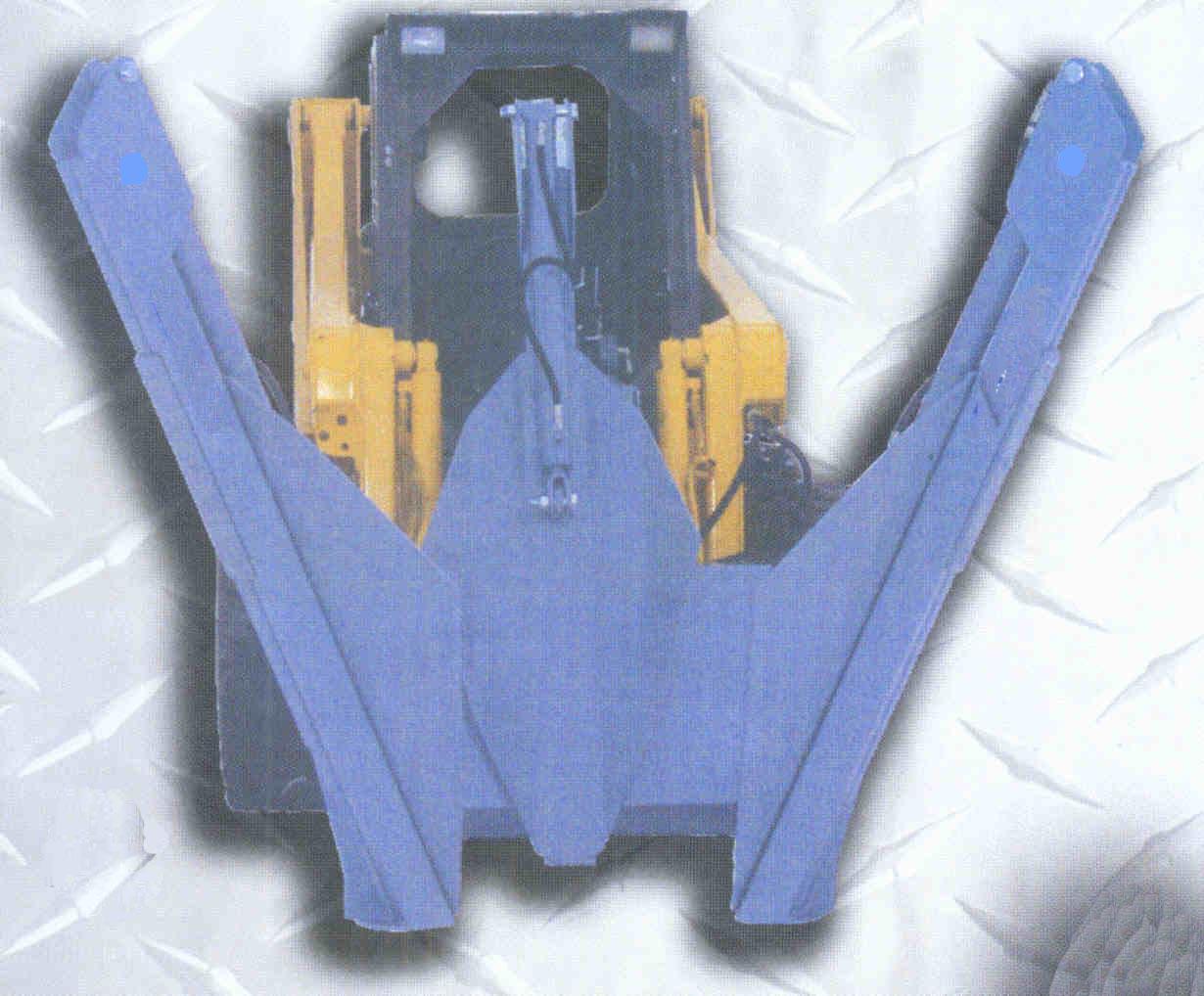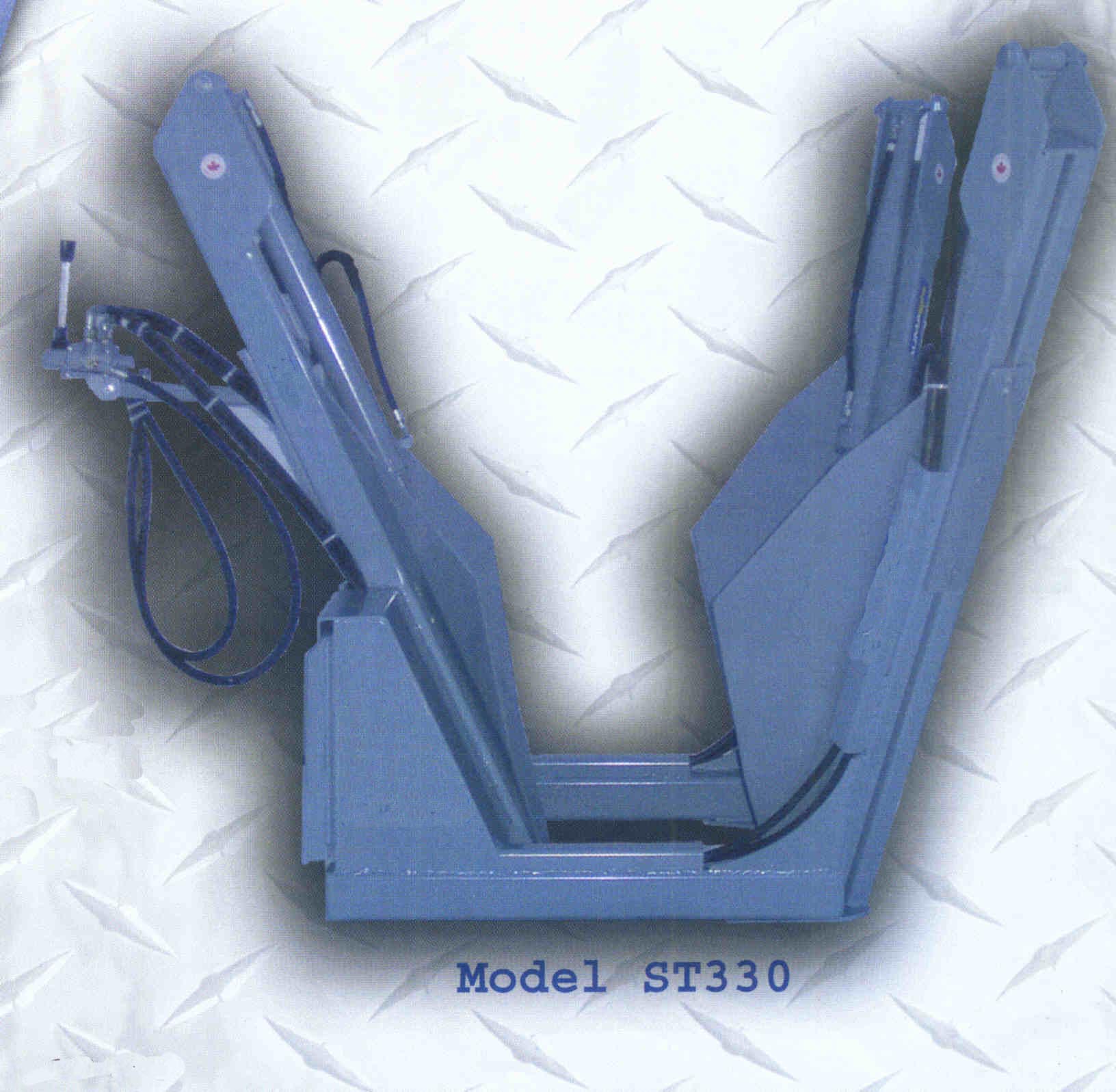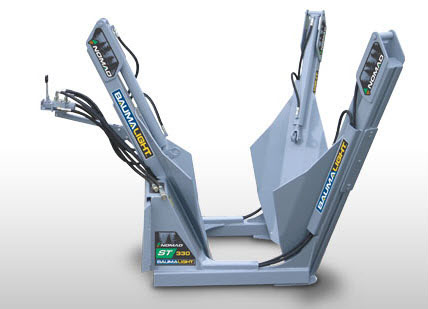 Model ST324 is available for removing maple trees of 1 1/2 inches in diameter and evergreens of 2 inches in diameter and with a 24 inch diameter root ball, models to remove maple trees 2 1/2 inch diameter and evergreen 3 inches in diameter with a 30 inch diameter root ball, and the 440 models which allow you to remove a 3 inch maple or 4 inch diameter evergreen with a 40 inch diameter root ball. Tractor and skid steer loader required/recommended horsepower ranges are 40 to 300 depending upon the model of tree spade. The models ST324 and ST330 have 3 hydraulic powered spades that are on fixed positions on the tree spade frame. Models WLSS330, WLST440, and WLDR440 have one or more spades that hydraulically swing open and closed to more easily position the spades around the tree and to adjust the size of the root ball.
All models come complete with the hoses and joystick control mounted on the frame of the unit; units with electric controls with 15 ft. of wire for operation of the tree spade from the tractor seat or cab are also available, see pricing below.
The standard mounting for all the tree spades listed is quick attach mounting to your skid steer loader, or a tractor loader with modifications, (on a tractor loader you would have to lengthen the hoses and move the joystick control to control the tree spade from the tractor seat).
If your tractor loader's attachment link where the bucket attaches is not a universal quick attach type, then you can purchase a front loader mount adapter, (they are listed below), to quick attach mount this to the front of your loader. Also listed below is the 3 point hitch mount adapter which allows you to mount this unit on the back of the 3 point hitch of your tractor. The adapter has a rigid link and a vertical elevator for down pressure, and includes the hoses.
Features/Specifications



Quick attach mount hydraulic tree spade, standard mounting designed for skid steer loaders or tractor loaders with quick attach mounting, but three point hitch adapter is available for rear mounting on tractors, and if your loader is not quick attach compatible, we have the loader mounting adapters so you can mount this on your tractor front end loader



Five models are available, with lifting capacities ranging from: 1 1/2 inch diameter hardwood/Maple trees and 2 inch diameter Evergreen trees; 2 1/2 inches hardwood / 3 inches Evergreen; and 3 inches in diameter hardwood / 4 inches in diameter Evergreen. Depending upon model, root ball capacity is 24, 30, or 40 inches in diameter.







The frame arms on the ST324, and ST330 are welded solid and are not hinged, making the spades in a fixed position. These two models have 3 digging spades; spades on all models are positioned at a fixed angle.



Models SS330, ST440, and DR440 all have one or two (depending upon model), spade arms that swing open or closed so you can adjust the size of root ball you want, and to make positioning the spade around the tree easier. The model WLSS330 has three spades, and one arm with one of the spades attached swings open and closed.







The models ST440 and DR440 both have two arms that swing open.



Hydraulic capacity from your skid steer or tractor is a minimum of 5 gpm and maximum required is 25 gpm, and with horsepower ranges as shown on the specifications chart



Model DR440 is the top of the line model. General specifications and capacities are similar to the other 440 series model, the model ST440, but if you look at the photos, you will see several major design feature differences. All models feature a heavy duty design with all steel construction. The WLDR440 has a different frame, one that has a tighter semi-circle design to hold the rootball better. The Spade towers still swing out to accomodate the maximum size rootball or 40 inches in diameter, but the unit will wrap around the rootball tighter to give it maximum support.



Another major design difference is the more complicated and efficient design of the spade towers, allowing the hydraulic cylinder to be enclosed. The DR440 tree spade also uses and electric valve to control the functions of the tree spade from the cab of the skid steer. The other models, including the WLST440 all use manual hydraulic control valves. The units with manual valves do mount the valves within reach of the operator, but the electric valve is easier to use. The DR440 simply incorporates the most heavy duty construction and advanced design of the models.



The specification chart below shows the horsepower and down pressure requirements to mount each model to your skid steer or tractor loader or the three point of your tractor. In addition, the chart refers to DOWN PRESSURE of your loader. This is the amount of force required to hold the tree spade frame flat on the ground when the spades are forced in the ground to dig out the tree. To determine whether or not a particular model below will work with your loader or tractor, use the horsepower requirements as a major indicator, as well as down pressure. As an approximation of down pressure, use this formula: The gross weight of your skid steer or tractor loader divided by 3 to approximate a down force amount.






Optional adapters to allow mounting on a tractor loader that has quick attach bucket mount already, an adapter for loaders that aren't now quick attach at the bucket, and a rigid mounting adapter for mounting these units on the three point hitch of a tractor (category 2 or 3)




Standard Stock Units Are Produced With Quick Attach Skid Steer Mounting. If you need a mounting for a specific tractor loader, the mounting can be custom made. Custom made mountings may require extra time before shipping. A better choice maybe the bolt-on plates available part numbers D001541 And D001534 which bolt onto the standard skid steer mount and then allow you to weld the mounting brackets needed for your loader arms. These plates are normally in stock; order D001541 if your loader arms are narrower than a quick attach skid steer mount, and order D001534 plate if your loader arms are wider than a standard skid steer quick attach mount.




Model ST324-MC: Quick attach mount tree spade with manual joystick control on spade frame, for mounting on skid steer loaders and tractor loaders with quick attach bucket mounting, allows for moving Maple trees up to 1.5 inches, and Evergreen trees up to 2 inches, gives you a 24 inch diameter semi-truncated root ball 23 inches deep, dimensions are - 68 inches long at the top, 48 inches long at the bottom, 75 inches wide at the top, 48 inches wide at the bottom, 57 inches high, has 3 hydraulic spades, wt. is 990 lbs., requires 1200 lbs. of down force pressure - Click the link below to get a price quote





Model ST324-EC: Same as above, but tree spade with electric controls with 15 ft. of control cable (additional cable available) - Click the link below to get a price quote









Model ST330-MC: Quick attach mount tree spade with manual hydraulic controls mounted on treespade frame, for skid steer loaders and tractor loaders with quick attach, allows for moving Maple trees up to 2.5 inches, and Evergreen trees up to 3 inches, gives you a 30 inch semi-truncated root ball 28.5 inches deep, dimensions are - 81 inches long at the top, 48 inches long at the bottom, 90 inches wide at the top, 48 inches wide at the bottom, has 3 hydraulic spades, wt. is 1380 lbs., requires 2000 lbs. of down force pressure - Click the link below to get a price quote





Model ST330-EC: Same as above but with electric controls with 15 ft. of control cable included (additional cable is available) - Click the link below to get a price quote






Photo shows model SS330 with optional three point hitch mount, standard mount is skid steer quick attach as on all models



Model SS330-MC: Quick attach mount tree spade with manual hydraulic controls mounted on spade frame, for attaching to skid steer loaders and tractor loaders with quick attach, same capacities and specifications as the WLST330 above, but has one spade tower that swings open for easier maneuverabilty when approaching the tree, has 3 hydraulic spades, wt. is 1450 lbs. - Click the link below to get a price quote





Model SS330-EC: Same as above except has electric controls with 15 feet of control cable (longer cable is available), so unit can be controlled from tractor seat/cab - Click the link below to get a price quote





Model SS330-WC: Same as above except has wireless remote control of treespade functions, only requires a 12 volt lead to tree spade - Click the link below to get a price quote





Standard Stock Units Are Produced With Quick Attach Skid Steer Mounting. If you need to mount this unit on the three point hitch of a tractor, you can order the three point hitch lift system shown on this page. If you need to mount the unit on your front end loader (that is not skid steer quick attach compatable), then we offer two sizes of mounting plates that can bolt on to the skid steer plate; you would then weld on mounting brackets (that either you supply, or we may have available), that will mate to your loader arms.



Loader Mounted Plates



Order the accessories below using the drop down menu on the order page when ordering the plates with a tree spade; otherwise click on the order form button below the item.



Loader plates D001541 and D001534 are flat plates that bolt to the skid steer mount and then require you to weld on brackets you provide or we can supply that connect to your loader arms.



Model D001541: Flat loader adapter plate for loaders with mounting brackets having a smaller footprint than the skid steer plate - Click the link below to get a price quote





Model D001534: Flat loader adapter plate for loaders with mounting brackets having a larger footprint than the skid steer plate -Click the link below to get a price quote








Model ST440-MC: Largest series, with manual hydraulic controls mounted to spade frame, has 4 hydraulic spades, two front spade towers swing open to make it easier to maneuver up and past tree trunk, and easier to position the spades around the tree, frame and spade design is similar to the 324 and 330 models. The 440 series tree spade removes up to a 3 inch diameter hardwood/Maple tree, and a 4 inch diameter evergreen tree with up to a 40 inch diameter root ball. Standard mounting is skid steer quick attach mounting,(see accessories for optional mounting on tractor loaders wt. is 1850 lbs. - Click the link below to get a price quote





Model ST440-EC: Same as above except has electric control of spade from tractor seat/cab, includes 15 ft. of control cable (extra cable is available) - Click the link below to get a price quote





Model ST440-WC: Same as above except has wireless control of spade functions (only requires 12 volt wire to spade to operate) Click the link below to get a price quote








Model DR440-EC: Heavy duty model with electric controls of spade's functions, comes with 15 ft. of control cable standard, unit has compact frame design with frame curved to form a cradle for maximum support of the root ball. Maximum root ball size is 40 inches in diameter. Has 4 hydraulically controlled digging spades enclosed in protective spade towers. WLDR440 only, has electric valve to control extension and retraction of the digging spades, has 4 digging spades with 2 mounted on hinged arms on frame to swing open for easier maneuvering up to the tree, and to close tight around and support the rootball, wt. is 2240 lbs. - Click the link below to get a price quote





Model DR440-WC: Same as above except with wireless control of spade functions - Click the link below to get a price quote




Model WLST650: This unit is designed to be mounted on the largest skid steer loaders and tractors



If you are mounting this on a skid steer loader you need a skid steer loader 110 hp or larger



If you are mounting this on the loader of a tractor, a 200 hp tractor is required



If you are mounting this on the three point hitch of a tractor but do not have a loader on the front to act as a counter weight, then you need a tractor of 120 hp or larger



If you are mounting this on the three point hitch of a tractor that has a loader on the front to act as a counter weight, then a tractor of 90 hp or larger is required



Standard mount on the unit for the price shown below is skid steer quick attach for mounting on skid steer loaders or a tractor that has "universal quick attach - SKID STEER STANDARD (you can attach skid steer attachments to the loader. If it is a large tractor the bucket may attach via quick attach, but it might be the larger industrial quick attach standard, so make sure.



If you have a large industrial tractor loader, and you want to mount the unit on your loader, then you will need the WL15M custom adapter plate (listed below in accessories), unless YOU HAVE an adapter plate to go adapter your loader arms to universal skid steer quick attach standard



If you want to mount the WLST650 to the three point hitch of your tractor, you need the appropriate three point hitch adapter (WL9M) as listed below in the accessories section



Model ST650-MC: Tree spade with manual control valve mounted on spade frame; for mounting on Skid loaders 110 hp or larger, or tractors 90 hp minimum or larger depending upon the mounting (either front loader mount or rear three point mount), unit has universal skid steer loader quick attach mounting as standard for the price listed, maximum size tree that can be moved with root ball is - 5 inches in diameter Evergreen tree with a 50 inch diameter rootball 43 inches deep, and a 4 inch diameter hardwood tree with a 50 inch diameter rootball 43 inches deep, tractor or skid steer loader must have one auxillary hydraulic outlet to connect to tree spade (2 hoses), and a system capacity of 5-25 gpm and 2500 psi, unit weight is 3025 lbs. - Click the link below to get a price quote





Model ST650-EC: Same as above except with electric control of spade functions, includes controller and 15 ft. of control cable standard (longer cable length is available) - Click the link below to get a price quote



For best results on all models, it is recommended that you water heavily around the area of the tree to be removed so the tree is easier to remove, and to maximize the survivability of the tree.



Accessories



Loader Mounted Plates



Loader plates D001541 and D001534 are flat plates that bolt to the skid steer mount and then require you to weld on brackets you provide or we can supply that connect to your loader arms.



Model D001541: Flat loader adapter plate for loaders with mounting brackets having a smaller footprint than the skid steer plate - Click the link below to get a price quote





Model D001534: Flat loader adapter plate for loaders with mounting brackets having a larger footprint than the skid steer plate -Click the link below to get a price quote






Three Point Hitch Adapters With Hydraulic Lift Frames

The tree spades are set up standard for skid loader mounting or front tractor loader mounting. To mount the spades on the three point hitch of your tractor, you need one of the three point hitch adapters listed below; as the photo shows, the adapter includes a hydraulically operated lift frame that connects to your tractor's three point hitch. The spade is lifted to the height needed to raise up the tree and root ball using the three point adapter frame, not your hitch arms as you wouldn't be able to raise the spade high enough to operate it by just raising your hitch. Two models are available as listed that fit the specific tree spades shown. The adapters require a category 2 or 3 three point hitch, and a tractor hp as shown in our specification chart on this page.




POWER BUILT-IN



The 3-point hitch mount is designed for power and function. Attached to your tractor by a rigid top link and the lower arms in their lowest position, this rugged power house is ready to take on all the heavy lifting and positioning. The built-in hydraulics are designed to provide, tilt for positioning, down pressure to help keep the frame in position and lift to get the treespade out of the hole. These powerful tools are also field installable, meaning you can add a 3PH mount to an existing Nomad series tree spade.



Model 6M: Three point hitch adapter to mount the ST324 tree spade on a tractor 30 to 40 hp (30 hp with loader on front for counter weight, or 40 hp required if no loader on front), price is if this unit is ordered with a tree spade, otherwise, see below), wt. is 490 lbs. - Click the link below to get a price quote





Model 6M-S: Same as above , but price is for unit if ordered separately and not with a tree spade - Click the link below to get a price quote





Model 7M: Three point hitch adapter to mount the tree spade on a larger tractor with category 2 or 3, three point hitch, for models SS330, ST330, And ST440, price is if this unit is ordered with a tree spade, otherwise see below), wt. is 860 lbs. - Click the link below to get a price quote





Model 7M-S:Same as above, but price is for unit if ordered separately and not with a tree spade - Click the link below to get a price quote





Model 9M: Three point hitch adapter to mount the tree spade on a larger tractor with category 2 or 3, three point hitch, for models SS650, and DR440, wt. is 1221 lbs. (price listed is for adapters ordered at same time as a tree spade) - Click the link below to get a price quote





Model 9M-S: Same as above, but price is for unit if ordered separately and not with a tree spade - Click the link below for a price quote








Separate Accessories/Attachments



Tree Scoops



The photos below show the front side and backside of the Tree Scoop Attachments; the back of the tree spade is already made to attach to skid steer loaders with quick attach. The scoop is a separate attachment and is used for picking up and transporting the tree with root ball. All digging would be done using the tree spade.




Model X4S: Skid steer loader mounted tree scoop used for quickly transporting trees with root balls that have already been loosened/dug up with the tree spade. Spade has a 28 inch diameter, allows transport of trees 1.5 inches in diameter with root ball, requires 800 lbs. of down pressure, unit wt. is 225 lbs. - Click the link below for a price quote






Click Here To Expand This To A Full Page Version

Wikco.Com is an equipment dealer selling directly to the end user
To Order: Click On The Order Form Button Directly Below For Ordering And Payment Information

If Our Index Doesnot Appear On The Left Side Of This Page

Then Click On The Home Button Above To See The Many Other Products We Sell

For Sales or Technical Questions, Parts Information, Or To Check On An Order
Please E-Mail us at: wikcocom@msn.com
All information is on our web site at: www.wikco.com
If you have additional questions,

Click Here For Our Contact Information




Wikco.com Inc.


Copyright © Wikco.Com Inc., 1997 to present - All Rights Reserved, A U.S. Corporation