Finger Wheel V Hay Rakes
The Pull Type Finger Wheel V-Type Hay Rakes are available as cart mounted or 3 point hitch mounted; both have hydraulically controlled arms. The Finger Wheel V-Type Hay Rakes allow you to cover a wider area. The cart mounted Finger wheel V-Type hay rakes are available in units with working widths of 18 ft. 2 inches, 22 ft., and 25 ft.; the three point hitch mounted versions are available in 18 ft. 2 inches and 22 ft. wide models. V-Rakes can be easily positioned for all hay conditions. V- type hay rakes are good for heavy hay amounts, compared with inline models that are better for light hay conditions.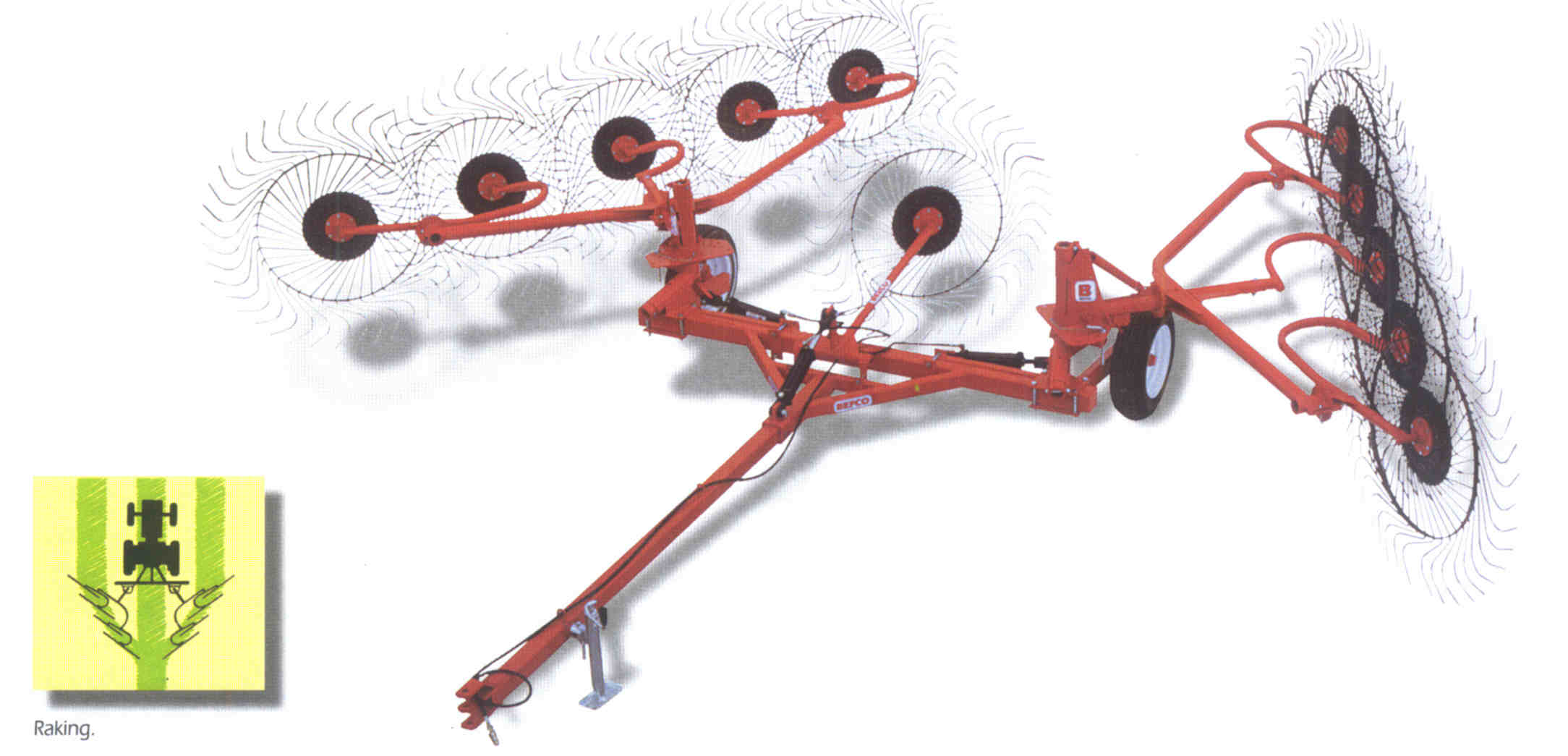 Above photo shows V-Rake With Rake Cart, V-Rake is also available in three point hitch version as listed below.
Features/Specifications



Three point hitch mount and pull type models are available. The pull type models with wheel rake carts hydraulically fold. Pull type models are available with 8, 10, and 12 wheels, and the three point hitch mount models are available with 8 or 10 wheels



All models are equiped standard with one way cylinders and hoses to raise the rake wheel arms up for transport (release the pressure and gravity lowers them into operating postion). An optional double action hydraulic kit option is available



On the cart mounted models, a screw type jack stand is included



An optional center "kicker" wheel is available (this is shown in the photo above, but is optional as listed below)



The advantage of v-rakes is the wider coverage and that they can be positioned for all hay conditions, and they are recommended for heavy hay conditions



All rakes are designed to be used with tractors from 30 to 80 hp



V-Rakes With Rake Carts (For Towing)




Model HRC-08V: V-Rake with rake cart, has 8 rake wheels, a maximum working width of 18 ft. 2 inches, wt. is 1436 lbs. - Click the link below for a price quote





Model HRC-10V: V-Rake with rake cart, has 10 rake wheels, a maximum working width of 22 ft., wt. is 1650 lbs. - Click the link below for a price quote





Model HRC-12V: V-Rake with rake cart, has 12 rake wheels, a maximum working width of 25 ft., wt. is 1864 lbs. - Click the link below for price quote





V-Type Hay Rakes With 3 Point Hitch Mounting




Model RS2-04V: Three point hitch mount V-Rake, catagory 1 three point hitch, for tractors from 16 to 80 hp, has 4 rake wheels, a maximum working width of 11 ft. 6 inches, wt. is 353 lbs. - Click the link below for a price quote





Model RS2-06V: Three point hitch mount v-Rake, category 1 three point hitch, for tractors from 16 to 80 hp, has 6 rake wheels, a maximum working width of 15 ft. 10 inches, wt. is 547 lbs. - Click the link below for a price quote






Click Here To Expand This To A Full Page Version

Wikco.Com is an equipment dealer selling directly to the end user
To Order: Click On The Order Form Button Directly Below For Ordering And Payment Information

If Our Index Does not Appear On The Left Side Of This Page

Then Click On The Home Button Above To See The Many Other Products We Sell

For Sales or Technical Questions, Parts Information, Or To Check On An Order
Please E-Mail us at: sales@wikco.com
All information is on our web site at: www.wikco.com
If you have additional questions,

Click Here For Our Contact Information




Wikco.com Inc.


Copyright © Wikco.Com Inc., 1997 to present - All Rights Reserved, A U.S. Corporation