Small Farmers Wagons And Tandem Axle Trailers
The four wheel wagons and tandem axle trailers are designed for use by small farmers and people with large acreages for hauling all types of materials around your yard and garden, and in your barn. The heavy duty 4-wheel wagon allows large load handling with ease. The 6300 and 7300 wagons have a 1 ton (2000 lbs.) load capacity, and 1/2 ton (1000 lbs.) dump capacity. The 4 wheel design allows you to leave the load on the wagon while it is un-attached from your tractor, garden tractor or ATV. There is also a smaller model 5400 wagon with a 1200 lb. capacity available.
Also available are the models 6500 and 7500 (6 ft. and 7 ft. long beds), tandem axle trailers. The tandem axle design allows the maneuverability of a trailer plus the weight capacity of a wagon. Both the trailers and wagons have metal frames with wood beds and sides.
4 Wheel Wagons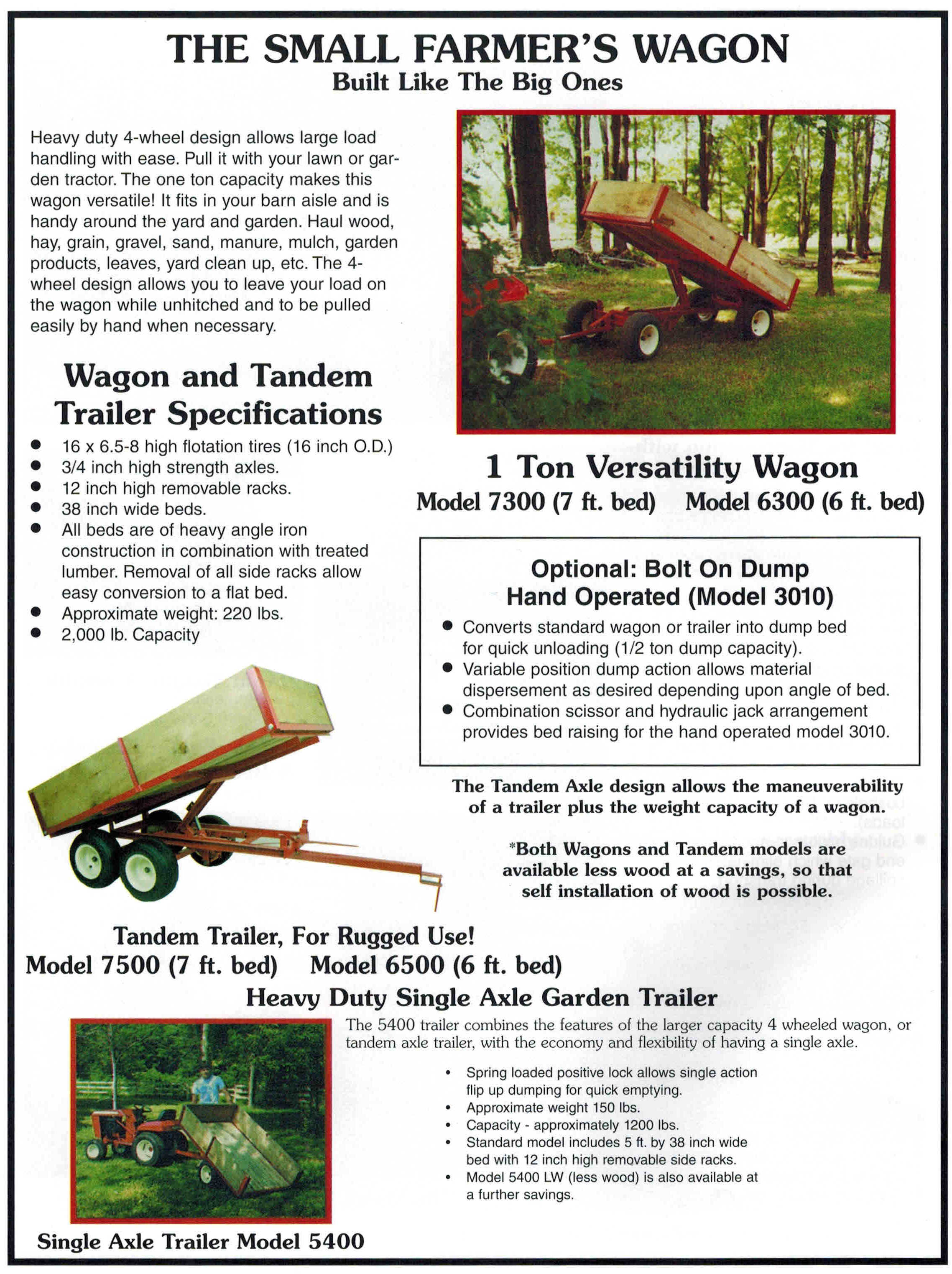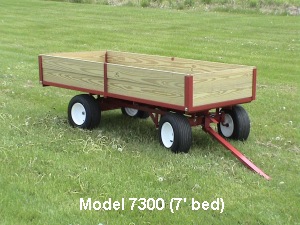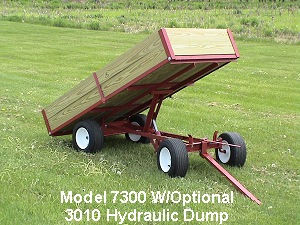 Model 6300: One ton, capacity, 4 wheel versatility wagon with 6 ft. long bed, 38 inches wide inside, has 12 inch tall sides, bed and sides are made from treated lumber, trailer has 1000 lbs. dumping capacity, weighs 215 lbs. and ships by truck - Click the link below for current price and availability





Model 7300: One ton, capacity, 4 wheel versatility wagon with 7 ft. long bed, 38 inches wide inside, has 12 inch tall sides, bed and sides are made from treated lumber, trailer has 1000 lbs. dumping capacity, weighs 215 lbs. and ships by truck - Click the link below for current price and availability





Accessories - For 4 Wheel Wagons




Part No. 3010: Dump kit for the one ton 4 wheel wagons, and one ton tandem trailers, kit includes dump frame and hand operated hydraulic jack, kit weighs 20 lbs. and ships by UPS - Click the link below for current price and availability






Single Axle Trailers




Heavy duty single axle garden trailer, with 5 ft. long bed x 38 inches wide



Spring loaded positive lock allows single action flip up dumping for quick emptying



Has 1200 lbs. load capacity



Has wooden bed and sides with treated lumber, sides are 12 inches high



Model 5400 - Click the link below for current price and availability






Model 5450 ATV Single Axle Trailer

Model 5450ATV: Single axle trailer with high flotation tires for towing by an ATV over rough ground, has a 5 ft. long box, 38 inches wide and has a 1600 lbs. load capacity, wt. is 200 lbs. - Click the link below for current price and availability






Tandem Axle Trailers

Tandem axle trailer design allows the maneuverability of a trailer plus the weight capacity of a wagon



Both the 4 wheel trailers and the tandem axle trailers use 16 inch x 6.5 inch - 8 high flotation tires (16 inch OD)



The trailers have 3/4 inch high strength axles, the trailer weighs 220 lbs. and has a load capacity of 1 ton (2000 lbs.), and a dump capacity of 1000 lbs.



The trailers are available with either a 6 ft. bed (model 6500), or a 7 ft. bed (model 7500), all beds are 38 inches wide. The trailer bed and sides have metal frames with wood panels; all panels and bottom are made from treated lumber. The sides are 12 inches high.



Model 6500: tandem axle trailer with 6 ft. long bed, 38 inches wide, 1 ton (2000 lbs.) load capacity, 1/2 ton (1000 lbs. dump capacity, when using optional 3010 dump kit (see below), trailer weight is 220 lbs. - Click the link below for current price and availability





Model 7500: tandem axle trailer with 7 ft. long bed, 38 inches wide, 1 ton (2000 lbs.) load capacity, 1/2 ton (1000 lbs. dump capacity, when using optional 3010 dump kit (see below), trailer weight is 220 lbs. - Click the link below for current price and availability





Accessories - Tandem Axle Trailers




Part No. 3010: Dump kit for the one ton 4 wheel wagons, and one ton tandem trailers, kit includes dump frame and hand operated hydraulic jack, kit weighs 20 lbs. and ships by UPS - Click the link below for current price and availability






Click Here To Expand This To A Full Page Version

Wikco.Com is an equipment dealer selling directly to the end user
To Order: Click On The Order Form Button Below For Ordering And Payment Information

If Our Index Does not Appear On The Left Side Of This Page

Then Click On The Home Button Above To See The Many Other Products We Sell

If you have additional questions,

Click Here For Our Contact Information




For Sales or Technical Questions, Parts Information, Or To Check On An Order
Please E-Mail us at: wikcocom@msn.com
All information is on our web site at: www.wikco.com


Wikco.com Inc.


Copyright © Wikco.Com Inc., 1997 to present All Rights Reserved, A U.S. Corporation