Tractor And Skid Steer Mount Backhoes
The Wallenstein GX Series Ranchho Backhoes can be mounted on the category 1 three point hitch of tractors, or on the front of skidsteer loaders (some sub-frame mountings are also available). These backhoes are designed for agricultural and industrial use, and depending upon which model you choose, they are available with digging depths of 5.5 ft., 6 ft., 7 ft., and 9 ft. Several bucket sizes are available: 9 inches, 12 inches, and 15 inches wide for the GX-500, and 9 inches, 12 inches, 15 inches, and 18 inches and 24 inches wide for the GE-605, GX-620, GX-720 and GX-920.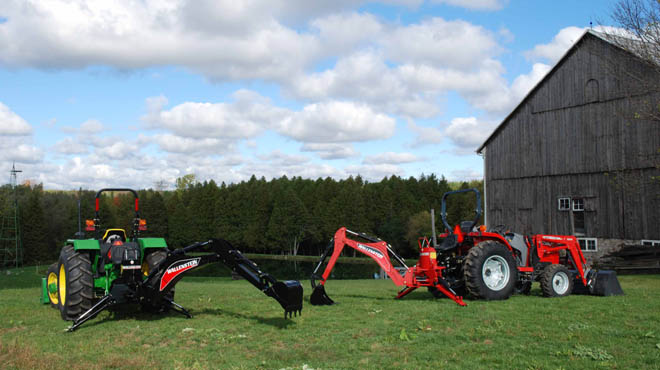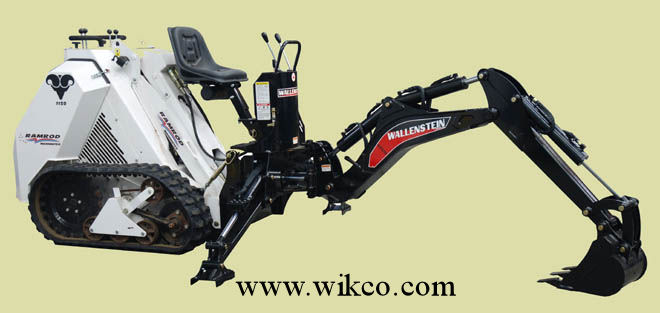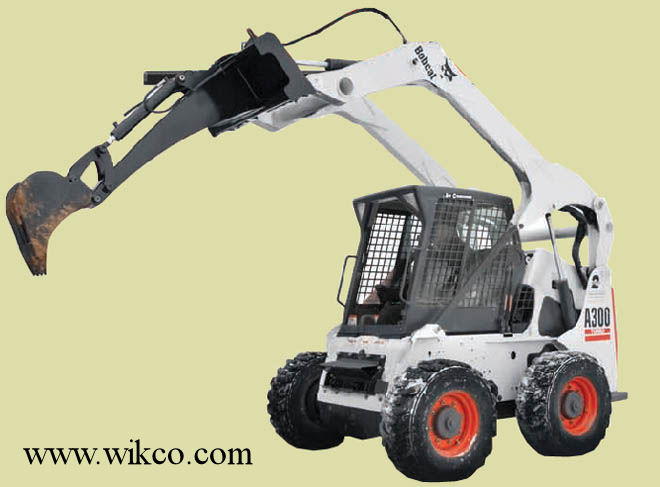 The heavy duty reinforced category 1 and 2 three point hitches (and the skid mounted models) come with a feature that is exclusive to the GS series backhoes - The tie back kit. The tie back kit allows you to brace the top link mount of the backhoe to the tractor's drawbar (or to the skid mount plate on skid steer loaders) to reduce the pull from the digging motion on the connection point where the top link connects on the tractor. The tie back kit reduces the strain by approximately 50 percent. The new curved boom over arching design allows you to dig deep without impacting the edge of the excavation. This feature protects the backhoe from unnecessary damage and prevents ground from falling back into the hole.
Features/Specifications


All models are designed for a wide variety of digging applications for agricultural and industrial use



Several models to choose from, they mount on the category 1 three point hitch of a tractor, or on the arms of a skidsteer loader, and also a sub-frame mount for certain compact tractors, check with us for availability



Sub-Frames are bolted semi-permanently to the tractor, but the backhoe quick releases from the sub-frame mount with two bolts. You can quick release the backhoe, and then reattach the three point frame with 4 bolts and use the backhoe on a different tractor using the three point hitch mount.



They can be powered by the tractor's or loader's hydraulic system, or if you purchase the optional hydraulic pto pump, you can power it with the tractor's 540 rpm pto



All models (excluding skid steer mounted) have easy-to-use joystick style levers. Dig deep and curl the bucket at the same time the the four way controls that operate the boom, stick, and bucket, and each stabilizer is lever controlled as well.



Buckets are available in sizes of 9 inches, 12 inches and 15 inches for model WLGX-620, and 9 inches, 12 inches, 15 inches, and 18 inches for models WLGX-720 and WLGX-920, all buckets have digging/ripper teeth, either three or four depending upon the bucket







Easily access tight work spaces, backhoe is designed for 18-28 hp tractors or mini skid steer loaders



Has a digging depth of 6 ft. 4 inches with a 100 inch reach



Perfect for digging post holes, trenching, and tight fitting landscaping



Backhoe has a curved boom, swing cushioning, dual swing cylinders, greaseable pins



Bucket rotation is 180 degrees



SAE* Dipper Boom digging force is 1250 lbs.



Transport width with stabilizers up is 41 inches



Overall overating height fully raised is 91 inches



Stabilizer width when spread is 72 inches



Hydraulic volume required from your tractor or mini-skid steer loader to operate backhoe is 3.5 to 6 gpm



Bucket sizes available are 9 inch, 12 inch, 15 inch, and 18 inch



Transport height with boom fully retracted is 64.5 inches



Transport length is 56 inches



Swing arc is 150 degrees



SAE* bucket digger force is 2054 lbs.



Dipper cylinder diameter is 2.25 inches, swing cylinder diameter is 2 inches



Shipping weight is 500 lbs.



Boom lift capacity is 250 lbs.



Loading height is 62 inches



Reach from swing post is 100 inches



Operating pressure is 1800 psi



Main boom cylinder diameter is 2.5 inches, bucket cylinder diameter is 2.5 inches, stabilizer cylinder diameter is 2 inches




Tractor Mounted Backhoe Base Units




A complete backhoe unit consists of a base unit and a mounting kit and a bucket

Model WLGE605: Backhoe base unit with 6 ft. 4 inch digging depth, wt. is 500 lbs. (unit is for small tractors and mini skidsteer loaders) - Click the link below for price and/or to order - FREE SHIPPING ON THIS ITEM to locations with normal delivery access in the U.S. 48 states; locations in Alaska, Hawaii, and outside the U.S. require additional shipping cost), ships by truck, includes shipping for all components ordered at same time as this base unit





(above unit is priced less operator seat as many small tractors have pivoting seats. If you need the operators seat, see the accessories list)



Model WLGX620: Backhoe base unit with 6 ft. 4 inch digging depth, wt. is 540 lbs. - Click the link below for price and/or to order - FREE SHIPPING ON THIS ITEM to locations with normal delivery access in the U.S. 48 states; locations in Alaska, Hawaii, and outside the U.S. require additional shipping cost), ships by truck, includes shipping for all components ordered at same time as this base unit





Model WLGX720: Backhoe base unit with 7 ft. 8 inch digging depth, wt. is 770 lbs. - Click the link below for price and/or to order - FREE SHIPPING ON THIS ITEM to locations with normal delivery access in the U.S. 48 states; locations in Alaska, Hawaii, and outside the U.S. require additional shipping cost), ships by truck, includes shipping for all components ordered at same time as this base unit





Model WLGX920: Backhoe base unit with 9 ft. 4 inch digging depth, wt. is 860 lbs. -Click the link below for price and/or to order - FREE SHIPPING ON THIS ITEM to locations with normal delivery access in the U.S. 48 states; locations in Alaska, Hawaii, and outside the U.S. require additional shipping cost), ships by truck, includes shipping for all components ordered at same time as this base unit






Model WLGX920XT: Extended reach 920 model, 11 ft. 4 inch digging depth, with hydraulically retracted foot pedal control, wt. is 1400 lbs. - Click the link below for price and/or to order - FREE SHIPPING ON THIS ITEM to locations with normal delivery access in the U.S. 48 states; locations in Alaska, Hawaii, and outside the U.S. require additional shipping cost), ships by truck, includes shipping for all components ordered at same time as this base unit






Mounting Kits For Tractor Mounted Models



Three Point Hitch Mounting Options




Model WLPT300: Three point hitch mount kit for category 1 three point hitches, fits all models and includes turn buckle tie down, wt. is 142 lbs. - Click the link below for price and/or to order (no extra shipping on this component if ordered with a backhoe unit, otherwise plus shipping) Click the order form button below to order this separately without a backhoe





When ordering the above mounting kit with a backhoe, order them in the drop down menu on the order page of the backhoe you are interested in.



Sub-Frame Mounting Options - See The Chart Below



When ordering the sub-frame mounting kits with a backhoe, order them in the drop down menu on the order page of the backhoe you are interested in.




Click Here For Current List Of Subframes Available (For Wallenstein Only)




Model WLSF -(see charts above): Sub-frame mounting kits if you want a semi-permanent mounting instead of the three point hitch mount, wt. of sub-frames vary from 200 to 325 lbs. - Click the link below for price and/or to order (no extra shipping on this component when ordered with a backhoe), otherwise plus shipping, ships by truck



Note On Sub-Frame Mount: Installation is relatively easy - each sub-frame is designed to bolt to your tractor. You will need to remove the three point hitch arms to attach the rear part of the sub-frame. The three point hitch cannot be used when the sub-frame is bolted to the tractor (including when backhoe is removed). To use the three point again you will have to remove the sub-frame. This mounting is considered a semi-permanent type mount except removal only takes 15-30 minutes, so this mounting is still convenient to use, and it is the most solid. The other end of the sub-frame bolts to the loader mounts on the frame regardless of whether or not you actually have a loader on the tractor at that time. The sub-frame should have any other cut-outs and bolt holes already in place for relatively easy bolt-on installation.



Skid Steer Mounting Kit - Only Available For The 620, 720, 920, Not Compatable/Available For Other Brands Of Backhoe




Model WLSQ400: Universal skidsteer quick attach mount, 35 inches wide, includes flat faced couplers (requires tie back kit), wt. 270 lbs. - Click the link below for price and/or to order (no extra shipping on this component when ordered with a backhoe), otherwise plus shipping, ships by truck



Model WLSQ500: Skid Steer Mounting Kit for mounting any of the full size models (620, 720, 920) on your skid steer loader, in addition to this mounting kit, you also need to order the appropriate tie back/mounting bracket kit below, universal skidsteer quick attach mount, 44 inches wide, includes flat faced couplers, also requires tie back kit, wt. is 280 lbs. -Click the link below for price and/or to order - FREE SHIPPING ON THIS ITEM to locations with normal delivery access in the U.S. 48 states; locations in Alaska, Hawaii, and outside the U.S. require additional shipping cost), ships by truck, includes shipping for all components ordered at same time as this base unit



When ordering the above skid steer mounting kits with a backhoe, order them from the drop down menu on the order page of the backhoe you are interested in (click the order form button directly below the backhoes as listed above).




Model WLTB - (see chart above): Mounting bracket/tieback kit to be used with WLSQ400 and WLSQ500 above, makes mount more solid and adds support (required), see photo below of WLTB kit, wt. is 35 lbs. - Click the link below for price and/or to order (no extra shipping on this item when ordered with a mounting kit and backhoe however)



Mounting Kits And Tieback Kits Are Not Compatable And Not Available For Use With Other Brands Of Backhoes



Buckets For Tractor Mounted Models


When ordering buckets with a backhoe, go to the order page of the backhoe and order the bucket needed in the drop down menu on that page.



Buckets For Models 605E And 620



Model WLBK2690: 9 inch wide bucket for GX620, with 3 digging teeth, wt. is 37 lbs. - Click the link below for price and/or to order (no extra shipping on this item when ordered with a mounting kit and backhoe however, otherwise ordered separately plus shipping)





Model WLBK2612: 12 inch wide bucket for GX620, with 3 digging teeth, wt. is 43 lbs. - Click the link below for price and/or to order (no extra shipping on this item when ordered with a mounting kit and backhoe however, otherwise ordered separately plus shipping)





Model WLBK2615: 15 inch wide bucket for GX620, with 4 digging teeth, wt. is 50 lbs. - Click the link below for price and/or to order (no extra shipping on this item when ordered with a mounting kit and backhoe however, otherwise ordered separately plus shipping)





Model WLBK2618: 18 inch wide bucket for GX620, with 4 digging teeth, wt. is 54 lbs. - Click the link below for price and/or to order (no extra shipping on this item when ordered with a mounting kit and backhoe however, otherwise ordered separately plus shipping)





Buckets For Models 720 And 920



Model WLBK2900: 9 inch wide bucket for GX720 and GX920, with 3 digging teeth, wt. is 54 lbs. - Click the link below for price and/or to order (no extra shipping on this item when ordered with a mounting kit and backhoe however, otherwise ordered separately plus shipping)





Model WLBK2120: 12 inch wide bucket for GX720 and GX920, with 3 digging teeth, wt. is 65 lbs. - Click the link below for price and/or to order (no extra shipping on this item when ordered with a mounting kit and backhoe however, otherwise ordered separately plus shipping)





Model WLBK2150: 15 inch wide bucket for GX720 and GX920, with 4 digging teeth, wt. is 74 lbs. - Click the link below for price and/or to order (no extra shipping on this item when ordered with a mounting kit and backhoe however, otherwise ordered separately plus shipping)





Model WLBK2180: 18 inch wide bucket for GX720 and GX920, with 4 digging teeth, wt. is 81 lbs. - Click the link below for price and/or to order (no extra shipping on this item when ordered with a mounting kit and backhoe however, otherwise ordered separately plus shipping)





Model WLBK2240: 24 inch wide bucket for GX720 and GX920, with 3 digging teeth, wt. is 99 lbs. - Click the link below for price and/or to order (no extra shipping on this item when ordered with a mounting kit and backhoe however, otherwise ordered separately plus shipping)





Model WLBK2240D: 24 inch wide ditching bucket for GX720 and GX920, with no digging teeth, wt. is 90 lbs. - Click the link below for price and/or to order (no extra shipping on this item when ordered with a mounting kit and backhoe however, otherwise ordered separately plus shipping)





Other Options:




When ordering the options listed below with a new backhoe, order them in the drop down menu on the order page for the backhoe.



Model WLBT5250: Weld-on mechanical thumb (universal fit on all models, weld on flat surface), wt. is 45 lbs. -Click the link below for price and/or to order (no extra shipping on this item when ordered with a mounting kit and backhoe however, otherwise ordered separately plus shipping)





Model WLBT5260: Weld-on mechanical thumb - Fits Kubota BX22, BX23, BX24 - wt. is 40 lbs. - Click the link below for price and/or to order (no extra shipping on this item when ordered with a mounting kit and backhoe however, otherwise ordered separately plus shipping)





Model WLBT5290: Clamp on mechanical thumb for GX720/GX920 backhoe, wt. is 49 lbs. - Click the link below for price and/or to order (no extra shipping on this item when ordered with a mounting kit and backhoe however, otherwise ordered separately plus shipping)





Model WLBT5320: Clamp on mechanical thumb - fits Kioti 2475/2485 backhoes (12.75 usable inches), wt. is 48 lbs. - Click the link below for price and/or to order (no extra shipping on this item when ordered with a mounting kit and backhoe however, otherwise ordered separately plus shipping)





Model WLBT5300: Hydraulic thumb kit for GX720 and GX920, must be installed at factory on new units only, comes with foot pedal control - Click the link below for price and/or to order (no extra shipping on this item when ordered with a mounting kit and backhoe however, otherwise ordered separately plus shipping)





Miscellaneous Accessories



Part No. WLBT7250: Operators seat for GE605 Backhoe - Click the link below for price and/or to order (no extra shipping on this item when ordered with a mounting kit and backhoe however, otherwise ordered separately plus shipping)





Part No. WLBP220: Rubber Street Pad Kits for GE605, set of 2 pads - Click the link below for price and/or to order (no extra shipping on this item when ordered with a mounting kit and backhoe however, otherwise ordered separately plus shipping)





Part No. WLBT7220: Quick change bucket adapter - Click the link below for price and/or to order (no extra shipping on this item when ordered with a mounting kit and backhoe however, otherwise ordered separately plus shipping)





Part No. WLBT7230: Ripper tool (for GX720 and GX920 models) - Click the link below for price and/or to order (no extra shipping on this item when ordered with a mounting kit and backhoe however, otherwise ordered separately plus shipping)





Part No. WL3085A350: Rubber street pad kit (available for models GX720 and GX920 only) (set of two) - Click the link below for price and/or to order (no extra shipping on this item when ordered with a mounting kit and backhoe however, otherwise ordered separately plus shipping)





Part No. BKT40: Replacement bucket tooth, fits all bucket sizes above - Click the link below for price and/or to order (no extra shipping on this item when ordered with a mounting kit and backhoe however, otherwise ordered separately plus shipping)





Hydraulic Accessories



Model WLPTO605: Pto hydraulic pump kit, 7 gpm for GE605 backhoe, wt. is 52 lbs. - Click the link below for price and/or to order (no extra shipping on this item when ordered with a mounting kit and backhoe however, otherwise ordered separately plus shipping)





Model WLPTO62: PTO hydraulic pump kit, 7 gpm for GX620 backhoe, wt. is 52 lbs. - Click the link below for price and/or to order (no extra shipping on this item when ordered with a mounting kit and backhoe however, otherwise ordered separately plus shipping)





Model WLPTO72: PTO hydraulic pump kit, 7 gpm for GX720 and GX920, wt. is 54 lbs. - Click the link below for price and/or to order (no extra shipping on this item when ordered with a mounting kit and backhoe however, otherwise ordered separately plus shipping)





Model WLBFC501: Flow divider kit 7-30 gpm - Click the link below for price and/or to order (no extra shipping on this item when ordered with a mounting kit and backhoe however, otherwise ordered separately plus shipping)





Part No. WLZ51920: Female flat faced coupler, fits most skid steer loaders - Click the link below for price and/or to order (no extra shipping on this item when ordered with a mounting kit and backhoe however, otherwise ordered separately plus shipping)





Part No. WLZ51519: Male flat faced coupler, fits most skid steer loaders - Click the link below for price and/or to order (no extra shipping on this item when ordered with a mounting kit and backhoe however, otherwise ordered separately plus shipping)





Backhoes ship from factory with male pioneer ends installed




Has 6 ft. digging depth



Unit mounts on the front of Mini-Skid Steer and Standard Skid Loaders with standard quick attach skidsteer mount



Model WLQC-620 is low cost alternative to the tractor mounted models



Model WLQC-620 does not swing left or right, swing on this model is done by swinging the skid loader left or right



Model WLQC-620: Skid loader mounted backhoe with 6 ft. digging depth, includes flat faced couplers, does not include bucket, order bucket(s) needed below as a separate item(s), wt. is 296 lbs. -Click the link below for price and/or to order





Buckets For WLQC-620 Skid Mounted Backhoe



If ordering a backhoe with the buckets, go to the backhoe order page and order through the drop down menu on that page. If ordering any of these separately WITHOUT a backhoe, then click on the order form button under the bucket.



Model WLBK2900: 9 inch wide bucket for GX720 and GX920 and QC620, with 3 digging teeth, wt. is 54 lbs. - Click the link below for price and/or to order





Model WLBK2120: 12 inch wide bucket for GX720 and GX920 and QC620, with 3 digging teeth, wt. is 65 lbs. - Click the link below for price and/or to order





Model WLBK2150: 15 inch wide bucket for GX720 and GX920 and QC620, with 4 digging teeth, wt. is 74 lbs. - Click the link below for price and/or to order





Model WLBK2180: 18 inch wide bucket for GX720 and GX920 and QC620, with 4 digging teeth, wt. is 81 lbs. - Click the link below for price and/or to order





Model WLBK2240: 24 inch wide bucket for GX720 and GX920 and QC620, with 3 digging teeth, wt. is 99 lbs. - Click the link below for price and/or to order





Model WLBK2240D: 24 inch wide ditching bucket for GX720 and GX920 and QC620, with no digging teeth, wt. is 90 lbs. - Click the link below for price and/or to order





Other Accessories



Part No. BKT40: Replacement bucket tooth, fits all bucket sizes above Click the link below for price and/or to order





Model WLBT5310: Clamp on mechanical thumb for model QC620, wt. is 46 lbs. - Click the link below for price and/or to order





Model WLBT5250: Weld-on mechanical thumb (universal fit on all models, weld on flat surface), wt. is 45 lbs. - Click the link below for price and/or to order









Click Here To Expand This To A Full Page Version

Wikco.Com is a national equipment dealer selling directly to the end user
To Order: Click On The Order Form Button Directly Below For Ordering And Payment Information

If Our Index Doesnot Appear On The Left Side Of This Page

Then Click On The Home Button Above To See The Many Other Products We Sell

For Sales or Technical Questions, Parts Information, Or To Check On An Order
Please E-Mail us at: wikcocom@msn.com
All information is on our web site at: www.wikco.com
If you have additional questions,

Click Here For Our Contact Information




Wikco.com Inc.


Copyright © Wikco.Com Inc., 1997 to present - All Rights Reserved, A U.S. Corporation


<