Tractor And Skid Steer Mounted Fence Post Drivers
These hydraulic powered Worksaver Fence Post Drivers can be mounted on either tractor three point hitches, or the front loader arms of tractors or skid steer loaders. Fence Post Drivers are available in a variety of models, with either manual or hydraulic angling. All models now feature a spring loaded post holder to hold the post in position in the channel until the post is set (started), and to make driving the post safer for the operator.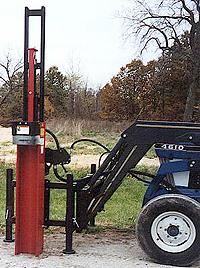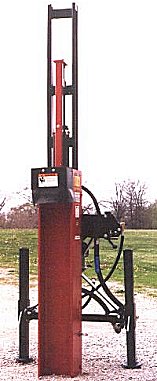 These fence post drivers are built for everyday heavy use, and are designed for one-man use. These units are strong enough to even drive railroad ties quickly and easily. Worksaver Post Drivers are operated hydraulically with a single spool valve for open and closed center hydraulic systems; this allows users with either hydraulic system the ability to quickly change a plug to match the user's tractor system.
Several models are available with different features and driving capacities. The models 16 and 20 are available for rear tractor center mounting and front loader mounting, and produce 32,000 and 80,000 lbs. of force respectively. There are also a version of the 16 and 20 that are rear tractor offset mounted and a larger offset mounted model 24 that gives you even more force at 110,000 lbs.. Models 16, 20, and 24 are also available for mounting on skid steer loaders; two versions of each size are available: one version uses your skid steer loader's hydraulic system to power the post driver, the other version includes a self-contained hydraulic reservoir and tank, making it the better choice for customer's that will use the unit on different skid steer loaders, since it is completely self-contained.
The maximum post sizes these units can drive are as follows: the 16 series drivers - 7 inch diameter x 9 ft. long blunt end wooden post; 20 series post drivers - 8 3/4 inch diameter x 10 ft. long blunt end wooden post; and 24 series post drivers - 11 inch diameter x 10 ft. long blunt end wooden post.
Features/Specifications - Manual Positioning Center Mount Rear Tractor Mounted Post Drivers





Helps eliminate air pockets in the soil providing an immediate air tight post set, designed to drive wooden round and square posts including railroad ties, as well as metal T-posts and round oil pipe



Three different sizes are available with manual or hydraulic positioning (left to right and front to back angling). All three sizes, the 16, 20 and 24 are available on the hydraulic angling versions; only the 16 and 20 sizes are available on the manual angling versions however.



The fence post drivers are operated hydraulically with a single spool valve for open and closed center hydraulic systems; this allows the unit to be used on tractors with either hydraulic system the ability to quickly change a plug to match the tractor's hydraulic system



Maximum cycle rate of 40 strokes per minute



The driving ram is guided in the mounting carriage by slide blocks that provide maximum surface contact for better performance and longer carriage life



A target bubble level indicator mounted on the driver valve plate, allows the operator to adjust the driver easily and exactly to ensure the post will be straight



All drivers now include a spring loaded post holder arm to hold the post in place in the frame until the post is set (started).



Worksaver Post Drivers are covered by a two year limited warranty



Two models are available with manual positioning for the front to back and side to side angling. The models 16 and 20 use a manual angling plate with a manual pivot weldment operated by two crank handles (one for each direction). If your terrain won't require a lot of alignment adjustment to level the driver (relatively flat terrain), then you can save money with the easy to use manual adjustment system.



Maximum Post Size That Can Be Driven: 7 inches x 9 ft. deep HPD-16 model, and 8 3/4 inches x 10 ft. deep HPD-20 model



Impact At Full Stroke: 32,000 lbs. model 16, and 80,000 lbs. model 20



Impact At Half Stroke: 16,000 lbs. model 16, and 40,000 lbs. model 20 (less than full stroke used initially to "set the post" before using full stokes for driving)



Minimum Tractor Size: 30 pto hp model 16, and 50 pto hp model 20



Rear Hitch Size: Catagory 1 or 2 on both models



Drive Cylinder Size: 2 inch x 56 inches on model 16, and 2 inches x 68 inches on model 20



Operating Range (height above ground, dictates how low hammer will drive down above ground and how high it can be raised): 50 inches to 116 inches for model 16, and 50 inches to 128 inches model 20



Tilt Adjustment: 10 degrees from vertical front to back, and 17 degrees from vertical side to side on both models




Return Line Connection

These post drivers use a non-pressurized return line on the standard models for tractors, and the standard models for skid steer mounting (there are skid steer mount models that have their own self-contained hydraulic system with motor and reservoir powered by the loader's hydraulic system).



For tractor and skid mount models using the standard set-up with a non-pressurized return line, this line has to feed back into the vehicles hydraulic reservoir (IT DOES NOT PLUG INTO the return socket of the auxlillary outlet). You will need to either purchase from us or fabricate your own return line fitting for the hose. The return line fittings we have available for tractors usually connect vary easily into the fill opening of the hydraulic reservoir, replacing the OEM fill cap. The return line for all applications can be done this way as long as there is no pressure at the reservoir.



The return line fittings for skid steer loaders however, may be designed to insert in the lines between the hydraulic oil cooler and filter, requiring changing the mounting position of the oil cooler enough to insert the T - fitting in the line. There may be some work involved in mounting the fitting unless you just insert the hose into the filler opening of the reservoir tank. For skid loaders, the other choice is to purchase a self-contained unit with reservoir and motor that is powered by plugging in 2 hoses in the auxillary outlet on your skid loader; this does increase the cost however. The lowest cost for a post driver for tractor mount or skid steer mount is with these units with the non-pressurized return line that feeds back into the hydraulic reservoir tank.



Note: Every attempt has been made to provide return line packages for current skid steer loader models. However, some models are not adaptable (i.e.: Caterpillar Models, ASV Posi-Track and others). They can be fit with a hydraulic post driver by using a HSS/P model, which is a self-contained unit and requires no return line fitting. E-mail us with the model of your skid steer and we can verify the availability of a return line fitting for your model.




Model HPD-16: Center mount tractor mounted post driver for category 1 and 2 three point hitches, manual angle adjustment with adjustment/stabilizer legs, has 32,000 lbs. of force, wt. is 511 lbs.- Click the link below for current price and/or to order post drivers





Model HPD-20: Center mount tractor mounted post driver for category 1 and 2 three point hitches, manual angle adjustment with adjustment/stabilizer legs, has 80,000 lbs. of force, wt. is 688 lbs. - Click the link below for current price and/or to order post drivers





Model HPD-22: Same as above but includes new type hydraulic cylinders with "Q-Technology" which is quick change rod seal and springs, wt. is 795 lbs. - Click the link below for current price and/or to order post drivers





For The Tractor Mounted Post Drivers, They Come With A Universal Return Line Fitting That Inserts Into The Fill Cap Of Your Reservoir. If You Need And Exact Fitting, Contact Us It May Be Available For Your Tractor As An Option.



Features/Specifications - Tractor Center Mounted Three Point Hitch Models With Hydraulic Angling



Same heavy duty post driver but with a hydraulic angling feature which is great for rolling terrain where vertical alignment is needed for almost every post



Fast and easy alignment is acheived by using two large 3 inch x 6 inch hydraulic cylinders



A separate two spool valve is easily accessible to the operator, separate control of both side to side and front to back angling, and this valve operates on either open-center or closed-center hydraulic systems



Available models are the 16, 20, and 24 models



All available models again come with stabilizer legs to stabilize the driver and reduce any shock from the hammer from jarring the tractor during operation, the stabilizer legs are made of 2.5 inch x 2.5 inch tubular steel, and each leg has independent height adjustment



Specifications for the 16 and 20 models are the same as listed above, specifications for the model 24 are as follows: 110,000 lbs. impact at full stroke, minimum tractor size required is 45 hp at pto, designed for center mounting on tractors with category 2 only, three point hitches



Model HPD-16SHC: Three point hitch tractor mounted post driver, center mounted, with hydraulic angle/tilt adjustment, 32,000 lbs. of force, includes stabilizer legs, wt, is 853 lbs. - Click the link below for current price and/or to order post drivers





Model HPD-20SHC: Three point hitch tractor mounted post driver, center mounted, with hydraulic angle/tilt adjustment, 80,000 lbs. of force, includes stabilizer legs, wt. is 1010 lbs. - Click the link below for current price and/or to order post drivers





Model HPD-22QSHC: Same as above, except features Q-Technology on hydraulic cylinder (quick change rod seal and springs), wt. is 1035 lbs. - Click the link below for current price and/or to order post drivers





Model HPD-26SHC: Three point hitch tractor mounted post driver, center mounted, with hydraulic angle/tilt adjustment, 110,000 lbs. of force, maximum post size you can drive is 11 inches in diameter x 10 ft. long, includes stabilizer legs, cylinder constructed using new Q-Technology (quick change rod seal and springs), wt. is 1190 lbs. - Click the link below for current price and/or to order post drivers





Features/Specifications - Front Loader Mounted Models






Visibility is excellent for positioning or transporting the driver on the loader mounted version.



Units are shipped with standard 1" pin-type loader attaching brackets. Quick attach mounting brackets may be available for your tractor for extra cost, contact us with the specific model of your tractor, and the loader model



Each mount allows for either left side or right side operation and offers adjustment options such as locating the driver extended beyond the tractor side or more towards the center






Units come with three independently adjustable mounting legs on the frame allow you to adjust for virtually any variance in terrain



Model 16 and 20 are available for front tractor loader mounting



Model HPD-16HFL: Model 16 post driver for front mounting on tractor loaders, maximum post that can be driven is 7 inches in diameter x 9 ft. long, unit has hydraulic angle/tilt adjustment, driving force is 32,000 lbs. at full stroke, wt. is 1018 lbs. - Click the link below for current price and/or to order post drivers





Model HPD-22HFL: Model 20 post driver for front mounting on tractor loaders, with hydralic angle/tilt adjustment, driving force is 80,000 lbs. at full stroke, maximum post size that can be driven is 8 3/4 inches in diameter x 10 ft. long, cylinder uses new Q-Technology (quick change rod seal and springs), wt. is 1275 lbs. - Click the link below for current price and/or to order post drivers





For The Tractor Mounted Post Drivers, They Come With A Universal Return Line Fitting That Inserts Into The Fill Cap Of Your Reservoir. If You Need An Exact Fitting, Contact Us It May Be Available For Your Tractor As An Option.



Features/Specifications - SWO Series Driver With 3-Way Positioning Offsett With Swivel Driving Head





This heavy duty post driver uses the heavy duty drivers, 16, 20, and 24 models mounted on a 3-way positioning offsett frame with a swivel driving head
The SWO series drivers are ideal for driving posts in corners and along ditch banks or existing fence lines



The heavy duty design allows the operator to quickly align posts and reduce tractor shock. The positioning pivots are built to withstand shock loads during operation. The SWO driver has a stabilizer box. The top opening allows the box to be filled with up to 500 lbs. of heavy material to dampen the tractor tire bounce and reduce hitch lift arm movement.



Quick and easy alignment is accomplished by the two large 3 inch x 6 inch cylinders, and one 24 inch hydraulic cylinder. A separate three spool valve is easy accessible by the operator. Another valve operates the offset cylinder allowing extension of the driver up to 24 inches to the tractor's left side. This three spool valve operates on either open-center or closed-center hydraulic systems. The swivel mount gives you three positions to angle the driving head, creating maximum operational efficiency. A locking bolt secures the driver position in place when in operation.






Most specifications the same as the standard 16, 20, and 24 model post drivers except: Tilt adjustment front to back is 17 degrees from vertical, tilt adjustment side to side is 20 degrees from vertical, and has swivel adjustment with 45 to 90 degrees - rear facing



Model HPD-16SWO: Model 16 post driver with 32, 000 lbs. of force, mounted on the offsetting frame with extension up to 24 inches on the left side, hydraulic angling side to side and front to back, wt. is 1276 lbs. - Click the link below for current price and/or to order post drivers





Model HPD-22QSWO: Model 22 post driver with 80,000 lbs. of force, mounted on the offsetting frame with extension up to 24 inches on the left side, hydraulic angling side to side and front to back, maximum post size you can drive is 8 3/4 inches in diameter x 10 ft. long, cylinder uses new Q-Technology (quick change rod seal and springs), wt. is 1878 lbs. - Click the link below for current price and/or to order post drivers





Model HPD-26QSWO: Model 26 post driver with 110,000 lbs. of force, mounted on the offsetting frame with extension up to 24 inches on the left side, hydraulic angling side to side and front to back, maximum post size that can be driven is 11 inches in diameter x 10 ft., uses new Q-Technology (quick change rod seal and springs), wt. is 2194 lbs. - Click the link below for current price and/or to order post drivers





For The Tractor Mounted Post Drivers, They Come With A Universal Return Line Fitting That Inserts Into The Fill Cap Of Your Reservoir. If You Need An Exact Fitting, Contact Us It May Be Available For Your Tractor As An Option.



Features/Specifications - Post Drivers For Mounting On Skid Steer Loaders






These post drivers pretty much fit all 1995 or later skid steer loaders with universal quick-attach system, and specifically they will fit - Bobcat, Case, Gehl, New Holland, Mustang, John Deere and others being added all the time. If you skid steer isn't shown, call us at 520-316-0446 or e-mail us and we will find out it any of the models will fit.



These units are available in several different configurations: they are available to run off of your skid loaders hydraulic system and will require you to plug in one pressure hose and then plumb the return line back into (usually) the fill cap of your hydraulic reservoir, these units are available with either manual tilt (16 and 20 models offered) or hydraulic tilt (16, 20, and 24 models offered). If you don't have enough hydraulic flow (10 gallons per minute minimum required), then you can go with the self-contained units with a self-contained hydraulic reservoir and hydraulic pump (you plug in 2 lines to operate the pump off of your loader). The self-contained skid steer mounted post drivers are available in the 16, 20, and 24 models.



Models That Operate Off Your Loader's Hydraulic System



These units require use of a return line fitting kit as the return line is non-pressurized and the return line fitting will normally feed the line back into the fill cap of the hydraulic reservoir depending upon the model.



Model HPD-16MSS: Skid steer mounted, operates off your loader's hydraulic system, minimum 10 gpm required, 16 model driver with 32,000 lbs. of impact force, has manually operated tilt front to back and side to side, wt. is 536 lbs. - Click the link below for current price and/or to order post drivers





Model HPD-16HSS: Same as above except has hydraulic angling front to back and side to side, wt. is 857 lbs. - Click the link below for current price and/or to order post drivers





Model HPD-22QMSS: Skid steer mounted, operates off your loader's hydraulic system, minimum 10 gpm required, 20 model driver with 80,000 lbs. of impact force, has manually operated tilt front to back and side to side, maximum post size you can drive is 8 3/4 inches diameter x 10 ft. tall, has Q-Technology (quick change rod seal and springs), wt. is 828 lbs. - Click the link below for current price and/or to order post drivers





Model HPD-20HSS: Same as above except has hydraulic angling front to back and side to side, has standard (non Q-Technology cylinder), wt. is 1014 lbs. - Click the link below for current price and/or to order post drivers





Model HPD22QHSS: Skid steer mounted, operates off your loader's hydraulic system, minimum of 10 gpm required, 22 model driver with 80,000 lbs. of impact force, has all hydraulic adjustment (front to back and side to side), maximum post you can drive is 8 3/4 inches in diameter x 10 ft. long, unit features Q-Technology (quick change rod seal and springs), wt. is 1404 lbs. - Click the link below for current price and/or to order post drivers





Model HPD-24HSS: Skid steer mounted, operates off of your loader's hydraulic system, minimum 10 gpm required, model 24 driver with 110,000 lbs. of impact force, has hydraulically operated tilt front to back and side to side, wt. is 1250 lbs. - Click the link below for current price and/or to order post drivers





Model HPD-26QHSS: same as above accept has the Q-Technology (quick change rod seal and rings), wt. is 1504 lbs. - Click the link below for current price and/or to order post drivers





Features/Specifications - Skid Steer Loader Mount Models With Self-Contained Reservoir And Motor






The hydraulic pump motor that is powered by your skid steer loader, but the reservoir and pump are self-contained giving you the power you need for skid steer loaders that have less than the 10 gallons per minute hydraulic flow. Another advantage is that since the pump and reservoir are self-contained and the return line of the driver is plumbed back into the reservoir/pump unit and not your skid steer, it is easier to use the self-contained model when switching between different skid steer loaders.



The 16, 20, and 24 model postdrivers are all available as self-contained units. All self-contained models have hydraulic tilt front to back and side to side.



Model HPD-16HSS/P: Skid Steer Mount Post Driver with self-contained power package and 4 way hydraulic tilt, model 16 post driver with 32,000 lbs. impact force, 5 gallon reservoir with gear type pump, pressure relief setting is 1500 psi, universal skid steer quick-attach mounting, wt. is 1058 lbs. - Click the link below for current price and/or to order post drivers





Model HPD-20HSS/P: Same as above but with model 20 driver with 80,000 lbs. of impact force, wt. is 1251 lbs. - Click the link below for current price and/or to order post drivers





Model HPD-22QHSS/P: Skid Steer mount post driver with self-contained power package and 4 way hydraulic tilt, model 22 post driver with 80,000 lbs. of impact force, 5 gallon reservoir with gear type pump, pressure relief setting is 1500 psi, universal skid steer quick-attach mounting, wt. is 1385 lbs., features Q-Technology (quick change rod seal and springs) - Click the link below for current price and/or to order post drivers





Model HPD-24HSS/P: Same as standard cylinder model HPD-20HSS/P above but with model 24 driver with 110,000 lbs. if impact force, wt. is 1552 lbs. - Click the link below for current price and/or to order post drivers





Model HPD-26QHSS/P: Skid steer mount post driver with self-contained power package and 4 way hydraulic tilt, model 24 driver with 110,000 lbs. of impact force, cylinder has Q-Technology construction (quick change rod seal and springs), wt. is 1575 lbs. - Click the link below for current price and/or to order post drivers





Return Line Fittings



Order these in the drop down menu on the order page for the post driver you need



For The Tractor Mounted Post Drivers, They Come With A Universal Return Line Fitting That Inserts Into The Fill Cap Of Your Reservoir. If You Need And Exact Fitting, Contact Us It May Be Available For Your Tractor As An Option.



If You Are Purchasing A Skid Steer Model That Operates Directly From Your Skid Steer's Auxillary Hydraulic Outlet (Models HPD-16MSS, HPD-16HSS, HPD-20MSS, HPD-20HSS, or HPD-24HSS) , Then You Will Need To Purchase The Appropriate Return Line Kit Below. You will not need to purchase a return line kit if you are purchasing one of the self-contained models directly above.



Part No. 814940: Return line fitting for these Gehl models: SL3635 SX, SL3935 SX, SL4640, SL3840, SL5640, SL6640, SL7810, V270, V330, V400, V6640, 5240, 3640E, 4240E, 5240E, 5640E, 6640E, RT175, RT210, CT185, wt. is 7 lbs.



Part No. 814905: Return line with fittings, hose, and hardware for Bobcats (but not models 773G or 873G) Note: approximately 4 inch diameter screw type plastic cap, wt. is 5 lbs.



Part No. 814908: Return line with fittings, hose, and hardware for Bobcat models - S130, S160, S160, S175, S185, S205, S220, S250, S300, T190, wt. is 6 lbs.



Part No. 814105: Return line with fittings, hose, and hardware for most Case models 1835, 1835B, 1835C, 1840, 1845, 1845B, and 1845C models (large diameter cap), wt. is 6 lbs.



Part No. 814915: Return line with fittings, hose, and hardware for Case models late 1835, 1840, 1845C, all XT series, 410, 420, 430, 435, 450, and 465 models, wt. is 6 lbs



Part No. 814915: Return line with fittings, hose, and hardware for Thomas models 85, 105, 137, 153, 175, 205, 250, 255, wt. is 6 lbs.



Part No. 814915: Return line with fittings, hose, and hardware for Daewoo models including 430, 440, 450, and 460, wt. is 6 lbs.



Part No. 814910: Return line with fittings for John Deere prior to 1/99, hose, and hardware, wt. is 6 lbs.



Part No. 814910: Return line fitting kit also for these New Holland models - LS120, LS125, LS140, LS150, LS160, LS170, LS175, LS180, LS185.B, LS190.B, C175, C185, C190, L553, L554, L555, L781, L783, L784, LX665, L865, LX885, LX985, wt. approximately 6 lbs



Part No. 814920: For early 200-series John Deere, includes return line fittings, hose, and hardware, wt. is 6 lbs



Part No. 814940: Return line fitting kit for Mustang skid loader models including 2022, 2032, 2040, 2050, 2060, 2070, 2044, 2054, 2066, 2099, wt. is 6 lbs. ships by UPS



Part No. 814895: Return line fitting kit for Mustang skid loader models including 2026, 2041, 2076, 2086, 2109, 2700V, 3300V, 1750RT, 2100RT, MTL325, wt. is 6 lbs.



Part No. 815055: Return line fitting kit for these New Holland Models - L213, L215, L218, L220, L223, L225, L230, C227, C232, C238, wt. is 6 lbs.



Part No. 815110: For John Deere models 313, 315, 318D, 319D, 320D, 323D, 326D, 328D, 329D, 332D, 333D, includes return line fittings, wt. is 6 lbs.



Part No. 815115: Return line fitting kit for Kubota models SVL-75, SVL-90, wt. is 6 lbs



Part No. 815075: For John Deere late models 260, 270, 280 with screw type hydraulic reservoir cap, prior 1/99, and with return line fittings, wt. is 6 lbs.



Part No. 815075: Return line with fittings for John Deere Models 317,320, 325, 328, 332 (side panel must be removed), wt. is 6 lbs.



Part No. 814895: Return line with fittings for Gehl, all models including SL3635SX, SL3935SX, SL4640SX, SK4840, SL5640, SL6640, SL7810, wt. is 7 lbs.



Part No. 814940: Return line with fittings for Mustang models 2022, 2032, 2044, 2054, 2066, 2076, 2086, 2099, 2109, wt. is 6 lbs.



Part No. 814910: Return line with fittings for New Holland for all models including LS120, LS125, LS140, LS150, LS160, LS170, LS180, LS185B, LS190B, wt. is 6 lbs




Note: Every attempt has been made to provide return line packages for current skid steer loader models; some models however, are not adaptable (i.e.: Catepillar models, ASV Posi-Track, and others). They can be fit with a hydraulic post driver by using a HSS/P model which are self-contained units and require no return line fitting.




Click the link below for a price quote on any of the return line packages listed above









Click Here To Expand This To A Full Page Version

Wikco.Com is a national equipment dealer selling directly to the end user
To Order: Click On The Order Form Button Directly Below For Ordering And Payment Information

If Our Index Doesnot Appear On The Left Side Of This Page

Then Click On The Home Button Above To See The Many Other Products We Sell

For Sales or Technical Questions, Parts Information, Or To Check On An Order
Please E-Mail us at: wikcocom@msn.com
All information is on our web site at: www.wikco.com
If you have additional questions,

Click Here For Our Contact Information




Wikco.com Inc.


Copyright © Wikco.Com Inc., 1997 And Beyond - All Rights Reserved, A U.S. Corporation