The Dirt Doctor Jr. And Dirt Medic Baseball Diamond Groomers
The Dirt Doctor Jr. Baseball Diamond Groomer is the ultimate baseball diamond groomer. The Dirt Doctor Jr. is a tow behind model, just the right size for those with a smaller compact tractor, or a 4 wheel drive utility vehicle. The Dirt Doctor Jr. infield groomer is designed to take the worst fields and completely prepare them in one pass. The Dirt Doctor can plow, pulverize, drag, roll, and finish the field all at one time. The Dirt Doctor Jr. is manufactured from structural steel and durable components for years of use.
Also available is the smaller, but just as rugged Dirt Medic. The Dirt Medic weighs just 200 lbs., and is designed to be towed behind your garden tractor, ATV, or small utility vehicle. The Dirt Medic is great for use on Little League fields and high school fields. The Dirt Medic uses a row of scarifier tines to break up the field, and a finishing brush to level and groom the playing surface. The Dirt Medic has a 4 ft. wide grooming width.
All Dirt Doctor Jr.'s and the Dirt Medic have a 36 month factory warranty.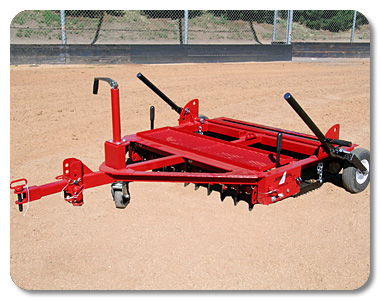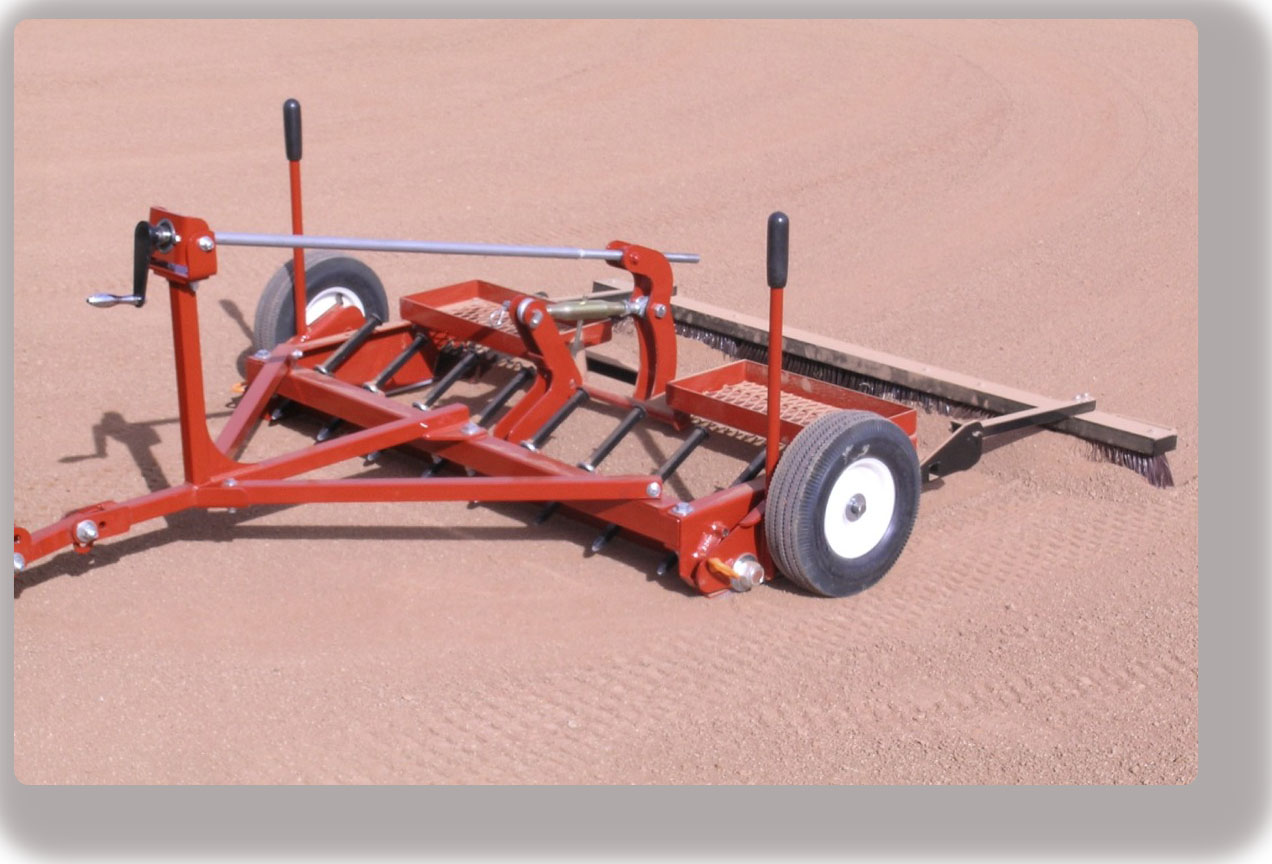 Features/Specifications



Dirt Doctor Junior



No tools required to make any machine adjustments, unit can be adjusted for different soil conditions in minutes



The Dirt Doctor Jr. is available as a tow behind model with wheels for adjusting the grooming height.



The ripper bar with cutting teeth can be lowered for three different cutting depths to adjust for any soil conditon. Changing cutting depth takes only minutes and requires no tools. The cutting teeth are reversible, doubling their life.



Our pulverizing bar gives you more teeth per row and with four-position height adjustment to outperform similar models on the market. Adjustments can be made in minutes without any tools



Tow behind version uses an industrial trailer type lift jack that works smoothly everytime



The drag grating is the heaviest and most durable available, and is reversible, for either smoothing or aggressive cutting



The perfectly balanced roller is weighted to stabilize the playing surface without over compacting



The detachable finishing drag is available with an optional, reversible weighted bar to allow you to use the finishing drag independently



Grooming path is 48 inches wide, drag path is 72 inches, tongue height on tow behind is minimum 6 inches and maximum 14 inches



Cutting depth is 1/2 inch to 3 inches, has 2 cutting heights plus 3rd position for non-cutting



Pulverizer Bar has 4 height positions with 32, 8 tooth pulverizing discs



Has 10, 3/8 inch wide reversible harrow teeth



Center drag is 12 inches long by 48 inches wide



Dimensions: 68 inches wide x 89 inches long x 36 inches high when in operating mode and 68 inches wide x 89 inches long x 43 inches high when in transport mode



Weight is 595 lbs.



Requires utility vehicles with 4 wheel drive with minimum towing capacity of 1100 lbs., for tractors you need a compact utility tractor with a minimum of 20 hp



Heavy duty construction with all welded structural steel and industrial grade bearings with grease fittings, and hardened harrow teeth, 3/4 inch hitch pins and 7/8 inch lift pins



The three point hitch model has dimensions of 54 inches wide x 46 inches long x 42 inches high



The three point hitch model requires a tractor with a three point hitch load capacity of 900 lbs. at 24 inches behind the link arms (check your tractor's owners manual for its capacity)




Tow Behind Model

Model 10003679: Dirt Doctor Jr infield groomer, 4 ft. wide tow behind model - Click the link below for current price, and/or to order





Accessories


Part No. 10003682: Optional finishing drag, 48 inches wide attaches to back of Dirt Doctor - Click the link below for current price, and/or to order






The Dirt Medic

The Dirt Medic infield groomer is specifically designed for use with garden tractors, light utility vehicles and ATV's to fill and level Little League to High School infields



The Dirt Medic has the durability of the larger units, but weighs only 200 lbs.



The unit has a 4 ft. wide grooming path with 10 inch pneumatic wheels for easy transport



A single hand crank adjusts both the angle and depth of the harrow teeth



Unit has 36 month factory warranty (all units on this page have a 36 month warranty)




Model 10003315: Dirt Medic infield grooming tool, designed to be pulled behind garden tractors, ATV's, and small utility vehicles, has 4 ft. wide grooming path, has scarifier teeth to break up the soil, and a broom to smooth the surface, wt. is 200 lbs. - Click the link below for current price, and/or to order






PLEASE ALLOW 10 DAYS BEFORE SHIPMENT ON ALL MODELS

We make every effort to keep prices current and correct as shown on our product pages. Prices do change frequently however; we will notify you of any changes when we receive your order so you can make any adjustments or changes to the order. We are not responsible for information or pricing on copies of our web pages on the search engines that are out of date. If you navigated to this page by clicking a link in the search engine listings, then click on the reload button on your browser to make sure you are viewing a current version of this page from our website. You can also go to www.wikco.com and link to this page from our index.

Click Here To Expand This To A Full Page Version

Wikco.Com is a national equipment dealer selling directly to the end user
To Order: Click On The Order Form Button Below For Ordering And Payment Information,
And Information On Any Cash Discounts That May Be Available
Please Order In Writing Only Using Our Order Form.

If Our Index Doesnot Appear On The Left Side Of This Page

Then Click On The Home Button Above To See The Many Other Products We Sell

For Sales or Technical Questions, Parts Information, Or To Check On An Order
Please E-Mail us at: wikcocom@msn.com
All information is on our web site at: www.wikco.com
If you have additional questions,

Click Here For Our Phone Number



Or Fax us at 520-316-0446




Wikco.com Inc.


Copyright © Wikco.Com Inc., 1997 to present - All Rights Reserved, A U.S. Corporation
Aerators Aerators Aerator Aerators Aerator/Scarifier Arena Grading Tool Arena Grading Tool ATV Trailers ATV Trailers Auger Bucket - Skid Steer Mount Bale Slicer Ball Field Groomer Back Hoe Box Scraper Box Blade Box Scraper Brush Chipper Brush Grapple Brush Grapple Brush Grapple Brush Grapple-Fork Lift Mount Brush Mower Brush Mower Brush Mower Brush Chipper Brush Chipper Brush Chipper Brush Chipper Brush Grapple Brush Grapple Brush Mower Brush Mowers Brush Mower Brush Mulcher Camping Trailiers - Motorcycle Towable Cargo Trailers - Motorcycle Towable Cargo Trailers - Motorcycle Towable Cargo Trailer - Motorcycle Towable Cargo Trailers - Motorcycle Towable Cargo Trailers - Motorcycle Towable Crane - Tractor 3Pt. Hitch Mounted Cement Mixer Skid Steer Mount Cultivators Cultivator Dethatching Rake Dirt Scoop Dirt Worker Harrow Dirt Grader Attachment Disk Harrow Ditcher Ditch Digger Ditch Digger Earth Auger Earth Auger - One Man Gas Engine Earth Auger Earth Augers Earth Auger Earth Auger Earth Auger - 12 Volt Electric Fence Post Driver Fencepost Drivers Fence Post Drivers Fence Post Drivers Fertilizer Spreaders Filtering Buckets Finish Mowers Finish Mowers - Tractor Mounted Finish Mower-Tractor Mounted Finish Mower Finish Mowers - Tractor Mounted Finish Mowers - Tractor Mounted Finish Mower Flail Mowers Flail Mowers Flail Mowers Flail Mower Flail Mower Generators - PTO Powerered Generators - Engine Powered Generator/Welder Combinations Grapple Buckets Greens Mower Harrows Harrows - Rotary Harrow For ATVs - Disk Type Harrow Rakes Harrow Lift Harrow Rake Dethatcher Hay Rake Hay Rake Hay Tedder Hay Rake Harrow Rake Hydraulic Power Packs High Wheel Mowers Insecticide Sprayer Landscape Rake Landscape Rake Landscape Rake Landscape Rake Landscape Rake Landscape Rakes Landscape Rakes Landscape Rakes Landscape Rakes Landscape Rake Landscape Rake - Powered Landscape Rake - SUV Mount Landscape Rakes Lawn Edgers Leaf Blowers Logging Equipment Log Splitters Manure Spreaders Manure Spreaders Manure Spreaders Sprayer - Mist Type Motorcycle Hitches Mower- Offset Cutter, Articulated Multi-deck Finish Mowers Multi-deck Finish Mowers Multi-deck Finish Mowers Mult-deck Finish Mowers Overseeders Paint Stripers Paint Striper Paint Stripers Paintstripers Paint Striper Pallet Forks Quick Hitch Plows Power Hammer Power Rake And Soil Pulverizer Quick Hitch Reel Roller Lawn Striping Attachment Reel Mower Standard Type Greens Mowers Rotary Harrow Reel Mower Rock And Brush Grapple System Roto-Tiller Tractor Mounted Roto-Tiller Tractor Mounted Roto-Tiller Tractor Mounted Roto-Tiller Tractor Mounted Roto-Tiller Tractor Mounted Sicklebar Mowers Sickle Bar Mower Sickle Bar Mower Information Snow Blades Snow Plows Soil Pulverizer Sprayer Spreaders Spreaders - Drop Spreaders Soil Ripper Attachment Spreader - ATV Mount Electric Spin Spreader Electric And PTO Sprayers Stump Grinders Stump Grinders Stump Grinders Stump Grinders Stump Grinders Stump Grinders Sweeper Sweeper Sweepers Sweepers Sweepers - Walk Behind Sweeper Tractor Blades Tractor Disk Tree Cutter Tree Puller Tree Saw Tree Spades Trenchers Trenchers Trenchers Trenchers Trimmers Walk Behind Type Trim Mowers Tractor Blade Tractor Blade Tractor Blade Tractor Mounted Roto-Tillers Tractor Mounted Tillers Tractor Mounted Tillers Tractor Mounted Tillers Tree Clippers Trim Mowers Wire Winders Wood Chippers Leaf Vacuum/Wood Chipper Lawn Vacuum/Wood Chipper Wood Chippers