Skid Steer Mounted Hydraulic Powered Trenchers
We have several models of skid steer mount, hydraulic drive trenchers available with trenching widths from 6 to 10 inches wide with depths of either 36 or 48 inches. The TN548 series models are offset slightly to the right; the T36 models have a hydraulically powered side shift mounting plate. All models are designed for commercial use in trenching of most soil types.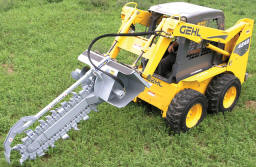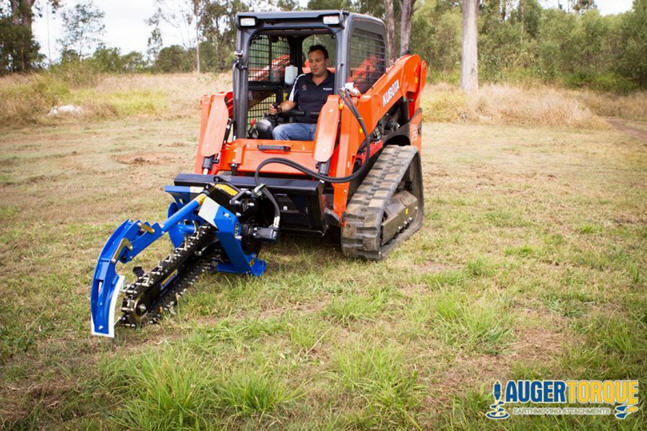 Hydraulic Powered Skid Steer Mounted Trencher mounts on standard quick attach compatable skid steer loaders. This commercial trencher produces a trench 48 inches deep maximum and 6-10 inches wide depending upon the model. Connects to your skid steer loaders auxilliary hydraulics and requires a skid loader from 40 to 100 engine hp and with a hydraulic system from 11 to 25 gpm. The standard teeth are good for most digging conditions; for severe digging conditions in rocky soil, the unit can also be ordered with a 50/50 rock teeth chain. This unit is a quality product with design features such as a grease cylinder chain tensioning system, and tapered roller bearings in the idler sprocket for longer life.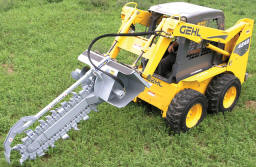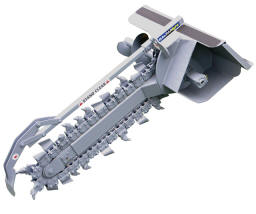 Features/Specifications



Skid steer mounted - standard quick attach



Planetary gear drive



No new controls to learn to operate the trencher, connects to your auxilliary hydraulic outlet, and depth of trencher is regulated by raising and lowering your loader arms and tilting it like you would your bucket



Standard chain has cup type diggers; a chain with rock teeth is available as an option



Diggs a trench 6 inches wide and a maximum of 48 inches deep



Side auger moves dirt to the side so it doesnot fall into the trench



Has a grease cylinder chain tensioning system for chain



Tapered roller bearings in idler sprocket for longer life



Dimensions: overall length is 84 inches; overall height is 27 inches; overall width is 53 inches



Chain speed is 71 ft. per minute



Requires a skid steer loader between 40 and 100hp with a hydraulic system with a capacity of between 11 and 25 gpm




Auger keeps dirt out of the trenching action but close for backfilling
Crumber Scraper Bar helps to scrape and sweep extra dirt and debris into the chain where it is lifted out of the trench. The heavy construction and hinged design mean that the scraper performs no matter what depth of trench you are digging.
The hydraulically powered plantetary gearbox provides the power to drive the teeth up to 4 ft. deep, while the large drive gear prevents the chain from getting clogged. The auger keeps the dirt clear of the trench while digging but close to the trench for easier backfilling.

Chain tension is easily adjusted with a couple of pumps of grease by applying grease to an internal cylinder which pushes the roller nose forward; one of the easiest methods of adjusting chain tension ever devised.




Model WLTN548-6: Trencher with 48 inches long x 6 inches wide standard cup tooth chain (S4806 chain option), wt. is 1250 lbs. - Click the link below for current price on all the models and to go to the order page for each model.





Model WLTN548-8: Trencher with 48 inches long x 8 inches wide standard cup tooth chain (S4808 chain option), wt. is 1260 lbs. - Click the link below for current price on all the models and to go to the order page for each model.





Model WLTN548-10: Trencher with 48 inches long x 10 inches wide standard cup tooth chain (S4810 chain option), wt. is 1270 lbs. - Click the link below for current price on all the models and to go to the order page for each model.





Model WLTN548-6R: Trencher with 48 inches long x 6 inches wide rock and cup tooth chain (M4806 chain option), wt. is 1284 lbs. - Click the link below for current price on all the models and to go to the order page for each model.





Model WLTN548-8R: Trencher with 48 inches long x 8 inches wide rock and cup tooth chain (M4808 chain option), wt. is 1290 lbs. - Click the link below for current price on all the models and to go to the order page for each model.





Model WLTN548-10R: Trencher with 48 inches long x 10 inches wide rock and cup tooth chain (M4810 chain option), wt. is 1310 lbs. - Click the link below for current price on all the models and to go to the order page for each model.





Accessories



Order the below accessories with a new unit (see the accessories list on the order page for the Trenchers).



Model WLD001393: Three point hitch adapter (bolt-on), allows mounting of trencher on rear of tractor on three point hitch, wt. is 530 lbs. -Click the link below for current price on all the models and to go to the order page for each model.



Model WLS1050: Hydraulic valve kit (for tractors that have only one remote), wt. is 200 lbs. - Click the link below for current price on all the models and to go to the order page for each model.






Auger Torque Brand - Skid Steer and Tele Handler Mount Hydraulic Trenchers with Side Shift





Auger Torque Trenchers are quickly gaining a reputation of being the toughest most versatile units on the market today and are available for a wide range of skidsteers, mini loaders, backhoes and excavators up to 10 tons in weight.




Features/Specifications







Using only the highest quality hydraulic motors that allow flow rates of up to 27 GPM (on the 6 inch wide models shown), and then amplifi ed by Auger Torque's own 'bullet-proof' planetary gearbox means that our trenchers have the reliability you need and the power to ensure your trenching is carried out with ease.



Chains are manufactured with a Tungsten combo chain and bar to allow you to get the job done quickly in most conditions, and still give you a long chain life



Once level with the ground the trencher will be cutting at the optimal cutting angle whilst maintaining the correct depth. Pulling the trench is as easy as creeping the machine in reverse at a steady pace and even inexperienced operators will fi nd working with this attachment a breeze







The side shift trencher frame is a heavy duty frame allowing you to use the trenchers on either your telehandler or skid steer loader



Model MT36-6: Hydraulic trencher with side shift, has trencher chain and bar to trench 6 inches wide and 36 inches deep, requires hydraulic system with 12-27 gpm and includes hoses and couplers and comes standard with frame to fit skid loaders (or telehandlers) that have the universal skid steer quick attach connection on the mounting arm(s), specify make and model of telehandler of you need a different custom mounting frame - Click the link below for current price on all the models and to go to the order page for each model.





Model MT48-6: Hydraulic trencher with side shift, has trencher chain and bar to trench 6 inches wide and 48 inches deep, requires hydraulic system with 12-27 gpm and includes hoses and couplers and comes standard with frame to fit skid loaders (or telehandlers) that have the universal skid steer quick attach connection on the mounting arm(s), specify make and model of telehandler of you need a different custom mounting frame - Click the link below for current price on all the models and to go to the order page for each model.






We make every effort to keep prices current and correct as shown on our product pages. Prices do change frequently however; we will notify you of any changes when we receive your order so you can make any adjustments or changes to the order. We are not responsible for information or pricing on copies of our web pages on the search engines that are out of date. If you navigated to this page by clicking a link in the search engine listings, then click on the reload button on your browser to make sure you are viewing a current version of this page from our website. You can also go to www.wikco.com and link to this page from our index.

Click Here To Expand This To A Full Page Version

Wikco.Com is a national equipment dealer selling directly to the end user
To Order: Click On The Order Form Button Below For Ordering And Payment Information,
And Information On Any Cash Discounts That May Be Available
Please Order In Writing Only Using Our Order Form.

If Our Index Doesnot Appear On The Left Side Of This Page

Then Click On The Home Button Above To See The Many Other Products We Sell

For Sales or Technical Questions, Parts Information, Or To Check On An Order
Please E-Mail us at: sales@wikco.com
All information is on our web site at: www.wikco.com
If you have additional questions,

Click Here For Our Phone Number



Or Fax us at 520-316-0446




Wikco.com Inc.


Copyright © Wikco.Com Inc., 1997 to present - All Rights Reserved, A U.S. Corporation
Aerators Aerators Aerator Aerators Aerator/Scarifier Arena Grading Tool Arena Grading Tool ATV Trailers ATV Trailers Auger Bucket - Skid Steer Mount Bale Slicer Ball Field Groomer Back Hoe Box Scraper Box Blade Box Scraper Brush Chipper Brush Grapple Brush Grapple Brush Grapple Brush Grapple-Fork Lift Mount Brush Mower Brush Mower Brush Mower Brush Chipper Brush Chipper Brush Chipper Brush Chipper Brush Grapple Brush Grapple Brush Mower Brush Mowers Brush Mower Brush Mulcher Camping Trailiers - Motorcycle Towable Cargo Trailers - Motorcycle Towable Cargo Trailers - Motorcycle Towable Cargo Trailer - Motorcycle Towable Cargo Trailers - Motorcycle Towable Cargo Trailers - Motorcycle Towable Crane - Tractor 3Pt. Hitch Mounted Cement Mixer Skid Steer Mount Cultivators Cultivator Dethatching Rake Dirt Scoop Dirt Worker Harrow Dirt Grader Attachment Disk Harrow Ditcher Ditch Digger Ditch Digger Earth Auger Earth Auger - One Man Gas Engine Earth Auger Earth Augers Earth Auger Earth Auger Earth Auger - 12 Volt Electric Fence Post Driver Fencepost Drivers Fence Post Drivers Fence Post Drivers Fertilizer Spreaders Filtering Buckets Finish Mowers Finish Mowers - Tractor Mounted Finish Mower-Tractor Mounted Finish Mower Finish Mowers - Tractor Mounted Finish Mowers - Tractor Mounted Finish Mower Flail Mowers Flail Mowers Flail Mowers Flail Mower Flail Mower Generators - PTO Powerered Generators - Engine Powered Generator/Welder Combinations Grapple Buckets Greens Mower Harrows Harrows - Rotary Harrow For ATVs - Disk Type Harrow Rakes Harrow Lift Harrow Rake Dethatcher Hay Rake Hay Rake Hay Tedder Hay Rake Harrow Rake Hydraulic Power Packs High Wheel Mowers Insecticide Sprayer Landscape Rake Landscape Rake Landscape Rake Landscape Rake Landscape Rake Landscape Rakes Landscape Rakes Landscape Rakes Landscape Rakes Landscape Rake Landscape Rake - Powered Landscape Rake - SUV Mount Landscape Rakes Lawn Edgers Leaf Blowers Logging Equipment Log Splitters Manure Spreaders Manure Spreaders Manure Spreaders Sprayer - Mist Type Motorcycle Hitches Mower- Offset Cutter, Articulated Multi-deck Finish Mowers Multi-deck Finish Mowers Multi-deck Finish Mowers Mult-deck Finish Mowers Overseeders Paint Stripers Paint Striper Paint Stripers Paintstripers Paint Striper Pallet Forks Quick Hitch Plows Power Hammer Power Rake And Soil Pulverizer Quick Hitch Reel Roller Lawn Striping Attachment Reel Mower Standard Type Greens Mowers Rotary Harrow Reel Mower Rock And Brush Grapple System Roto-Tiller Tractor Mounted Roto-Tiller Tractor Mounted Roto-Tiller Tractor Mounted Roto-Tiller Tractor Mounted Roto-Tiller Tractor Mounted Sicklebar Mowers Sickle Bar Mower Sickle Bar Mower Information Snow Blades Snow Plows Soil Pulverizer Sprayer Spreaders Spreaders - Drop Spreaders Soil Ripper Attachment Spreader - ATV Mount Electric Spin Spreader Electric And PTO Sprayers Stump Grinders Stump Grinders Stump Grinders Stump Grinders Stump Grinders Stump Grinders Sweeper Sweeper Sweepers Sweepers Sweepers - Walk Behind Sweeper Tractor Blades Tractor Disk Tree Cutter Tree Puller Tree Saw Tree Spades Trenchers Trenchers Trenchers Trenchers Trimmers Walk Behind Type Trim Mowers Tractor Blade Tractor Blade Tractor Blade Tractor Mounted Roto-Tillers Tractor Mounted Tillers Tractor Mounted Tillers Tractor Mounted Tillers Tree Clippers Trim Mowers Wire Winders Wood Chippers Leaf Vacuum/Wood Chipper Lawn Vacuum/Wood Chipper Wood Chippers